A "racist" flyer is being pilloried on social media over raising fears about the Sikh community in Brampton, Ont.
The flyer, titled "The Changing Face of Brampton," shows two pictures: one of a group comprised mostly of white people, the other of Sikhs.
In between the pictures it states, "Consider this: according to 2001 Census City of Brampton, Mainstream Canadians made up 59.6 per cent of Brampton's social fabric. In 2011, it dropped to 32.9 per cent. What will the Census findings be in five, 10, or even 15 years from now?"
The flyer then asks, "Is this really what you want?" and provides a link to the website for Immigration Watch Canada, a group that is pushing to reduce the country's intake of immigrants.
It is unclear when and where the flyer was distributed.
The material was flagged by several users on social media after it was tweeted by user @DemiCaruso on Tuesday morning, with users reacting to it right into Wednesday night.
This isn't the first time that material targeting the city's Sikh community has caused a stir on social media.
In 2012, a teen's rant against Indian people on YouTube was savaged online, generating several angry responses.
She later faced death threats and her father said she regretted making it, The Toronto Star reported.
Then in 2013, a Forum Research poll for the Brampton Guardian and The Mississauga News found that 59 per cent (about 431,000) of the Peel region's visible-minority residents had experienced racism in their community.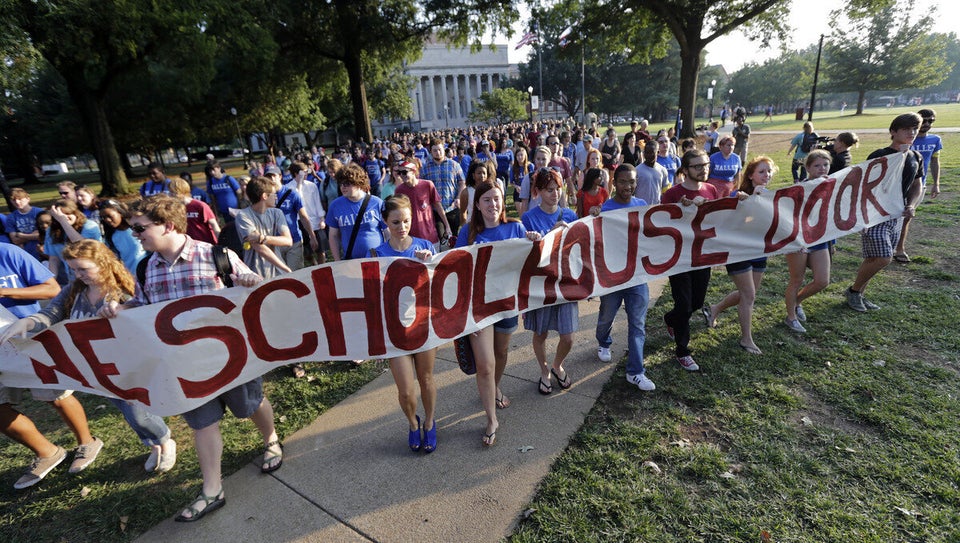 Hundreds March Against Racism At University Of Alabama