"I am a badass," might be something you think to yourself after completing a particularly tricky back bend, but it's not usually something that would be kosher to yell in the middle of yoga class.
Enter Rage Yoga, where attendees are invited to do all the yelling, swearing and even burping they like.
Rage Yoga founder Lindsay Istace invites her students to get "zen as fuck," and enjoy a beer or two while they're at it.
Forget 'om' — Rage Yoga's mantra is 'fuck yeah'
Students at the class warm up to the dulcet tones of the "Jurassic Park" soundtrack — peppered with a few "Star Trek" jokes from Istace — before launching into what Istace calls a "bastardization" of Vinyasa Yoga, complete with a heavy metal soundtrack and the mantra of "fuck yeah."
The soundtrack can vary from class to class, but there's always one constant: Bif Naked's "I Love Myself Today."
"She's a Canadian, an activist, a rocker, and a bad-ass yogi — what's not to love," Istace said with a laugh, in an interview with The Huffington Post Canada.
If the stretching is a bit too much, yogis can take "hydration breaks" to grab a sip of beer or wine before continuing — the classes take place in a basement pub in downtown Calgary. And, if students find themselves falling over during a tricky pose, laughter is definitely encouraged.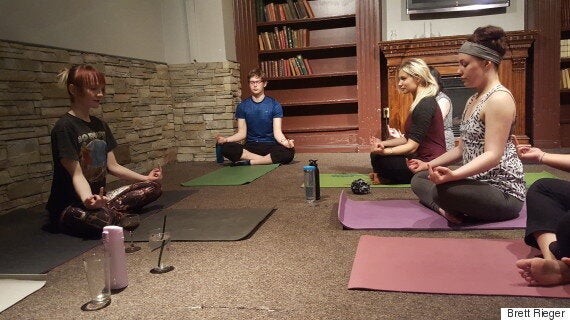 Students follow instructor Lindsay Istace in flipping the bird from a lotus position. (Photo: Brett Rieger)
Istace, 24, created Rage Yoga after going through a painful breakup. She's had her own yoga practice for about five years — she began training as a contortionist at age 19 — but noticed that after the end of a long-term relationship her old practice started "changing."
"Suddenly, there were a lot more swear words and a lot more crying," Istace said.
"By allowing myself to have this space where I'm able to be super honest about my emotions... it was incredibly therapeutic."
After joking about it with a friend, she decided to hold her first Rage Yoga workshop, where it became clear to her the concept was connecting with some people.
"There was something there — it wasn't just a joke."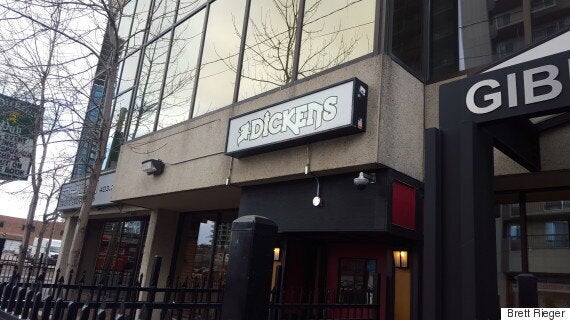 The classes take place at Dickens Pub in downtown Calgary. (Photo: Brett Rieger)
The classes are held at Dickens Pub twice-weekly, and have been a big hit. Attendees can pay $12 to drop in, and another $2 if they need to rent a mat — the price includes a free beer ticket. Between five and 15 people usually attend each session.
"I think there are a lot of people intimidated by the usual yoga culture... yoga studios are intimidating for people who are just getting into yoga, and for people who are very experienced in yoga they just want something that is a little less serious," Istace said.
"By allowing myself to have this space where I'm able to be super honest about my emotions... it was incredibly therapeutic."
Istace understands that Rage Yoga might not be a hit for everyone, but hopes it connects with people who haven't found a class that is the right fit for them.
"Yoga is a very personal practice."
For those outside of Calgary hoping to check out Rage Yoga, Istace will soon be offering classes online. She's currently raising funds through Kickstarter to film her classes and offer them as online downloads.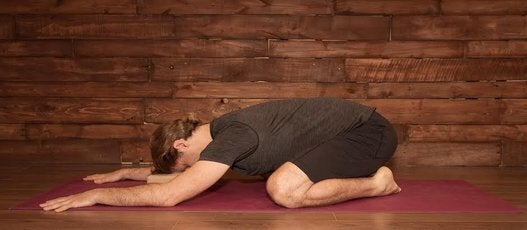 Yoga Positions For A Hangover
Popular in the Community