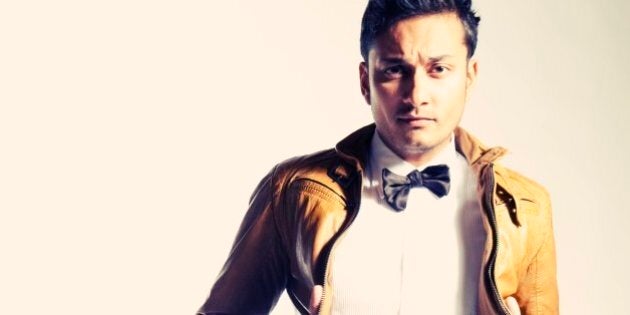 When Raghav Mathur left Calgary in 2000 for music school in the UK, he was only looking for the kind of convivial support and collaboration most musicians in urban centres take for granted. Over a decade later, he returned to his hometown as a certified pop star, with over a million records sold worldwide and a loyal fanbase in the UK, Middle East and India. But no one seems to bat an eye as we sit down to chat in the lobby of the Sheraton Hotel on Queen Street West in Toronto.
Raghav's fame is clearly unique: he commands enough respect, or at least curiosity, to warrant high-profile television appearances, but most people outside of the GTA's large South Asian immigrant population would have no idea he's big enough to headline the Rogers Centre. Right now, he's writing songs with electronic producer Afrojack after completing a Disney project with Bollywood mega-producer A.R. Rahman: songs for an upcoming Jon Hamm sports flick, "Million Dollar Arm." We're talking just before he heads to a taping with George Stromboulopoulos at the CBC.
"In a way it's exciting coming back from England, having the success I did there," says Raghav. "While there, I realized there are so many different aspects to what makes my music unique and one is that I'm Indian and I sing in Hindi so how do I do that without it becoming a gimmick? That's a struggle because it's difficult to then be taken seriously in the mainstream and be proud of your ancestry. So my thing has been to dip in and out of it – and in England it was far more acceptable because of their history of immigration."
Raghav's first album, "Storyteller," was released in 2004 on Virgin subsidiary V2. The pop-R&B earned Raghav four UK number ones, including the hit "Angel Eyes." He sold records around the world. And then the label folded, the industry collapsed and Raghav had to go it alone as an independent artist. After regionalized success in the Middle East, Africa and India, and spurned by a family illness Raghav decided to come home.
"I figured it'd be a cakewalk here, but, yeah, no," he says, laughing. "It's a totally different world, but I love the challenge of coming back. And I appreciate the opportunity to start from scratch again and rebuild not just who people see me to be but expand on it."
Currently signed to Victoria, B.C. label Cordova Bay, Raghav's new single, "WooHoo" is in rotation on Canadian radio. Returning home after immense success abroad – he was booked for a New Years Eve gig in Dubai – seems to have him recharged.
"When I left Calgary there wasn't a hope in hell if you wanted to be anything other than a country star, or something in the institutionalized arts like the Alberta Ballet," he explains. "There's always been Vancouver and Toronto, but there's a gap in the country for people who want to make pop music and hip-hop records – or anything but country. Tegan and Sara are from there and they're doing well, but it'd be nice to see a pop artist who could do well based purely on domestic interest. There's a lot of talent."
Popular in the Community