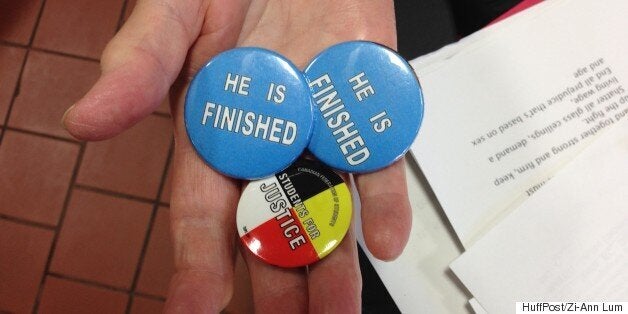 Selection of buttons worn by Toronto Raging Grannies. (Zi-Ann Lum/HuffPost Canada)
This campaign season, HuffPost Canada is going past the sales pitch, away from the attacks, and beyond the ballot.
Our Beyond the Ballot series is deep diving into three major problems facing Canadians: climate change, housing insecurity, and elder care. This election is our opportunity to join forces and come up with solutions.
It doesn't take much conservation for a group of Raging Grannies to live up to their infamous moniker.
"I am sick of old white men ... I am sick of it!" proclaimed 73-year-old Kate Chung, railing about the perennial makeup of Canada's Parliament. Her voice echoed through Toronto's Scadding Court Community Centre, ringing off the foyer's glass and concrete.
Three other women seated around a table shook their heads in agreement.
"It's been going on for all my life."
The discussion shifted to climate change minutes earlier, an issue these Raging Grannies say hasn't been prioritized by the incumbent government led by Conservative Leader Stephen Harper.
But the other major federal parties haven't necessarily been wowing them, either.
* * *
The Raging Grannies' origin story traces back to 1987 when a group of women, tired of the sexisim and ageism shown to them by younger activist groups, rolled out in canoes to peacefully protest U.S. Navy warships stationed in Victoria, B.C.
Their contagious "tell it like it is" spirit sprouted local chapters across Canada and into the United States. They've performed songs to object the government enlisting their grandchildren into the Iraq war and have fought corporations drilling for oil in the Arctic.
As their popularity and notoriety grew, so did their songbook. In the early 1990s, late American folk legend Pete Seeger even wrote the introduction to the official Raging Grannies Songbook.
Recognized by their colourful bonnets they wear to spoof bygone stereotypes of senior women, the group is best known for penning protest songs — cheeky rewrites that include "O CBC" and "Poor PM Pops Pensions."
LISTEN: Toronto grans sing "Criminal Grannies"
Recently, they've made their presence known across Canada from taking the mic at public hearings about coal facilities in Surrey, B.C. to appearing at Montreal's People's Climate March in May and lending their voice in "Harperman" singalongs.
Two granny-written songs performed earlier this year regarded climate change as "The elephant in the room."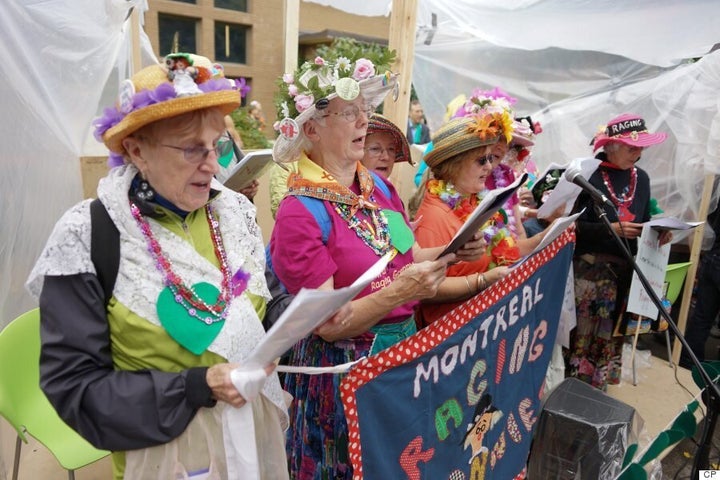 The Montreal Raging Grannies singing protest songs about global warming at the People's Climate March in Montreal on Sept. 21, 2014. (Mario Beauregard/The Canadian Press)
Penny Bettson, the oldest at the table — and the only one wearing a cowboy hat instead of a trademark bonnet — speaks up to say that climate change "has now become a larger issue" than the nuclear war concerns that prompted the first wave of Raging Grannies to assemble nearly three decades earlier.
Chung jumps in.
"They're all related ... It really comes down to greed."
It's that short-sighted greed and narrow focus on the economy that gets this particular group of women riled up. They say they're tired of witnessing the same political games. They've grown disaffected with politicians falling short of taking any meaningful action on environmental problems that only seem to be getting worse.
"I've been going around saying, 'Roberta Jamieson for prime minister,'" Chung jokes, referencing Canada's first aboriginal woman to earn a law degree.
WATCH: What it takes to be a Raging Granny
* * *
Under Harper's leadership, Canada became the first nation to formally withdraw from the Kyoto Protocol, declaring it to have "not served the international community well."
That was in 2011. And since then the country has been called out for being a "climate laggard" by a group led by former United Nations secretary general Kofi Annan. Reports have also pegged the pace of Canada's greenhouse gas (GHG) emissions as slow-moving, instilling doubts the country won't meet its 2020 targets.
When the topic was brought up during the Munk leaders' debate in September, the Conservative leader defended the government's record, trumpeting a reduction in emissions — the "first time" that's happened in the past decade.
"We've had economic growth, but we've also had a reduction in global greenhouse gas emissions," said Harper. But it was a misleading answer.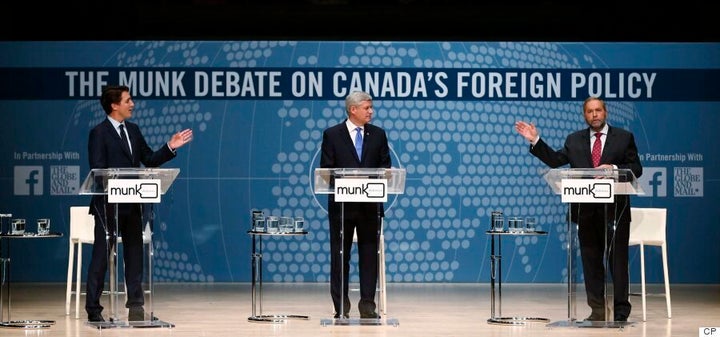 Justin Trudeau (left), Stephen Harper (centre) and Thomas Mulcair (right) participate in the Munk Debate on Canada's foreign policy in Toronto on Sept. 28, 2015. (Mark Blinch/The Canadian Press)
GHG levels did indeed drop between 2008-2009. But emissions levels have also climbed every year since. According to projections from the Pembina Institute, Canada will only achieve a 1.5 per cent reduction to 2005 levels by 2020 if it keeps at its current pace.
"People are righteously pissed off," said Cynthia Levine-Rasky, 57, leaning into the table. She noted the "spectacular" fails mentioned above and thinks party leaders have been hesitant to take leadership of the issue because it moves beyond politics. It affects generations of Canadians.
"It goes to our children's lives, our grandchildren, the air we breathe … the animals," said Levine-Rasky. "I mean, the most basic fundamental issues that we all share regardless of gender, or sexuality, age, of nationality, language."
Everyone nods in agreement.
The mood around the table changes slightly and Chung breaks the short silence.
"We'd like to have a world for our grandchildren."
* * *
Bettson moves the conversation to the circle of life. The topic of doctor-assisted suicide comes up.
Maria Kasstan brings up a story about a senior she knew whose mind was fine, but ran away from home to die a "free woman."
"She didn't want to be locked up," Kasstan said. The other women share similar sentiments, saying if they arrive at a point at being in chronic pain, they don't want to be a burden on others and the health care system if the alternative is to die peacefully at a moment of their choosing.
In February, the Supreme Court made a landmark unanimous ruling striking down the ban on doctor-assisted suicide.
Josh Paterson, executive director with the B.C. Civil Liberties Association, told The Huffington Post Canada he's isn't surprised that the subject hasn't become an election issue, saying it's sort of a relief the topic hasn't fallen victim to partisan politicking during campaign season.
It's an issue of "fundamental human rights," he said, adding there's a general consensus among the parties to support the Supreme Court's ruling.
Canada's government is expected to table new rules on what circumstances a patient can take their own life starting Feb. 6, 2016.
More affordable housing, universal design
Climate change and end-of-life care are two topics this group of Toronto grannies say haven't been given the attention they deserve. Another is affordable housing.
In Toronto, the waitlist for community housing runs 91,000 long. It's a problem exacerbated by federal funding cuts, according to one of the city's former mayors.
In a blog for HuffPost Canada, Sen. Art Eggleton cited a $1.6-billion reduction in subsidies for affordable housing in this year alone.
"I think we all understand intuitively the importance of having decent shelter," wrote Eggleton. "Health experts also tell us that adequate housing is a key determinant of health and long-term health outcomes."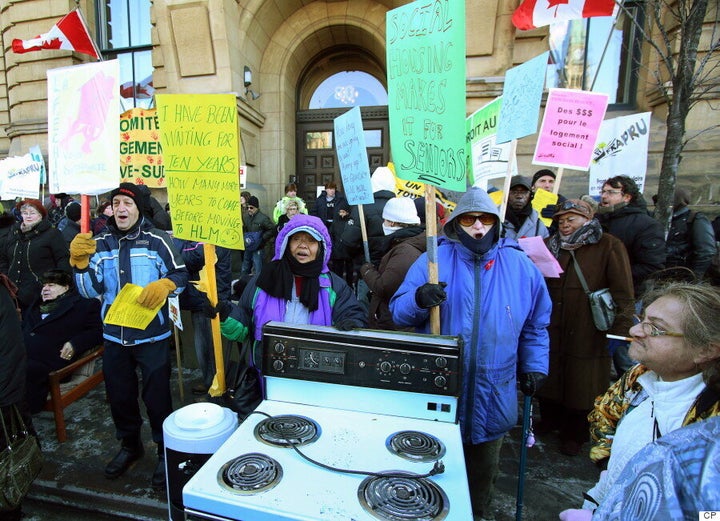 Demonstrators protest the lack of funding for affordable housing next to appliances in front Prime Minister Stephen Harper's office in Ottawa on Nov. 21, 2014. (Fred Chartrand/The Canadian Press)
For those with multiple disabilities, finding an affordable and accessible place to live can be a nightmare if multiple health and disability issues are factors. And managing that sort of move on a fixed income brings a whole other matrix of problems.
Rising city rents pose a challenge to seniors living on fixed incomes. Those fixed incomes limit choice when individuals and couples are forced to consider moves to more senior-friendly designed homes.
Chung tells the group about her bathroom door frame. Her husband Doug couldn't fit his walker through it — their home wasn't designed for older, aging residents.
For Bettson, the problem is money. All her CPP goes toward rent. She lives alone and works as a dog walker to pay for groceries and utilities. She gave up her car years ago. Her daughter pays for her iPhone.
All four women aren't impressed with the lack of vision from all levels of government when it comes to orchestrating policy for Canada's aging baby boomers — the 65-plus demographic now eclipses those under age 15, Statistics Canada says
According to a 2014 report from Housing Services Corporation, a non-profit centred on housing issues, neither the federal nor provincial government have actively engaged in long-term capacity planning for Canada's aging seniors.
"There is no overarching policy framework for seniors' programs and services in Canada or Ontario," it concluded. The lack of progress and fresh ideas to handle the so-called "grey tsunami" has to move beyond CPP promises and funneling more cash to seniors' homes, the women say. Because not everyone wants to live their last years in a senior home.
"They need to be exposed to babies, and children, and teenagers, and people in all the decades of their life. Because you stick them in seniors homes when they're only seeing seniors — their lives shrink. They get blinkers and they die of boredom and loneliness."
"It's very unhealthy," Bettson said.