Trying to get a film financed is a pain in the ass. When I went about making my second feature film, Sex After Kids, I didn't want to wait around for the traditional funding agencies to tell me whether or not I could make my film. I knew I could do something great on a low budget, so I worked non-stop with some help from the cast and crew of my film and in 47 days we raised $61K dollars through crowd funding. There are a lot of tips I could offer to potential film crowd funders, but the three below should help you avoid some of the biggest mistakes.
Tip #1 -- Don't Ask for Money.
Everyone hates being asked for money, so don't. Crowd funding is not selling a product (your film is, in fact, a product); it's inviting someone to be part of an exclusive experience they can't get any other way. And your perks must reflect that -- make them limited edition items and experiences that disappear once the campaign does. And most importantly, on Sex After Kids, we never once asked for money, we said we were making a film, and offered people a chance to get involved. Involvement can mean many things, and some of them can actually be more valuable than money. People ended up donating additional perks to us (holiday getaways, etc.) and helped in other ways that lead to more awareness and ultimately more contributors.
Tip #2 -- Plan, Plan, Plan and Engage.
The cardinal sin is not doing enough prep. I studied a lot of successful campaigns and prepped for six weeks for Sex After Kids, and planned the rollout with military procedure. By keeping the conversation fresh and being involved, we had a lot of repeat contributors. We were constantly posting new videos, interviews, and perks, whatever we could. We weren't asking people to come to our campaign page AGAIN (see tip #1), we were asking them to check out something NEW. For example, when we reached $40k by a specific deadline, I would dress up in a chipmunk costume, along with actress Zoie Palmer, and go to a local playground. And we did.
Tip #3 -- Know your Audience.
Who is your audience? How are you going to reach them? For 'Sex After Kids' I emailed the top Mom blog and tweeters and simply asked them to check out our videos and, if they made them laugh, could they tweet/blog them? We also leveraged our cast's fan base and we reached out to them as well. By the end of our campaign people all over the world were spreading the word for us because they felt like it was their project as well. Connect with your audience in the right way (see tips #1 & #2) and you'll have a supportive army throughout the life of your project and, if you're really lucky, your career.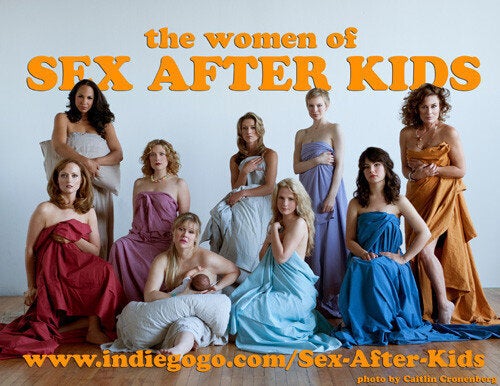 Sex After Kids will be released in Theatres in Toronto, Saskatoon, Regina, and Edmonton and additional cities this February.