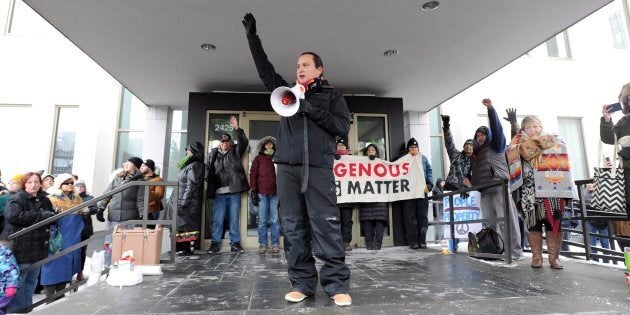 Thousands of Canadians spent their Saturday at rallies as part of a day of action to support the family of Colten Boushie. An all-white jury found Saskatchewan farmer Gerald Stanley not guilty of second-degree murder on Friday in the shooting death of Boushie, who was Cree.
"They're not sweeping us under the carpet. Enough killing our people. We fight back. Go to hell, Gerald Stanley. That's where you belong," Boushie's mother, Debbie Baptiste, said at a rally in North Battleford, Sask.
"The justice system needs to stop locking up our youths. All of our loved ones are in jail. White people — they run the court system. Enough. We're going to fight back,'' said a visibly upset Baptiste, surrounded by her family.
Friday night's acquittal sparked outrage, evoking emotional reactions across the country.
The rallies were organized by Indigenous advocacy groups Idle No More and the Indigenous Joint Action Coalition, as people chanted and marched down streets to gather at courthouses and police stations in Toronto, Ottawa, Vancouver, Regina, Saskatoon, Edmonton, Winnipeg, and Calgary.
The Idle No More website even listed an event for Palm Beach, Fl.
In Ottawa, Indigenous activist Delilah Saunders, whose sister Loretta was killed in 2014, spoke at a gathering on Parliament Hill.
The trial heard that Boushie was shot in the head as he sat in an SUV that had been driven onto Stanley's farm near Biggar, Sask.
The SUV driver testified the group had been drinking during the day and tried to break into a truck on a neighbouring farm, but went to the Stanley property in search of help with a flat tire.
Stanley, 56 testified that he fired warning shots to scare the group off. He said the fatal shot occurred when he reached into the SUV to grab the keys out of the ignition and his gun "just went off."
The Indigenous Joint Action Coalition has kept a GoFundMe campaign open to support the Boushie family to help them cope with their loss.
"I'd like to thank you for all your sharing and generous donations to this point. The money is helping to take some burden off the family as they pursue justice daily," the page states.
With files from The Canadian Press
CORRECTION: A previous version of this story misspelled Gerald Stanley's name as Gerard.