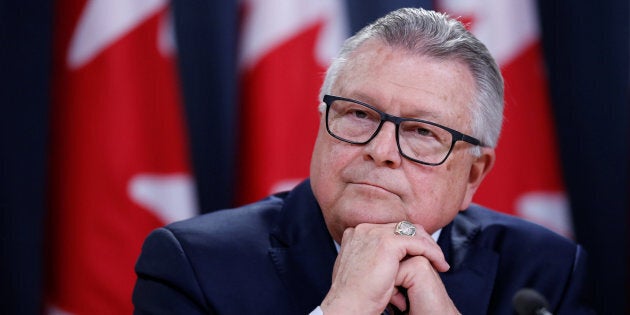 The federal public safety minister says that the legalization of marijuana won't change a thing at the United States border, where customs agents already have the right to turn away Canadians who admit to smoking pot.
In TV interviews Thursday, Ralph Goodale said Canadians should always tell the truth to U.S. officers who ask about drug use and do their best not to raise suspicions once recreational pot is legal on Oct. 17.
"Lying to a border official on either side of the border, whether you're an American or a Canadian, is a very serious offence," Goodale told CTV's "Power Play" when asked about the possible Catch-22 situation at the border for Canadians who have tried marijuana.
Earlier: Trudeau asked about advice for pot smokers at border
Every country has a sovereign right to set their own rules about what makes a visitor inadmissible, he said, and Americans take that view with cannabis.
The drug is illegal under U.S. federal law, which applies at the border.
"We're working with them constantly to make sure they understand why we're changing the law, why we think it's better and pointing out that the situation at the border itself actually doesn't change," he said
"It is illegal to cross the border with cannabis in either direction and it will continue to be illegal."
Goodale said he doesn't think agents will change their approach to the issue unless there are "reasonable grounds" to be suspicious.
"When you approach that border, don't give the Americans the reason to believe, either by the aroma or flicking something away as you approach the border, don't give them a reason to believe there's an offence."
The
Ross Rebagliati example
Goodale said much the same on CBC's "Power & Politics," saying an "aroma" or certain behaviours would be grounds for more questioning at the border
Asked if he recommends not smoking pot before heading to the border, Goodale said it would be the "safe course."
Host Vassy Kapelos noted the example of Olympic gold medallist Ross Rebagliati, who requires a special waiver to cross the border after admitting on "The Tonight Show with Jay Leno" that he smoked pot. Goodale, again, said it's best to just tell the truth.
Rebagliati's American lawyer, Len Saunders, told a Senate committee in March that the former snowboarder's case is a great example of likely headaches facing other Canadians.
"He will be in the system requiring a waiver for the rest of his life because he admitted to using marijuana on the 'Jay Leno Show,'" Saunders said. "That's just the tip of the iceberg on these cases."
Saunders told the committee Canadians would have the option of saying nothing if asked about pot use and being turned away. Not every U.S. officer will ask, he said.
"You are not lying if you say nothing," Saunders said. "If you have been charged or convicted of an offence, yes. If you are found in possession of marijuana, yes. But if it's just a random question, I tell clients the worst thing that could happen if you say nothing is just a simple denied entry."
Saunders said at the time that he expects more agents to be asking about pot use once the drug is legal and there's a possible spike in Canadians partaking.
"When Trump talks about building a wall on the southern border, I see a wall on the northern border for Canadians because of marijuana," he said. " There's a brick wall going up on the northern border for Canadians if they answer truthfully whether they have smoked marijuana."