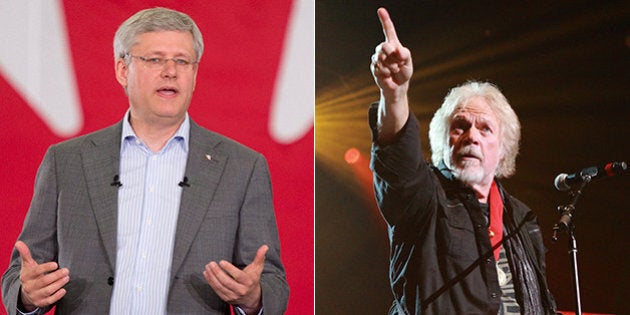 Legendary rocker Randy Bachman said Stephen Harper didn't get permission from him or his publisher to use his classic "Takin' Care of Business" as the theme song for a major speech on Monday. He said if the prime minister had asked, he would have probably said "no."
Bachman had strong words for the PM in explaining why he likely would not have given his blessing for use of the Bachman-Turner Overdrive track, which Harper used as intro and exit music for an address marking the start of a new session of Parliament.
"I don't think he's taking care of business for the right people or the right reasons," Bachman said.
UPDATE: Cory Hann, director of communications for the Conservative Party, said the Tories pay the Society of Composers, Authors and Music Publishers of Canada (SOCAN) licensing fees for music used during their events. He said the venue for Monday's event, the Ottawa Convention Centre, holds a SOCAN license and that the Party paid any applicable fees.

Bachman told HuffPost late Monday that he was "happy" to learn "that it was SOCAN facility and that there was a payment", but reiterated that he hopes the government will do more to ensure Canadian musicians receive fair payment for their music.
The Canadian Music Hall of Fame member and host of CBC Radio's "Vinyl Tap" went on to explain he's frustrated with Harper and his government for failing musicians when it comes to fair compensation in the digital sphere.
"The last year has been a big struggle for the Canadian musician and songwriter to get proper payment for their music," Bachman said. "[Harper] let us all down."
Bachman was referencing new royalty regulations for digital music streaming introduced by the Copyright Board of Canada in May. The rules state that streaming services such as Songza and Spotify will have to pay 10.2 cents every 1,000 times a song is played. Re:Sound, a royalties collection agency for musicians in Canada, wanted a rate 10 or 20 times larger, according to The Globe and Mail.
Spotify launched in Canada last month, shortly after the new streaming regulations were announced.
Bachman recently tweeted that performers in the U.S. are getting a much better deal than their Canadian counterparts.
Bachman said he personally asked Harper to do something about the royalty rates, but that the PM said he "couldn't do anything about it."
"Intellectual property owners are getting robbed," Bachman said. "It's cruel and unusual punishment"
Bachman also called out the Conservative government for what he says is pandering to big media companies like Telus and Rogers.
"[They] are all using our music and we are not getting paid for it," Bachman said.
Harper has used "Takin' Care of Business" before at campaign events.
While "Takin' Care of Business" may seem like the perfect slogan for a conservative politician, the song is actually about slacking off and the tagline is ironic:
It's the work that we avoid/

And we're all self-employed/

We love to work at nothing all day/

And I'll be takin' care of business/
"Takin' Care of Business" and Bachman-Turner's "You Ain't Seen Nothin' Yet" have also been used widely by politicians in the U.S., something Bachman says he doesn't approve of. The songs have been used by George W. Bush, Al Gore and Hillary Clinton.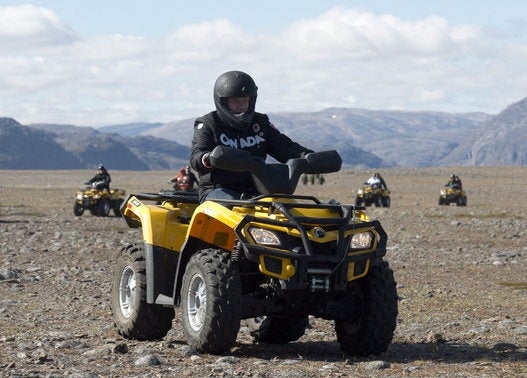 Harper's 2014 Arctic Tour