I didn't know my dad that well but I did know he had two great loves: jazz and the Toronto Raptors.
My dad immigrated to Toronto from Buenos Aires in the early 1980s, well before the Raptors even existed.
I remember when it was announced that Canada's first NBA team would be called the Toronto Raptors — it was all anyone could talk about at my Mississauga, Ont. elementary school. I remember being let outside my classroom portable to watch a giant plane with the Ratpors logo painted on its side streak low across the sky, a blur of purple and red.
By the time the Raps played their first game in '95, my parents were already divorced, so when I went to visit my dad, we would spend our time watching the games.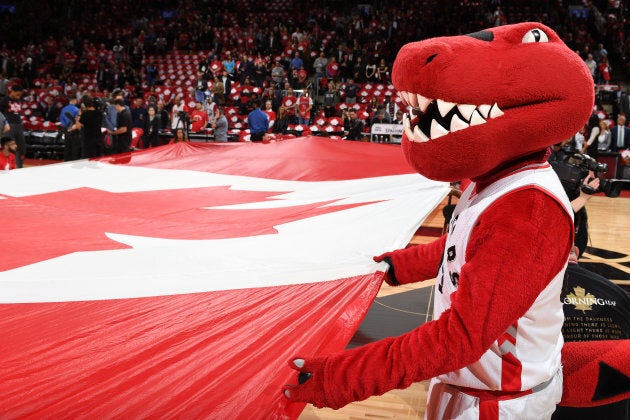 My dad very patiently tried to teach me what was going on on the TV screen, and while I still didn't understand why some balls in the net equalled three points and some two, I was enthralled — not with the game, but with how excited my dad got while watching it.
It was the only time — aside from when he was listening to or talking about jazz — when he looked interested in what was going on around him. And it was the only time when we had any kind of real conversation.
Outside of watching a Raptors game, my dad was pretty quiet. When my sister and I would visit him we didn't talk that much, instead preferring to put on a game (if one were on) or a sci-fi movie or TV show.
I never saw him look as happy than when he was discussing the finer points of a game with a bunch of his Canadian friends.
I wasn't into jazz but I did like watching a game, so it became our pastime together, a moment where we became father and daughter.
One of the most fascinating things (to me) about watching a game with my serious father was that he would yell and curse at the TV, and then half-turn to me and explain what was going on and why so-and-so was an idiot and should be penalized. I never saw this side of him when the TV was turned off.
Sometimes we would go to the home a friend of his and watch a game there. I never saw him look as happy than when he was discussing the finer points of a game with a bunch of his Canadian friends.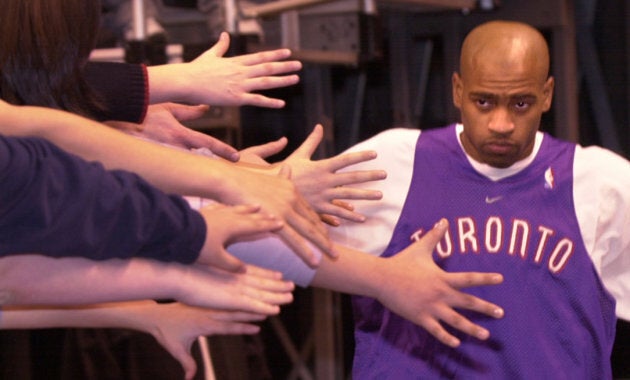 When I was in Grade 7 or 8 (my memory is a bit foggy on this), my dad told me and my sister that he had acquired tickets to see an actual Raptors game and invited us to go with him. By this time, like many kids, I wasn't into spending "family time" with my parents, so I declined. Instead, my sister went with him. I found out afterwards that a friend had offered them even better seats, closer to the court, when they were there, but my sister, who is two years younger than me, said she was tired and wanted to go home. They left at half-time.
I can only imagine how heartbroken my dad must have been.
One of the last times I talked to my dad before he died, we chatted over email about basketball. He asked me whether I was following the Raps, what I thought of that season's players, whether I was going to any of the games. At this time, he had been living in Buenos Aires for a few years, and he mentioned how he missed going to the games. Watching the Raptors play — alone, with me and my sister, and with friends — was one of the few times he said he really felt Canadian when he was living in Toronto, even though I found out later that he missed Argentina greatly.
My dad's time in Canada was full of ups and downs, and he struggled with fitting in as he learned English from scratch and tried to familiarize himself with Canadian customs (he never could get ice skating down), all the while being homesick.
To my dad, the Raptors represented a lot that is great about Canada: a group of people from all kinds of backgrounds who work their ass off, and are welcomed and celebrated by Canadians. I think the the way our country embraced their new team made him feel a bit less of an outsider.
Although he's not here anymore, I still cheer on the Raptors on his behalf.
When the Raps made it to the playoffs in 2014 and the We The North mantra took off, I was elated but also a bit sad: happy because my dad's team was doing so well and had never been as popular as they were then, and sad because he wasn't alive to see it.
I go through phases where I love the Raps and go to a few games a a season, and other times where I'm indifferent. During NBA season, and especially during the playoffs, I sometimes think about my dad and whether he would still be into the Raptors; whether we would go to games together; whether he'd come to my house and watch a game with me and my husband over beers (if I had cable, that is).
Although he's not here anymore, I still cheer on the Raptors on his behalf. When they do well, I feel his excitement and his love for his favourite team. When I watch a game, I too feel Canadian.
Born And Raised is an ongoing series by HuffPost Canada that shares the experiences of second-generation Canadians. Part reflection, part storytelling, this series on the children of immigrants explores what it means to be born and raised in Canada.
Follow HuffPost Canada Blogs on Facebook