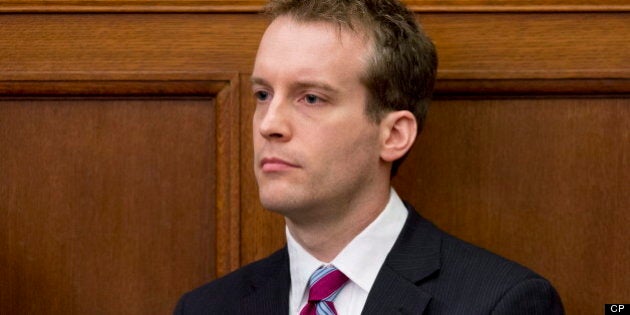 It's been called the one of the toughest jobs in Ottawa and a man who is considered a part of Stephen Harper's family has just landed it.
Ray Novak became the new chief of staff in the Prime Minister's Office on Sunday after the resignation of Nigel Wright, who personally cut a $90,000 cheque to help Sen. Mike Duffy repay his Senate expenses.
He has been described as a hard worker who has managed to keep a low public profile despite being at Harper's side, in one way or another, since 2001.
A colleague said on Sunday that Novak is in for a "really big change" with his new role.
"He's always had a lot of influence but not a lot of responsibility," the colleague said.
But what else is known about the loyal member of Harper's inner circle? Check the gallery below to learn six interesting things about Novak.
Ray Novak's first job as a teenager was manning the meat carving station at the local buffet restaurant in Deacon, Ont.
2) Longest Serving Harper Aide
Ray Novak has been at Stephen Harper's side since 2001. After his best friend, Dimitri Soudas, Prime Minister Stephen Harper's director of communications, left the PMO in 2011, Novak became the last member of Harper's inner circle still working in PMO.
3) Lived On Top of Harper's Garage
According to Maclean's magazine, when Ray Novak worked as Canadian Alliance leader Stephen Harper's executive assistant he spent nearly four years living in a small loft above the detached garage at Stornoway — the residence of the Official Opposition leader. Novak ate meals with the family and grew close to Harper's children Ben and Rachel, Maclean's said. Sources told HuffPost Novak is essentially a member of Harper's family.
Ray Novak is not the half marathon runner former PMO chief of staff Nigel Wright was, but friends say the new chief also laces up most mornings for 5 a.m. runs.
5) Stays Away From Trouble
Unlike most people in Ottawa, Ray Novak has never sought to demonstrate his influence. He avoids most public events, doesn't like the spotlight and believes staff should stay out of the headlines.
One source noted that the PM's new chief is the only Harper inner-circle staff who hasn't been implicated in any scandals. "He's never caused the PM any problems in 12 years," the source said.
The prime minister's principal secretary since 2008, Ray Novak was not only in charge of operations — overseeing the Prime Minister's tour, events and all his communications product — but PMO colleagues say he also oversaw Foreign Affairs and National Defence files. Sources say Novak has been at Harper's side during bilateral meetings, he knows government inside-out and was the only possible choice. "There was nobody else," one source said of the new chief of staff. "He's a turnkey chief."