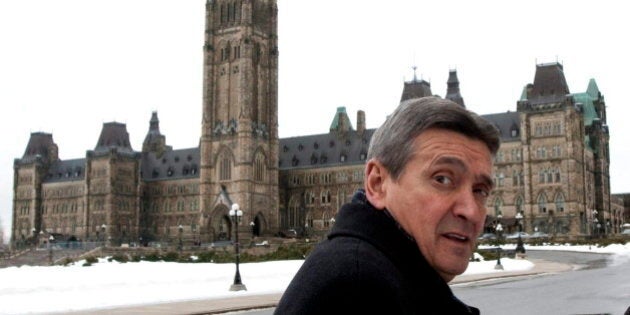 OTTAWA — A former Liberal senator jailed for falsifying his travel claims and abusing his office will ask the Ontario Parole Board Tuesday for permission to serve the rest of his six-month sentence at home, The Huffington Post Canada has learned.
Raymond Lavigne was convicted of fraud and breach of trust two years ago and sentenced to six months in jail, six months of house arrest and was told to give $10,000 to charity — the amount he had inappropriately claimed from the Senate for nonexistent expenses. Ontario Superior Court Judge Robert Smith said Lavigne had abused his position by asking his research assistant to cut trees on his property during Senate working hours.
Michel Biron, a retired Liberal senator who is his friend, said life in jail for the 67-year-old Lavigne has not been easy.
"There's intimidation and extortion, and it's dangerous," Biron said. "He never knows whether someone, for one reason or another, will want to attack him."
When Lavigne complained that his eye hurt, an official at the Ottawa-Carleton Detention Centre told him he was complaining for nothing, Biron said. Lavigne was not treated, Biron said, until a doctor finally saw him and said he needed to get to the hospital urgently or he would lose his eye. "He was operated on and now he has to be re-operated on in the coming days."
Lavigne has been held at the Detention Centre since June 4. His appeal was heard and dismissed on June 5. Three Court of Appeal justices said they believed Lavigne deliberately filed false travel claims and knowingly defrauded the government. They rejected his argument that the public purse was not harmed because the money was rightfully owed to his former employees whom he had cheated out of money owed. (Lavigne gave his staff member $50 to drive him to and from Montreal, while he claimed $217 from the Senate for the trip. He did this 54 times.)
It's unclear what Lavigne will tell the two parole board members Tuesday. He has consistently maintained his innocence.
When his verdict was handed down, Lavigne told this reporter: "I knew I would not get a fair and just trial."
Now that he has completed one third of his sentence, he is entitled to ask for parole, but Biron said he is not sure what his friend will say.
"To be released, you need to demonstrate remorse. You need to say 'yes, I did something wrong.' You need to recognize that you were guilty," Biron said.
"I know what I've told him to do, but what he will do, well, that's another thing."
What could help Lavigne, Biron suggested, is the Senate's recent changes to its policies regarding senators' travel claims.
"If the rules aren't clear now, then they weren't clear for him then," he said.
Tuesday is also the day the Senate's standing committee of Internal Economy, Budgets and Administration is meeting to discuss a third-party audit of Senator Pamela Wallin's inappropriate travel expenses.
Committee members may choose to make her report public.