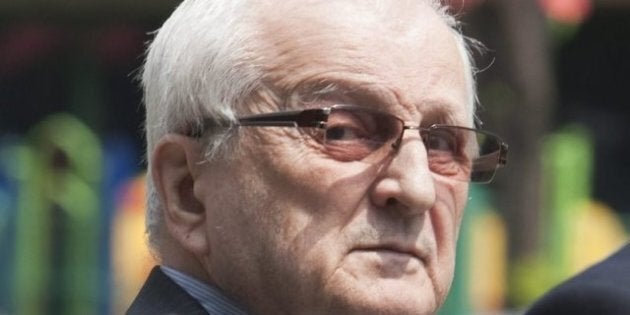 THE CANADIAN PRESS -- QUEBEC - A Quebec priest pleaded guilty to sexually abusing 13 children and told a courtroom how sorry he was for his crimes Monday.
But his victims were unswayed by his expression of contrition.
One of them glared at Rev. Raymond-Marie Lavoie for a moment, before declaring that he and other priests were "destroyers of children" who would wind up "in hell."
This was after Lavoie, 71, pleaded guilty to all 21 charges against him for committing sexual crimes against young boys at a seminary in the 1970s and 1980s.
The Redemptorist priest was accused of sexual abuse against 13 former students while he was a teacher who oversaw the dormitory at the now-defunct St-Alphonse Seminary near Quebec City.
Lavoie pleaded guilty to all charges against him Monday during what was to be the opening day of his trial.
With the trial cut short, lawyers for the Crown and the defence began debating what would be a proper sentence for his crimes.
Two victims addressed the court. One of them, Frank Tremblay, took a few moments to stare at Lavoie before reading from a letter.
"I'm disgusted by the way you carried yourselves," said Tremblay, who predicted that religious leaders who abused children would face eternal damnation.
The Crown outlined its case against Lavoie: that sexual touching and certain assaults, on Grade 7 and 8 students, took place in the room Lavoie had in the dormitory.
It was during that sentencing hearing, before Quebec court Judge Chantal Pelletier, that Lavoie apologized.
"I slipped on a dangerous slope at a certain point and didn't have the wisdom to put on the breaks," Lavoie said.
"I'm deeply disappointed in myself and I didn't act in respect and within the law."
Lavoie will return to court in October. A pre-sentencing report will be tabled before the court decides on a punishment.
Crown prosecutor Carmen Rioux said the maximum time Lavoie could receive is 10 years behind bars.
One advocate for sex-abuse victims said any sentence Lavoie receives won't be enough.
"For years I've been attending trials like this and I deplore the (lenient) sentence this dangerous pedophile priest is going to receive," said France Bedard, head of L'Association des Victimes de Pretres, a group that helps victims of sexually abusive priests in Quebec.
She said history shows the sentence will be short.
"He'll be able to play golf next year," Bedard fumed during an interview at the courthouse in Quebec City. "We must re-write the Criminal Code when it comes to sentence lengths.
"It's not severe enough and it's ridiculous."
Bedard also said she doesn't understand what the Catholic Church is waiting for to start compensating victims of abuse suffered at the hands of priests.
Lavoie was one of the priests named in a class-action suit, filed by alleged victims, that has been authorized by the courts.
"We know there was collusion, it was orchestrated," Bedard said. "They were trading boys the way we trade hockey cards."