Those celebrating the end of Canada's recession may want to recork the champagne, because it seems the economy isn't out of the woods just yet.
The Royal Bank of Canada's Purchasing Managers Index (PMI) recorded the "sharpest deterioration in business conditions in survey history" in September.
The PMI is a measure of manufacturing strength, and it's considered a "leading indicator" — it can be used to predict future economic activity.
It fell to 48.6 in September, from 49.4 in August. Any number below 50 indicates contraction, while a number above 50 indicates expansion.
And while September's number is the lowest ever seen on the survey, it's worth noting the survey began in 2010, so it doesn't even cover the Great Recession of 2008-09. We can be almost certain that the PMI would have shown worse numbers during that period.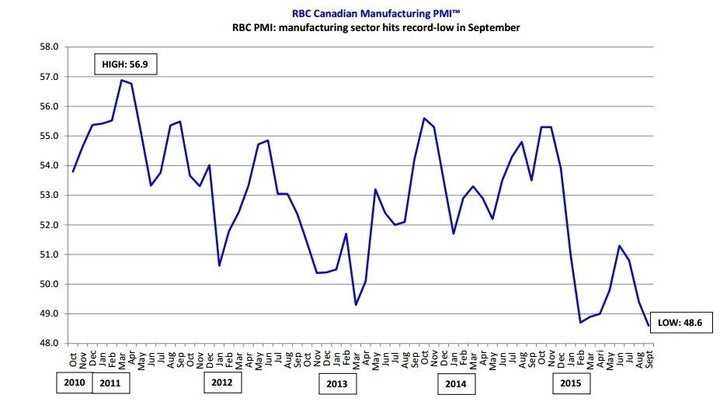 But if the PMI numbers reflect reality, they suggest Canada could see more economic headwinds in the fourth quarter. Data from StatsCan released this week suggested the country had bounced back from recession in the third quarter.
The lower loonie was supposed to help Canadian manufacturers by making exports cheaper, and to an extent it has. But the RBC survey noted that the shrinking loonie has also driven up manufacturers' costs, as many buy supplies and services from abroad.
"Overall conditions in the Canadian manufacturing sector continued to deteriorate in September due to underlying economic conditions, including renewed downward pressure on the price of oil," RBC chief economist Craig Wright wrote.
"Weakness was primarily concentrated in Alberta and British Columbia, with the rest of Canada's PMI levels registering above neutral and remaining in expansion territory."
Alberta and British Columbia's manufacturing activity fell into negative territory in February of this year and has stayed there since.
As economists had predicted, the loonie's fall has breathed some new life into Ontario's auto sector. But growth in the province's manufacturing is slowing. Its PMI fell to 53.3 in September, from a recent high of 57 in June. Quebec's manufacturing sector is expanding, but at a very slow pace that has been just above 50 for much of the year.
Still, Wright is optimistic that a strengthening U.S. economy will "boost Canadian exports and business conditions over the balance of the year."
But how strong that U.S. economy is these days is a matter of debate. Recent revisions to the U.S.'s GDP numbers show the world's largest economy grew at an impressive 3.9-per-cent annual pace in the second quarter, but recent manufacturing numbers have been disappointing, suggesting the economic slowdown in China and some other emerging markets may be taking a toll on the U.S. economy.
The U.S.'s own PMI, released Thursday, came in at 50.2, suggesting manufacturing in the U.S. was barely growing in September.