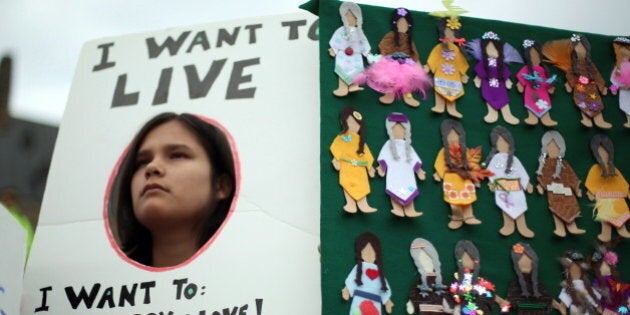 On May 16, 2014, the RCMP released their National Operational Review on missing and murdered indigenous women in Canada. According to their data, there have been 1,181 such cases between 1980 and 2013: 164 missing women and 1017 murdered women.
Importantly, while this report gives us a good picture of the scope of the problem of missing and murdered indigenous women, it fails to address some important issues that could help Canada meaningfully address this violence. Here, I want to outline some of these failings as a means of provoking critical reflection on the RCMP's response and to contribute to ongoing discussion about how to end this violence.
This report fails to address the role of dominant systems of oppression -- colonialism, racism, heteropatriarchy -- in this violence, despite the fact that race and gender are written all over the RCMP's facts and figures. For example, the report suggests that indigenous women have been consistently more likely to be victims of homicide than non-indigenous women over the past 33 years, yet fails to address what role race and/or racism might play in these differences.
It also notes that 89 per cent of the perpetrators are men of all racial backgrounds, yet the report fails to examine what role gender and patriarchy/sexism might play in this violence. Furthermore, the report fails to address the role of colonialism, a significant oversight given that (1) indigenous women have clearly articulated this violence as entwined with dominant colonial ideologies that paint indigenous women and girls as inherently violable; and (2) in accepting this premise, we must then acknowledge that ending violence against indigenous women necessarily requires dismantling Canadian state colonialism with a corresponding regeneration of indigenous self-determination (i.e.: decolonization); which means (3) by divesting these trends of their colonial context depoliticizes it in ways that make it more difficult for indigenous women and their communities to (a) raise this violence as an issue relating to policing in Canada and/or (b) addressing decolonization as a solution to this violence. Failing to acknowledge the role that these interlocking systems of oppression may have played in this violence, then, not only erases their complicity, but also, in doing so, reinforces their existence and operation in Canadian society.
This report also fails to offer much in terms of police accountability. Indeed, we are lead to believe by the facts and figures presented in this report that the RCMP has been doing its job: 90 per cent of the cases are solved. However, what remains to be addressed is any police accountability in terms of the violence in the first place, meaning, how and why have the RCMP FAILED TO PROTECT 1181 INDIGENOUS WOMEN FROM THIS EXTREME VIOLENCE??? There is NO effort in this report to offer an sort of explanation WHY so many indigenous women were allowed to be disappeared and/or murdered under the RCMP's watch! Instead, this report individualizes this violence, providing data on the types of perpetrators in these cases. The RCMP NEED to be held accountable for their role in enabling this violence, and this report fails to do so.
Input from family and friends of missing and murdered Indigenous women and girls
Another problematic component of this report is the lack of input from family and friends of missing and murdered indigenous women and girls on these recommendations. It seems logical to me that in developing an appropriate and improved police response to this violence, the RCMP should included the perspectives of those most directly impacted by this violence, and those who have had direct encounters with the RCMP in this regard. These are the real experts on the failings of these police responses to violence against indigenous women and girls. The only appropriate recommendation from the RCMP, then, would've been: consult with family and friends of missing and murdered indigenous women, indigenous communities, and other interested parties to devise an action plan to respond to this violence.
This report has reinvigorated calls among indigenous women and their communities for a national inquiry into missing and murdered indigenous women and girls. I have previously argued against an inquiry, and still remain extremely skeptical that an inquiry will achieve the meaningful social change required to end this violence. This being said, I support an inquiry because the families of missing and murdered indigenous women and girls have demanded it. For too long, they have been excluded from official state investigations of this violence (such as the Missing Women Commission of Inquiry), and thus, an inquiry represents to them an opportunity to voice their perspectives and concerns for the public record, and to have input of any potential plans of action to respond to this violence.
Unfortunately, I believe that the RCMP has just effectively handed Prime Minister Harper his reason not to hold an inquiry -- 90 per cent of cases, the RCMP reports, have been solved, meaning, within the context of Harper's neoconservative "tough on crime" politics, there is clearly no crisis in Canadian policing. Furthermore, with the RCMP's recommendations, Harper can claim that his government is ALREADY doing something to address this violence and, therefore, no further state response is required. This is my fear -- and while I hope that I am wrong, Harper's disinterest in addressing this violence all but ensures this response.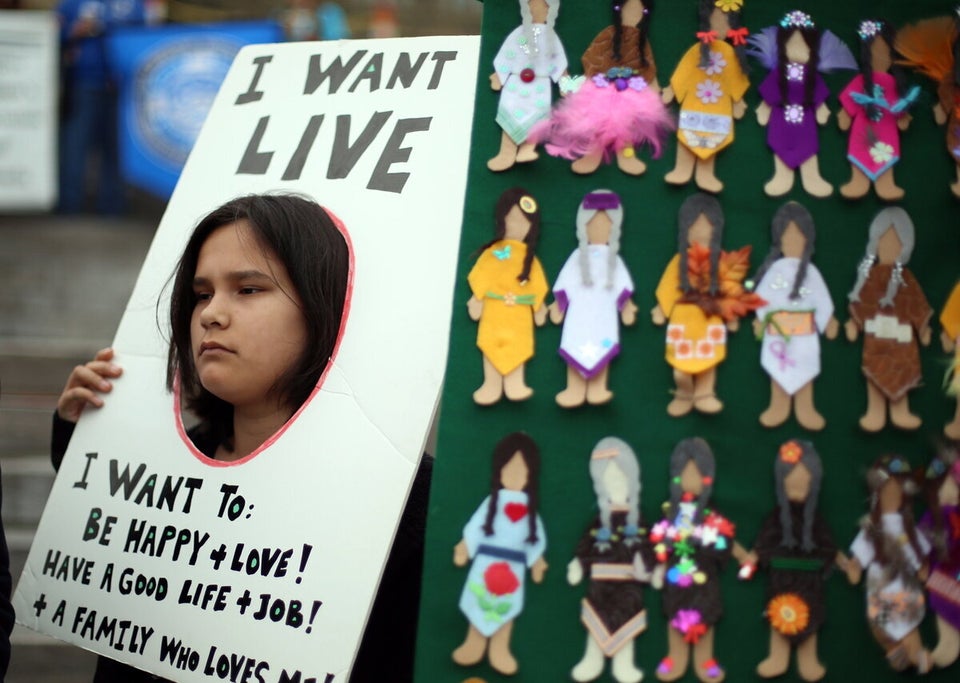 Protests For Missing, Murdered Aboriginal Women