We're going to be seeing plenty of over-the-top displays of patriotism as we near closer to July 1, 2017, the 150th anniversary of Canada's Confederation.
After all, it's been going on all year.
But we have to give a hand to the RCMP in B.C., who decided to demonstrate their loyalty to — and trust in — the country by posing for a photo that frankly terrifies us.
A hundred Mounties in their iconic red serge got together on North Vancouver's Capilano Suspension Bridge, a picturesque and popular tourist attraction.
Take a gander at what that looks like.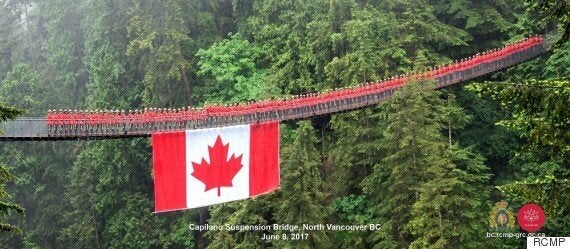 That bridge is 70 metres up in the air — and it wobbles.
The officers came from detachments across Vancouver's Lower Mainland for the "once-in-a-lifetime and once-in-a-career opportunity to be part of an historic photo occasion," said Supt. Chris Kennedy who commands the North Vancouver RCMP detachment.
And for all our scaredy-catness, there is something glorious about seeing these officers, dressed in their iconic uniforms, standing proudly among the Canadian wilderness.
Even when it started raining on them.
Thanks for all you've done, and all you continue to do, RCMP.