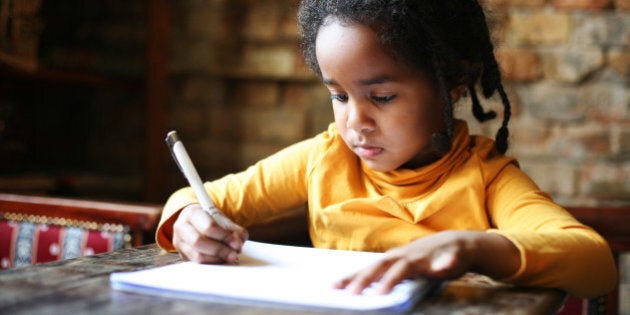 By Andrew Ofosu-Dankyi, Education Technical Programme Manager, World Vision Ghana
When it comes to helping the world's poorest children climb out of poverty, most people agree that literacy is key. Unfortunately, many children struggle because they're being taught to read in a language that's not their own. World Vision and Save the Children are working together to help change that.
Today is International Mother Language Day, a time to explore the incredible things that can happen when a child opens the right book. That's an opportunity I rarely had, as a child growing up in Ghana. I remember my secondary school days when my friends teased that learning our mother language could eventually only get us a job as magicians!
In my classroom, there were a few precious books available in my local language. Those stories profoundly touched my heart, and I loved reading time at primary school. Children love stories, you see. Stories are the virtual window to their world of fantasy and reality. Children do not want to read just any story book, but story books that are engaging and connecting to their passionate souls.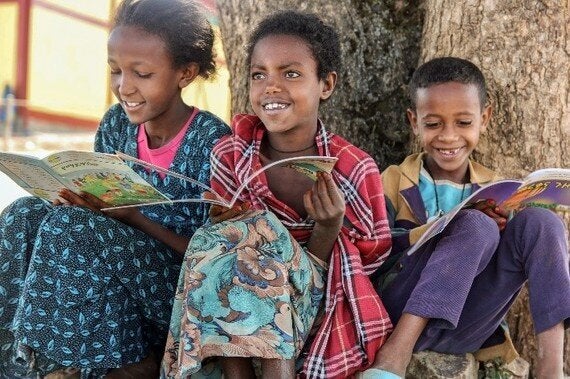 Children in Ethiopia enjoy reading books in their mother language. But for decades, such books have been few and far between. All photos: World Vision
But children cannot learn to read effectively if there aren't enough reading materials to read. It's especially true for children living in poverty, who often miss school for reasons of illness or hardship. Every moment spent in school has to count. Yet although Ghana's government has a policy that supports mother language instruction for young children, very few books are available.
Imagine if you had learned to read in a completely different language, about concepts and creatures totally unfamiliar to you. Children here in Ghana have been taught to read in languages like English, trying to understand books about snow, dolphins and other irrelevant topics. In addition to learning the alphabet, they've had to imagine what a "seal" is, or a "cold winter night."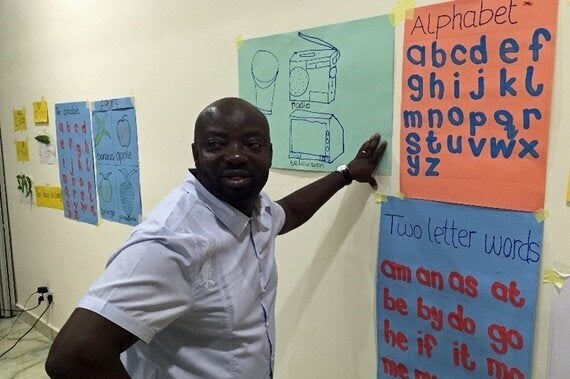 Here's how most children in Ghana have been taught to read until now: in English.
World Vision is working hard to change that. Here in Ghana, we have produced 126 different mother language stories, and translated them into four Ghanaian languages. More than 74,000 copies of these books have been distributed, for children to read in Grades 1 through 4. It's wonderful to see how these stories are opening doors for children, helping them unravel the mystery behind alphabetic letters.
Why create mother language books?
There are many reasons that we do this. More and more, research is showing that learning to read in the mother tongue helps reduce school drop-out rates. Children who have mother tongue learning and instruction also perform better in their second language, once they start to learn it.
Here are some examples, from one of our pilot programs here in Ghana:
• Reading comprehension in local languages shot up from six per cent to 60 per cent
• English reading comprehension increased from seven per cent to 27 per cent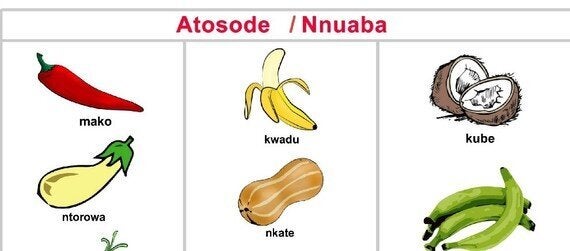 Learning to read words in your mother tongue, with images that are familiar, can make a big difference.
There are many reasons for the improvement. One of them, is the availability of the mother language books themselves in our pilot program. A second reason is that the stories are actually familiar to the children who are reading. Many of the story lines are reflections of the children's own lives.
Using stories from real life
Here's how we gather those stories. World Vision trains volunteers to conduct Writers' Workshops, gathering stories of everyday life from the children and their families. Workshop facilitators tell a story to get the conversation going, then begin capturing people's responses in writing.
Since the stories are gathered in the mother language, community members can participate in the editing, and also in the creation of illustrations. The books are published at a local press, and copies are sent to the community book banks. Soon, they are in children's eager hands.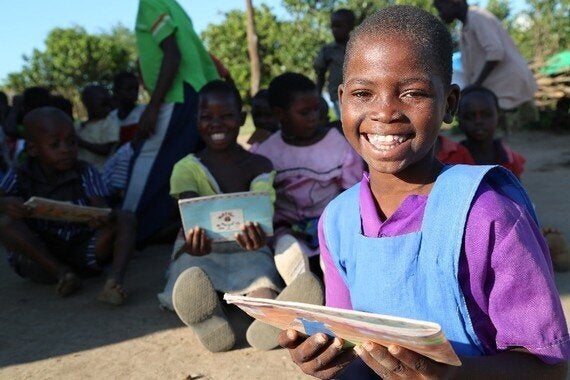 Children in Malawi love borrowing books in their mother language, through World Vision and Save the Children's Literacy Boost program.
Children tell us that they love the stories and pictures that describe their own lives. The stories are about the plants, camels, goats and the West African folklore spider character of Anansi.
Thirteen-year-old Akosua has been behind in school, and is now in Grade 6. Now, however, she is able to read in her mother language, having participated in one of her community's reading camps. She borrows books from local book banks, and whenever she attends a reading camp.
"I love these books," says Akosua. "The pictures are beautiful and the stories are written in my language."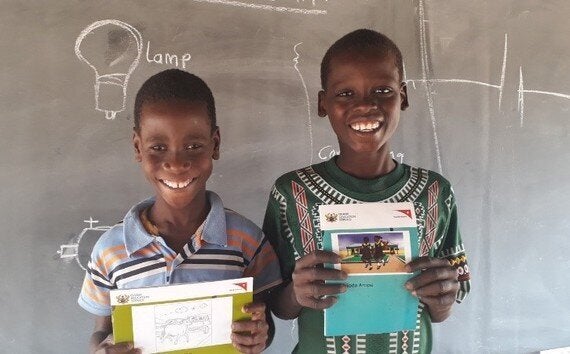 Children show assignments they've done in their mother language, at a reading camp in Ghana.
Community members tell us that they are excited about helping create reading content for children in their mother language. Aunt Abena is nearly sixty, but she's enjoyed participant in the community writers' workshop. And when writing is approached as a group, Abena seems to have a natural gift.
"I regret that I did not attend school. I would have written many books. Writing a story is not difficult at all. I mean, look how we did it together," Aunt Abena told me. Hearing this makes me feel wonderful.
The story doesn't end here. World Vision is working with Ghana's ministry of education, which usually ensures that the word choice is appropriate, and the stories are sufficiently challenging for children. We are now working with a local literacy institute, to expand the outreach of the development of mother language books.
The importance of parents
There's so much to feel good about with this project. One of the things is seeing parents taking more active roles in their children's learning.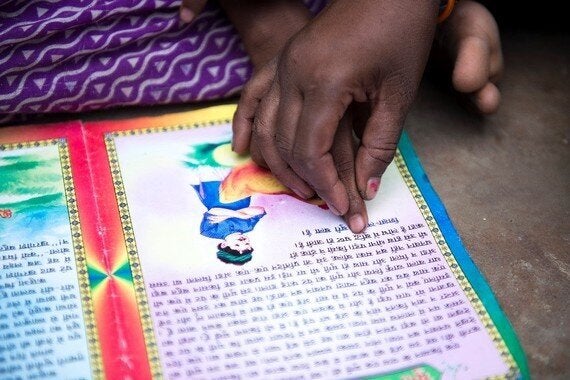 A mother in India encourages her daughter's reading, as they look through a book in their mother language.
When I was studying in my mother tongue, I remember my illiterate parents taking a more active role in my learning than they were able to do later on, when all of my lessons were in English. This parental engagement is important for children's intellectual and social development. It also helps children stay in school longer, and remember what they have learned.
That is why I believe in the importance of supporting the use of mother languages in learning.
Follow HuffPost Canada Blogs on Facebook