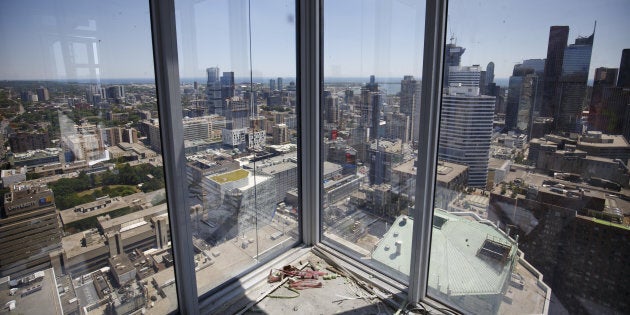 After years of frenzied activity, Canada's housing markets are calming down — so much so that Toronto has gone from being the world's hottest residential market to one of its weakest.
Canada's largest city tumbled to 137th place, out of 150 cities, in real estate consultancy Knight Frank's residential cities index for the second quarter of 2018, with the city recording a 2.8-per-cent decline in house prices. It had placed first a year earlier, with 29.3 per cent year-on-year price growth.
Nearby Hamilton — which had seen a housing boom as Torontonians flocked to its lower house prices — dropped to 128th place, from third a year earlier.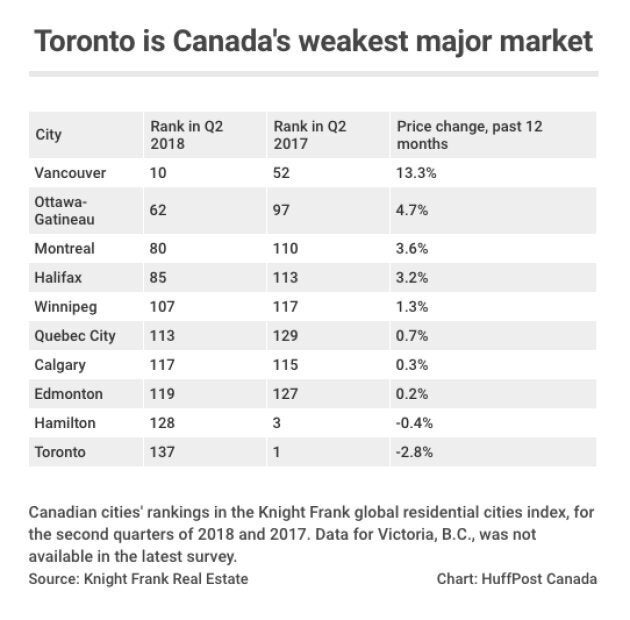 "Tax changes targeting foreign buyers or higher stamp duty (Vancouver, Toronto, Hong Kong) has led to slower growth at the luxury end of the market," Knight Frank said in the report issued last week.
But Vancouver improved its ranking, rising to 10th place in the world, from 52nd a year earlier. Still, it was largely cities in eastern and central Canada that showed improvement, including Ottawa, Montreal and Halifax.
Watch: A 200-square-foot apartment in Toronto is for rent for $1,400-plus (story continues below)
There are "some deep divergences" in Canada's housing markets, Bank of Montreal chief economist Doug Porter wrote in a client note Monday, "with one emerging theme a clear split between ongoing weakness in the west and real pockets of strength in the east."
Worldwide, Asian cities are now dominating the tops of the rankings, with Ahmedabad, India, in first place.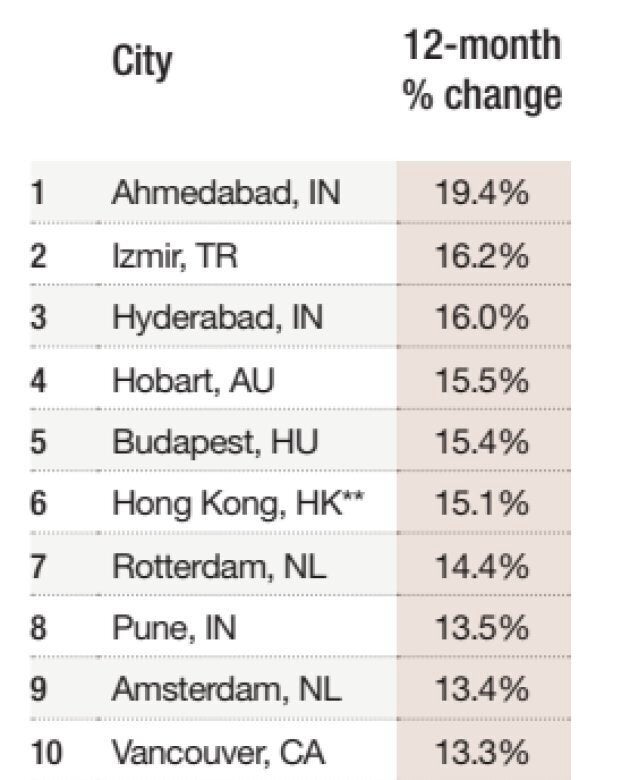 The Knight Frank report provides a snapshot of what the world's housing markets looked like in the April-June period of this year, but that snapshot is already changing.
After a relatively strong start to the year, Vancouver's housing market has turned sharply down, with home sales down 43.3 per cent in September, its weakest showing in years. Prices have started falling in some segments of the market.
Housing market 'in neutral'
Still, Toronto's rebound couldn't stop the national market from turning negative in September, with sales falling 0.4 per cent from August. They're down 8.9 per cent from a year ago, and are below the 10-year average for the month, according to data released Monday by the Canadian Real Estate Association.
"The Canadian housing market finds itself in neutral, with strong population increases and decent job growth countered by rising interest rates and a tighter regulatory backdrop," Bank of Montreal chief economist Doug Porter wrote in a client note.
That "tighter regulatory backdrop" means the new mortgage "stress test" that the real estate industry has blamed for this year's slowdown.
"While results vary wildly from region to region, the overall picture is much, much calmer than anything seen in recent years — and that's a good thing," Porter wrote. "What's especially remarkable is the broad stability in prices."
The sales slowdown this month "is consistent with our forecast calling for resale activity to rise at a more moderate pace in coming quarters," wrote TD Bank economist Rishi Sondhi. "Increasing borrowing costs and stretched affordability conditions in key markets (will) keep a lid on demand."
The average price of a home sold in Canada was $487,000 in September, CREA reported, up a tame 0.2 per cent over the past year.