 Last week I returned from the Realscreen conference in Washington, D.C., where producers and broadcasters from around the world meet to discuss the world of unscripted TV. That means things like reality shows, lifestyle programs, documentaries, and game shows. Basically anything that isn't a scripted drama or comedy, featuring actors.
One thing that I hear at these conferences again and again is that broadcasters are looking for BIG characters. Think Honey Boo Boo, the real Housewives of everywhere, and Jersey Shore. Being loud, obnoxious, and larger-than-life makes for entertaining TV that hooks viewers and makes all the players — broadcasters, talent, producers, advertisers — lots of money.
If you've watched one of our shows or met me in person, you know I am not one of those characters. In fact, I'm amazed they let me on TV at all. In real life, I'm usually the quiet one in the corner. I prefer listening to speaking, and the only rooms I own are the ones in my house.
As a child, I was painfully shy. I literally hid behind my mother's skirts until I was sent off to pre-school. I did stage performances in our living room, but only for an elite audience of four. When I told my parents I wanted to go into broadcasting, they scratched their heads in disbelief.
When I started working in news, live shots made me nauseous, and for the first six months of anchoring the 11:30 news, I had to run to the loo minutes before airtime due to a nervous stomach. These days, we shoot with a relatively small crew. It's intimate and it isn't live. It really does feel like it's just me and my pal, muddling away in the kitchen.
Anna is more outgoing and outspoken than I am, but our A&K shows are a far cry from the screaming matches and cat fighting you often see in the reality genre. Some people think we're funny, a mantle I happily wear.
But most often we hear that our shows resonate because many viewers can relate to us. They're not glued to a slow-mo car crash, they're watching two friends navigating their way through recipes, their relationship, and ultimately, through life.
I'm sure some TV execs would argue that we would be more successful if we threw a tantrum or two. But I maintain there is a place for authentic, quieter people on TV. Lauren Conrad from "The Hills" and Carrie Underwood from "American Idol" are both known for being fairly shy and quiet. Introverted types are also no strangers to the scripted genre. Think of Julianne Margulies' strong yet understated performance on "The Good Wife" or Kristen Stewart's brooding shyness in every interview she's ever given. My heroes!
In her book "Quiet: The Power of Introverts in a World That Can't Stop Talking," author Susan Cain argues that introverts can and have made valuable contributions to society. Thank you, Susan. I think they can also make valuable contributions to the world of unscripted entertainment. Louder isn't always better. Sometimes, it just ends up giving you a headache.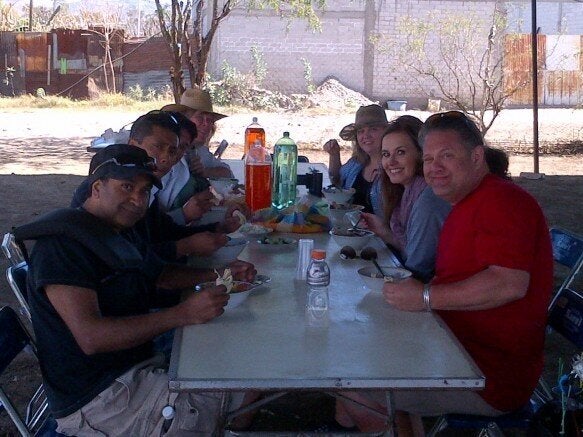 Anna Wallner: The Reality Behind Reality TV