When unsold goods start piling up in warehouses, that's a pretty good sign the economy is slowing down. And that's what's happening in the U.S. right now.
The ratio of business inventories to sales has risen to near recessionary levels, according to data from the Commerce Department released Friday.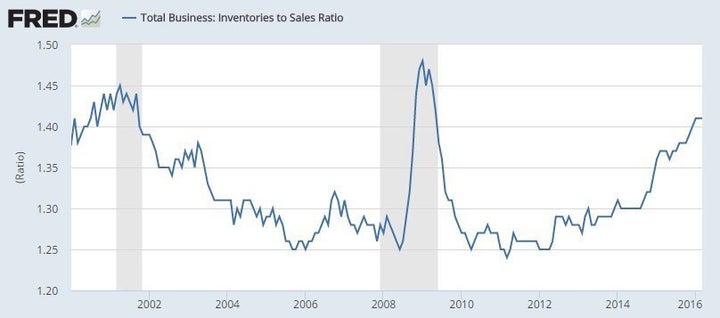 But Zero Hedge isn't the only one seeing the possibility of a U.S. recession. Economists surveyed by the Wall Street Journal see an elevated chance the economy will shrink over the next year.
The latest survey found a 20-per-cent chance of a recession in the U.S. over the next year. While those are low odds, they are still double the 10-per-cent chance economists saw as recently as last fall.
"Decelerating employment growth, growing uncertainty and sputtering GDP growth does not portend well," Chad Moutray, chief economist at the National Association of Manufacturers, told the WSJ.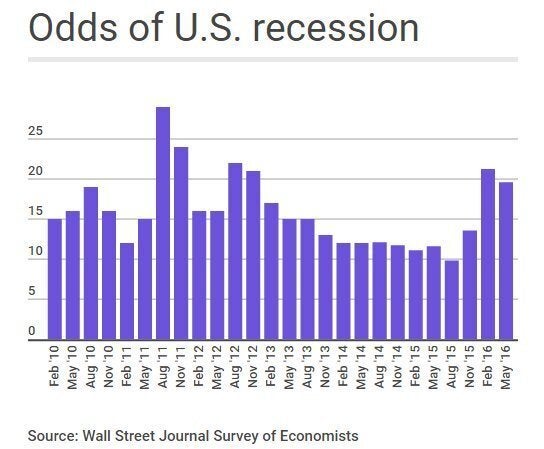 A U.S. recession, if it happened, would pull the legs out from under Canada's rotation away from oil and likely drag the country into its own recession.
Economists had expected that, as oil prices fell and the loonie dropped, Canada would see a boost in exports to the U.S., the country's largest trading partner, offsetting the damage from tanking oil prices.
But that trend is now fizzling. Canadian exports took a deep dive in March, pushing Canada's trade deficit with the rest of the world to a record high of $3.4 billion, up from $2.5 billion in February. That unexpectedly bad report caused many economists to lower their forecasts for Canadian growth.
"Canada was never going to escape unscathed from a slowdown in U.S. imports, and for March that meant a 4.8 per cent collapse in exports," CIBC economist Nick Exarhos wrote.
Still, many economists see this slowdown as a temporary blip.
With the Canadian dollar expected to remain below the 80-cent U.S. mark for some time, "Canada's export sector should remain a key source of strength over the medium term," TD Bank said in a recent client note.
Most private sector forecasters are calling for GDP growth in Canada to come in around the 1.5-per-cent range this year.

Canada's Fastest-Growing Metro Economies