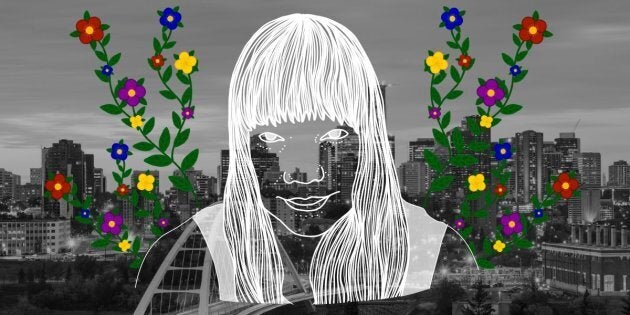 Sarah Auger is Cree from Mikisew Cree First Nation and is a self-described grandmother, writer and researcher. She lives in Edmonton and is doing her PhD in Indigenous peoples education at the University of Alberta, focusing on art as a pedagogy – and thanks to life's unforeseen circumstances, she now takes a different approach to learning.
She is a wealth of knowledge, but acknowledges she is only one person. Sarah kept reiterating that she would never propose to speak for all Indigenous people. The work that Sarah's doing grounds her and she's trying her best to do what she can in her small sphere of influence.

For Sarah, beadwork is a form of ceremony, a way to escape from the day-to-day and be alone with her thoughts. She beads to connect with the Creator and communicate with the ancestors. Her relationship with beadwork, however, has been a tumultuous one.
I've been doing beadwork since I was about nine years old, but I put it away for a long time. Then in January of 2005, I was in the first year of my masters and had a ruptured brain aneurysm.
I survived and fared pretty well, but a lot of people don't. When I tried to go back to school, I found fairly quickly that things didn't come quite as easily for me anymore. I had trouble with memory retention, and had a real problem articulating and writing down what was in my head.
After some time off, I came back to school but found I was having the same issues. At a writing retreat a little while later, I dug out my beads and I found that it helped me organize my thoughts enough so that I could write them down.
Beading has become a part of my process of writing. It was for my master's degree and will be throughout my PhD as well.
What beadwork has done for Sarah is something it couldn't do for Indigenous people, even a century ago – and some still today. Laws and policies put in place basically made it illegal for Indigenous people to practise their culture, from amendments to the Indian Act to the residential school system and the Sixties Scoop.
I think about how I was taught: I was taught by my late auntie, who sat me down and showed me how to bead; by watching my great-grandma, and those became teaching moments. It was not just about how to do the actual thing, it was telling stories about our family or giving lessons. How are people who've been taken away from their families and communities expected to learn?
I've been looking at civic amendments to the Indian Act, including the potlatch ban. It essentially made illegal any and all of our ceremonies, for us to dress in our own clothing, to leave the reserve in our own clothing. This was a concerted and sustained effort to oppress and make illegal our creative practices.
Then, residential schools themselves were separating children from their families, their homes, their communities where that knowledge would be transferred. For generations, these children of our ancestors were deliberately separated. I make the argument today that the child welfare system does the exact same thing: our children are being taken and raised away from home.
While it's no longer illegal for Indigenous people to appear in traditional clothing and jewelry or practise ceremony, children are still being separated from their teachers, which means that knowledge isn't being passed down. And that's something Sarah plans on fighting with her PhD.
What can we do for Indigenous people who have been separated from community and want to learn how to bead? Online isn't the answer; I find it problematic that people can just pick up the actual skill that way. But then there's an ongoing conversation around how much do we share when it comes to our sacred teachings. There is a real danger that those stories and those teachings will be taken up in a really destructive way.
We can't just open up our teachings to everyone. But for some it's the only avenue they have and there are things that get lost in art knowledge transmission if this becomes the only way. Indigenous people who have been taken away from community need to come home.
Sarah knows what needs to change in Indigenous communities so that knowledge can continue to be passed down. She's just one person, but she's willing to do her best to enact change where she can.
My personal philosophy is that I do what I can do in my small sphere of influence. If an opportunity comes up to teach, I take it. I had an opportunity to do a workshop with some young moms, to show them how to do bead work. I used that small amount of time I had to tell them some stories about myself, about my family, and I told them about the spirit bead.
So if I'm going to do something on an individual level, it's my responsibility to try and bring some of those teachings in.
Some of the responses in this piece have been edited for clarity and brevity.
This story is part of Not My Territory*, a HuffPost Canada series about urban Indigenous perspectives driven by the people who are part of the country's fastest growing populations.
*Some Indigenous people live in cities that don't overlap with their community's traditional territory, and many feel burdened by being regularly called on to represent cultures and backgrounds that aren't their own.
Popular in the Community