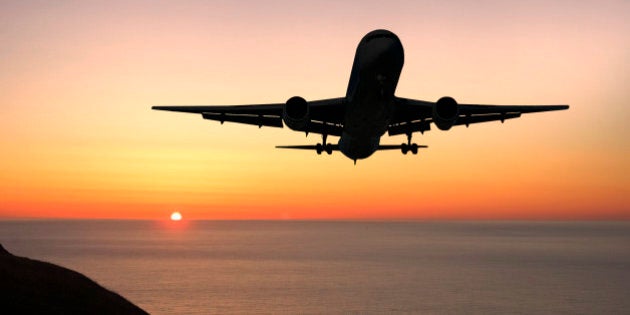 Unless you have money to burn, red-eyes are a great way to save on an extra day of a hotel costs. They also give you a full day to hit the pavement running. I usually can't stand taking red-eyes, but I found myself taking one last week from Vancouver to New York City.
The normal daytime flight would take approximately 5.5 to 7.5 hours depending upon layovers -- this amazing red-eye took a quick 4.5 hours due to the tail wind. 4.5 hours was enough time to indulge in one movie (Joy), a meal (thank you Cathay Pacific) and 1.5 hours of "rest."
When I arrived at JFK, I found myself grabbing some shut-eye as the Luxury Ride driver weaved through the already thick Manhattan traffic. As my eyes opened slightly to take in the sharp morning light, I thought to myself -- without upgrading to first class or business class, how can one go from economy to engagement without being a totally zombie? Here's my list to help take you from the airplane to the assembly with no long layover.
1. Non-Caffeinated tea: Don't get me wrong -- I'm all for caffeinated drinks. In fact, its' mochas and black tea is my staple. But for unwinding, I prefer something that is more soothing. Tease Tea has great non-caffeinated options of Midnight Mint and Golden Slumbers use a perfect mix of rooibos, rose, ginger, sunflower, spearmint, chocolate and calendula.
2. Flat shoes: Going through the airport security, it's always a hit or miss when it comes taking off your shoes. Try these FS/NY classic Tequilla flats with a scalloped top-line, pointed-toe, rubber sole and cushioned foot bed. Taking them off mid flight is a breeze as well as putting them back on when you land. Made in Spain, the polished look is professional for your next meeting.
3. A warm coat: It's freezing on planes and what better way to cozy up than a coat that can serve dual purpose as a blanket. As much as I love the airline blanket, I often leave the plane looking disheveled with lint all over my outfit. This Marta Scarampi Kate Cape has a timeless shape with vintage charm.
4. Lip Balm: The last thing you want is chapped lips anywhere. But when you're on a red-eye and can often you wake up to dry lips thanks to that dry stale air. Kiehls #1 lip balm helps protect lips from the drying effects of wind and cold weather (perfect for winter - or the cold tundra of the plane). Formulated with soothing emollients Squalanea, Lanolin and Wheat Germ Oil, as well as Vitamin E gives you enough shine to enhance your natural lip color.
5. Facial Hydration spray: There are many on the market, but I personally use this Hydro-Aid Moisturizing Lifting Mist from Sulwahsoo. It restores hydration levels deep within the skin while also preventing excess moisture evaporation. This Korean herbal seaweed facial spray also has a light aroma helps relax stress-affected skin that wakes you up after a long flight. Using a misting spray is easier than trying to wash your face in the tiny airline sink!
6. Travel Hairbrush: I know this should be obvious. But with my hair in the usual travel messy bun, I forget how unprofessional it can look the day after a flight. All the dry, recycled stale air in the plane can't be great for your hair. Often mine turns into a fuzz ball after a flight. But did you know that brushing hair regularly stimulates blood circulation, which generates hair growth, oxygenates the scalp and eliminates impurities. Brushing from root to tip distributes natural oils, helps strengthen hair, and most important to me adds shine. Try this Christophe Robin natural boar hair one.
7. Minimize electronics on flight: It's hard to get rest sometimes. I always like to catch up on my movies, yet if you have meetings booked for the next day means you should get some beauty sleep and give your eyes a rest. But, if you must work, the Moleskine Paper Tablet, Pen+ and the companion app, the Pen+ has the ability to transfer your freehand notes from page to screen in real time, giving you the possibility to digitize text, edit, organize, share and bring your ideas to life (provided you have Wi-Fi on the flight). Compatible to many apps including iCloud, Google Drive, Evernote and Adobe -- it can even capture audio too!
Follow HuffPost Canada Blogs on Facebook