Canada can add $150 billion to its economy by 2026 if it takes steps to combat gender inequality, according to a new report from the McKinsey Global Institute (MGI). This number jumps to $420 billion if Canada eliminates the gender gap completely.
This reflects a 0.6-per-cent increase to the country's annual GDP and is 6 per cent more than the projected GDP in 2026, if no changes are made. To put it into perspective, the report notes the increase would be like giving Canada an extra financial services sector. Growth for the provinces would jump from anywhere between 0.4 and 0.9 per cent. To achieve this goal, 600,000 additional jobs for women would have to be created.

"We didn't assume that would close the gender gap, just what we think is achievable," Andrew Pickersgill, a managing partner of McKinsey & Co. Canada told The Globe and Mail. "The real context around the Canadian economy is that if you look at the last 50 years of GDP growth in this country, more than half of that has been labour participation growth ... So immigration and women entering the labour force."
The biggest steps Canada can take include bringing more women into sectors like mining and technology, where productivity is high; increasing overall labour force participation for women from 61 to 64 per cent; and adding 50 minutes a week to women's working hours.
Canada is still one of the world's leaders in women's equality, and ranked in MGI's top ten in 2015 for gender equality. But the report also warns that Canada's progress has stalled in the past 20 years, and if progress continues at its current pace, the gender gaps in Canadian society could take anywhere from 30 to 180 years to close. The Guardian also pointed out Canada fell to 35th place in the World Economic Forum's gender equality rankings in 2016. Back in 1995, Canada was number one.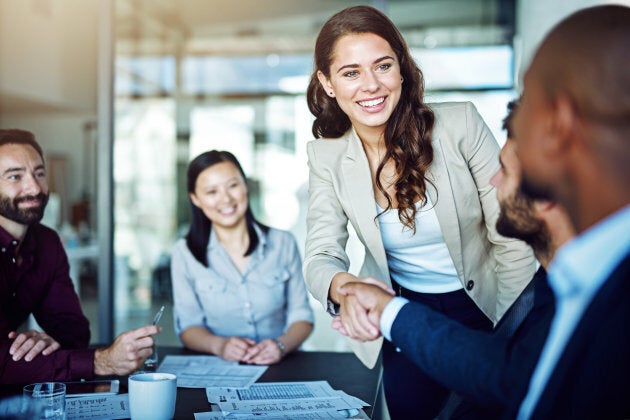 The study found Canada's gender gaps are relatively similar across cities and provinces, and the biggest gaps in women's representation exist in five areas:
35 per cent of managerial positions are women

28 per cent of STEM graduates are women

23 per cent of STEM workers are women

20 per cent of small business owners are women

29 per cent of elected officials are women
However, women also take on 64 per cent of unpaid housework and childcare and are 80 per cent of single parents.
According to Bloomberg, Canadian women are also more likely to work in less productive industries. They're 82 per cent of health care and social assistance workers, with an average output of $50,000 per employee, and 67 per cent of education workers, at $70,000. In sectors where the average output is above $250,000, like agriculture, utilities, and oil and gas, only 20 per cent of workers are women.
The report further highlighted that women are less likely to be promoted than men, and this gap increases at higher-up positions in companies. Men are three times more likely to be promoted from director to vice president, for example, despite women wanting promotions just as much as men do.
Canadian women are more than 50 per cent of the working-age population, and hold 53 per cent of all advanced degrees. But they're only 25 per cent of vice presidents and 15 per cent of CEOs.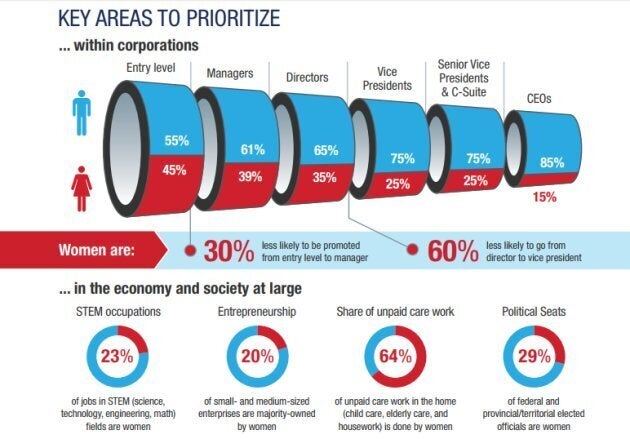 The report outlined several steps for companies to take to improve their representation of women:
Companies need to do more than commit to diversity vocally and emphasize the business potential in change.

Set clear targets for representation and track progress. Fifty-five per cent of companies do not have representation targets and 75 per cent don't track the recruitment of women.

Create sponsorship programs to help promote women. Men are 50 per cent more likely to attribute their progress to senior leaders than women, but most companies do not have these types of programs.

Make advanced positions more flexible so that employees do not fear that taking leave will hurt their careers.

Raise awareness of subconscious biases and actively fight to make workplaces more inclusive, as women are only a quarter of senior leaders but 80 per cent of employees think their companies are inclusive.

Researchers for the 124-page study, "The power of parity: Advancing women's equality in Canada," conducted surveys among Canadian companies and gathered data about nearly 500,000 employees and almost 70 companies. Three thousand employees and 1,000 random Canadians also completed personal surveys about their experiences with gender and their careers.
The report concluded it is impossible to achieve gender equality in society without also achieving it in the workplace. Canada needs to work towards this by removing barriers blocking women from STEM, supporting more women to become entrepreneurs, reducing the gender disparity in unpaid childcare and domestic work, uplifting women in politics, and reshaping social norms about gender.
As Canada's population ages, its economy will need to start tapping into the vast potential of its women to succeed.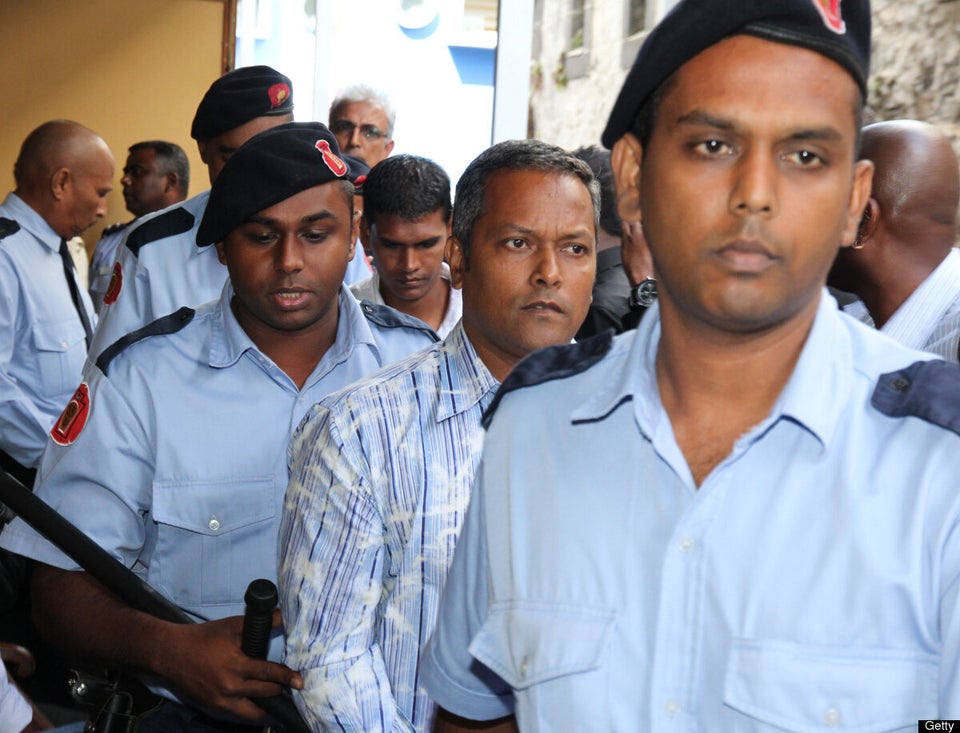 Countries With the Largest Gender Gaps