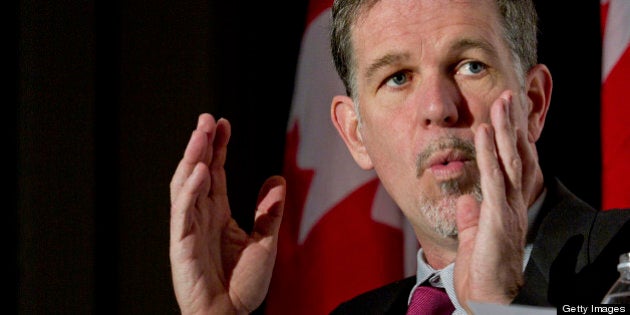 Netflix Canada's booming subscription rates are driving Canada's cable providers into the online video market in an attempt to remain relevant to viewers who are increasingly cutting their cords, the company's CEO told a Toronto digital media conference Tuesday.
Reed Hastings believes cable companies such as Rogers Communications Inc. and BCE Inc. are doing the right thing by jumping on board video streaming services, because their traditional business models are heading the way of fixed-line phones, he said in a keynote speech at the Canada 3.0 conference.
"Probably half of you still have a fixed line telephone, right? But you ... hardly use it, almost all of your communications are on your mobile phone, but the fixed-line is kind of a security blanket," he said.
"And I think that's how linear cable and satellite will be," he said, adding that they are not likely to face a rapid decline.
Hastings said he's looking forward to more Canadian competitors launching online streaming services.
"What we can look forward to with the entry of Netflix and its success is then having a competitive response," he told the conference.
"Through all of these competitive offerings, we all learn, we all get better. There's more bidders for content so the content owners are happy and there's more choices for all of you."
Hastings struck a more conciliatory tone toward Canada's telecommunications companies -- the biggest of whom dominate both the television and internet markets in Canada -- than he did during a more private audience earlier in the day.
In an interview with the National Post, he said the practice of monthly download limits was an obstacle unique to Canada.
In many cases in this country, those internet providers holding back downloading are the very cable companies he is encouraging to get into the online video market.
Netflix has been painted as a foreign threat by Canadian cable operators seeing their viewers cut their cable in favour of cheaper, more flexible online options such as subscription services like Netflix, free options like networks' websites, or unauthorized downloading.
The company's "over-the-top service" (meaning it's delivered on another company's broadband infrastructure) has been painted as a threat both by telecommunications companies who blame it for eating up their bandwidth and taking eyeballs of their shows, as well as by cultural groups and content providers who say it is eroding Canadian content.
George Cope, CEO of BCE Inc., Bell's parent company, told a CRTC hearing last week that its controversial takeover of Astral Media should go ahead as is because it would provide a crucial Canadian alternative to U.S.-based Netflix, which has been in Canada for two years now and has some two million subscribers.
Rogers Communications Inc. has also said it will launch a Netflix-type service and Quebecor's Videotron has already done the same for Francophones.
The CRTC has so far stayed away from the issue, noting that studies show Netflix and other over-the-top services have so far had a minimal impact on the market.
Hastings said he believes there's enough room in the market for everyone, adding that he believes Canadians will spend their time and money on many different apps, just as they have divided their relaxation time between books, television and other pastimes.
"It will be completely compatible to have a Netflix app, to have a Rogers app, to have a movie channel app, to have YouTube as an app," he said.
"Because in the broadest sense, we compete for relaxation time. … You go home, the kids are in bed, you want to watch something to relax, you've got many choices."
For a lot of people internet video is still a novelty, and more competitors will help it become more mainstream, he said.
"So that's why we look at it and say if there's a lot of new competitors, it might actually help the internet video market grow even faster because then we're all exchanging ideas," he said.
"It really helps to have a lot of competitors come in the space because everyone talks about who's doing what and it can really help to build the market even faster and larger than it would otherwise be."