Both Mumbai and Vancouver are populated with people who can trace their migrant roots back to cities all over the world. This sense of movement exudes freedom, something that Indian artist Reena Saini Kallat both encompasses, and challenges in her free public art installation "Woven Chronicle" now on display in Vancouver.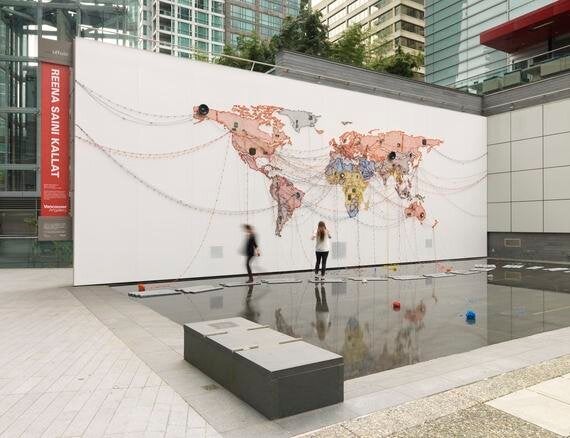 Kallat's work has been exhibited in international exhibits such as the Mori Art Museum (Tokyo), Kennedy Center (Washington D.C.), Satchi Gallery (London), The National Museum of Contemporary Art (Seol), and now Vancouver.
Jugni Style chatted with Kallat about "Woven Chronicle," her personal experience with the themes in her work, and the city of Vancouver.
Tell us about "Woven Chronicle."
The work actually evolved in 2011, when I was invited to be part of the Goteborg International Biennial of Contemporary Art. Curated by Sarat Maharaj, it was called Pandemonium - Art in a Time of Creativity Fever. Sarat was referring to John Milton's essay Paradise Lost, which reflects on chaos and disorder that is at the same time about the emergence of new worlds and the conditions that allow for transformation and creative emergence.
I was interested in working with yarn, the trade between India and Sweden and from thinking of yarn, I eventually arrived at working with electric wires, or cables, that would be treated like yarn, to form the work. So I began tracing migrant routes, historically going from indentured labour, to the different kinds of migrants, whether they're settlers, contract workers, professionals, asylum seekers or refugees. While wires are meant to be transmitters of energy, flows of exchange and ideas, they in this case are converted into barbed wire and cables, and fencing. These kind of inherent contradictions that the work seems to hold within it was something I was interested in working around.
Why did you showcase this piece in Vancouver?
For Offsite we had been discussing a few works, and Diana, the curator of this project, felt that somehow this piece had a resonance with Vancouver, which is most diverse in terms of ethnicities, and is really a point of convergence.
This piece also has a very strong sound component, which comprises of high voltage electric current, drowned with deep sea drone sounds, there are factory sirens, ship horns, communication tones like engaged tones, and some migrating birds, so it's a very layered soundscape.
And I now understand what [Diana] meant, because to me, public art has always been something that I'm very weary about, because I often feel that it can be an imposition on space, unless it really is sensitive to the environment around it, to the people who inhabit the neighbourhood. And I think its a great way to do these temporary exhibitions, which are constantly changing but it also allows people to have a say in what they like, what they dislike, it allows them to question things.
So for me it's always been really important to be able to work beyond the defined perimeters of the art community, and see the interface with the larger public. I think the water body adds a completely new dimension to the piece and the way you sort of [laughs, pointing out of the window at the installation, where a few people are chasing each other through the body of water] access and experience this piece because of how and where it's located, at the crossroads of where people converge.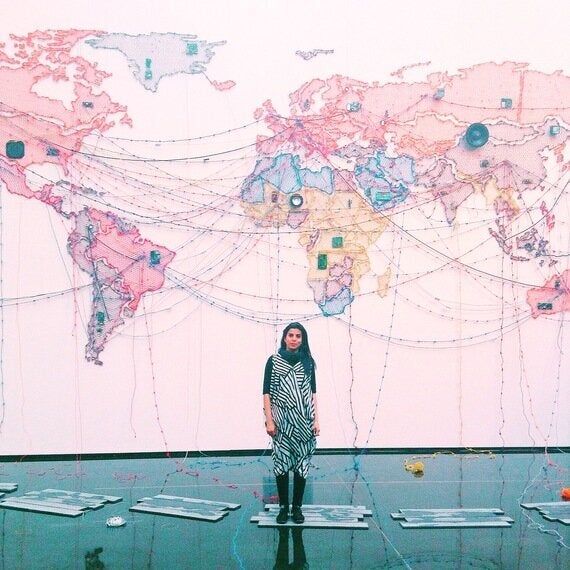 There are some common themes throughout your work, like movement, transformation, and a longing for a sense of home. This is something that can certainly apply to Indians living in India, following events like The Partition, or colonialism, and the ramifications of those. It's also something that resonates with the South Asian diaspora, this sense of longing for a home that isn't there anymore, that maybe isn't the same, or that is simply not accessible to them. What's your experience with this feeling of longing, and how do you see this theme operate throughout your work?
The sense of belonging for me lies very much in India. I'm very rooted there because I've almost lived all my life in India, even if I travel quite a bit, that's where my home is.
I'm not sure if it's really this longing to get back, but I guess there are several works that touch upon this lingering sense of past within the present, and our own changing relationship with that. So it's not really a sense of nostalgia but a sense of continuity from the past to the present.
I lost my mother when I was very young, and yet I felt she continued to play a very strong role in my life way after she left. I often think of how certain events, people, places, continue to have an effect, and play a role in our lives way beyond the time they've left us, like they've outlived their lives.
So some of the text-based pieces that I've been doing with salt on the beach, I think of as a kind of extension of the life of these texts. While salt is an essential ingredient for sustenance itself, I'm most interested in the fact that it's a preservative and one that extends life.
Of course, people have made their own associations with Gandhi's salt act and the kind of resistance that was put forth to the British through the salt act, and in a sense I think of this as my own little way of resistance towards forgetting, through extending the life of these texts.
Some of these more recent texts are based on poems from regional Indian languages written by women poets, translated into English. And I guess there is the element of surrender, where you are completely left to the forces of nature, working in collaboration with tidal calendars, and sunset timings to make these works. I often think of our own relationship to the seas having evolved from the pre-Cambrian seas. And yet the salt comes from the sea, its a kind of return to the sea, there is that cyclical nature of things which very much finds its way in my work.
You mentioned that the map and the wire components of "Woven Chronicle" trace migration and trade routes. There is also another side to this, where barbed wire can be seen as a blockade of sorts. What is the intended purpose of the barbed wire map?
On the one hand it symbolizes these connections, and yet on the other we know that there are inequities. It's not necessarily this kind of all-inclusive space as we'd like to think, there are several impediments to cross, and deep rooted prejudices to overcome, so it's as much about these obstacles.
Our own experience in the city of Mumbai, where we grew up with the understanding that we live in the most religiously diverse yet secular environment, has changed in the last two decades. I mean the '92 riots, 2002 riots, really put our beliefs into question.
One of the key purposes I use electric wires is for these inherent contradictions that it holds, as transmitters of energy and ideas, as something that is meant to be a conduit/carrier, is also then converted into a barrier (with barbed wires).
Now, even as cultures are blending with a greater movement of people and information than any other moment in human history, borders have become more and more controlled and monitored than ever before. So there are many layers of contradictions this web of entanglements holds within it, which are as much a reality as these connections.
"Offsite: Woven Chronicles" is presented by the Vancouver Art Gallery in association with Indian Summer Festival. The Offsite is located on West Georgia Street between Thurlow and Bute. The installation will be up until Oct. 12, 2015, and admission is free.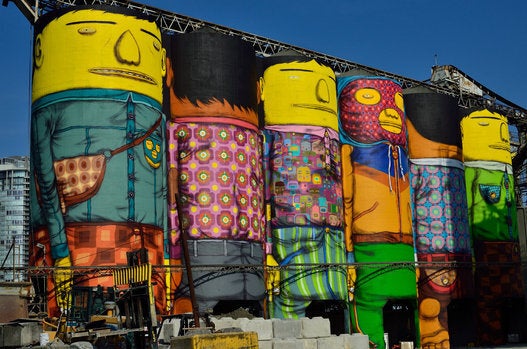 Vancouver Public Art