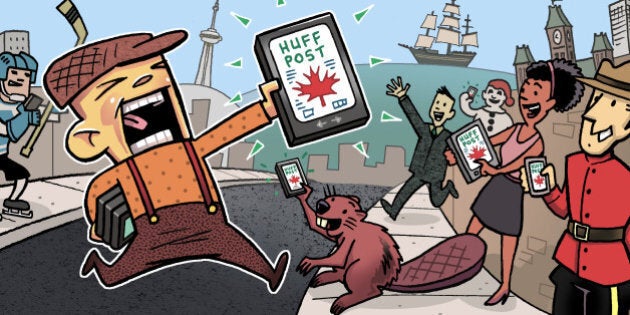 Five years ago, The Huffington Post looked north as a first step towards its ambition of going global. Though Canada made sense in terms of language, geography and culture, Canadians know full well there are distinct differences between our nations. It's with that mindset that we set out to define HuffPost Canada.
Five years ago was a proud moment for a small team who started out here in Toronto, but we knew we were just getting started. There was so much work to be done.
The social era of the Internet had come. Video was emerging as a soon-to-be-dominant force. Trends and virality were still new ways to describe news. There were also exciting things happening. Our launch day — May 26, 2011 — saw Jack Layton lay out his shadow cabinet, which we called the Orange Shadow. Politics would prove to be a place where Canadians were interested not only in policy and party inner workings, but in personality.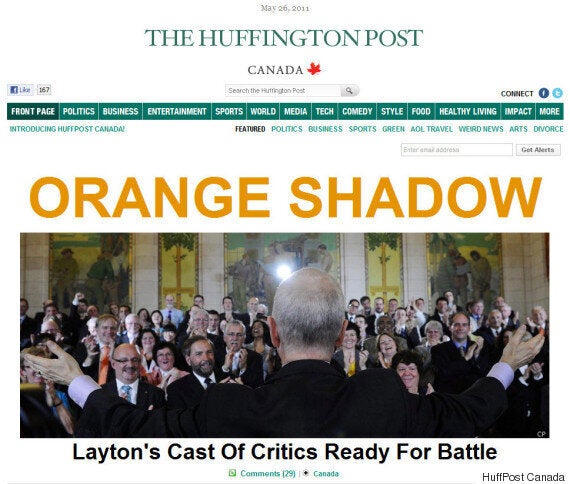 On our first day, this was one of our first front pages featuring the NDP's unveiling of its shadow cabinet.
Our industry was being disrupted — now seen in the taxi and hotel industry — so we built our newsroom on the notion that newspapers no longer fight against newspapers, portals against portals, television against television. Time was the enemy. We had to fight for your time.
Behind content and how we deliver the news and how you consume it, there are far more important impacts I note on our fifth birthday.
We're proud to add to the Canadian media landscape. There were many things we could have done but we focused on what we could do well. When we set out to create HuffPost, we had visions of how we can contribute to the national conversation in business and politics. We thought we could be part of your daily life, and our growth of coverage in wellness, style, health, fitness and parenting. It wasn't about just about the news any more.
We're proud to be the home for talented journalists... who bring passion to the job with a hunger to know more and experiment often.
We're proud to be operating in both official languages, to be located in cities across this country, from Vancouver and Quebec City, to Calgary, Ottawa, Toronto and Montreal. It's made an impact on the stories we select, the ideas that come to the fore.
We're proud to be a platform that has given a home to so many voices over the past five years. Thousands of bloggers — from politicians, to now household names — have contributed to the HuffPost story. We're proud to push the bounds of storytelling. From writing eBooks to hosting a global town hall with the prime minister, from embracing Instagram and Snapchat to releasing a 40-minute documentary series or a 90-second video, my team knows no challenge they won't embrace.
Thank you for being part of our story.
We're proud to be the first global voice as the HuffPost brand has spread around the world. There are now 15 international editions and when I meet with my colleagues worldwide, I feel like Canada was a natural starting point for the international story — we come from everywhere, yet we are always reflective of where we are.
We're proud to be the home for talented journalists — writers, editors, video editors and producers, graphic artists, reporters — who bring passion to the job with a hunger to know more and experiment often. Our newsroom is young, it is reflective of Canada and it always reinvents itself. It makes us better and our coverage better for it.
When I hear that other newsrooms grapple with diversity and generational gaps, I just look at the faces of my staff and I'm left wondering why other places have that challenge.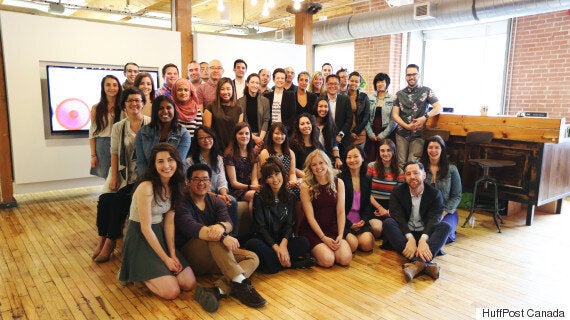 Finally, we're proud to be part of your daily routine. Over the years, I've been chuffed to see people open apps, share our stories, raise the issues we cover. More so, in conversations, I'm no longer shocked that a person I will come across will have heard of The Huffington Post. That, for all of us, is a sign that we have built something so much more than what a small newsroom started five years ago. Thank you for being part of our story.
Follow HuffPost Canada Blogs on Facebook