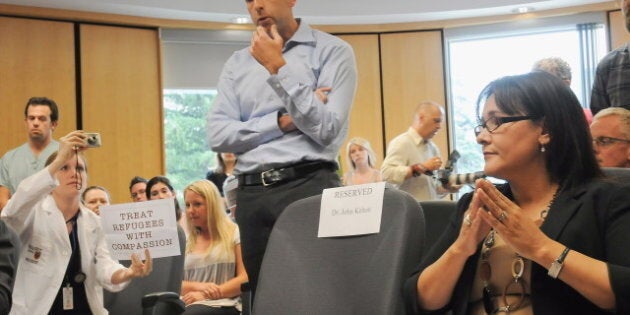 An announcement from the federal government has galvanized the health community in a tour de force that we don't see very often. Why? I think it's because the issue speaks to the heart of our purpose. We Care.
The story's about a program that provides temporary health coverage and medication to refugees -- the Interim Federal Health Program (IFHT). Recently, Ottawa introduced Bill C-31, the Protecting Canada's Immigration System Act, and announced it was going to cut IFHT.
The result was an outcry of support for a vulnerable population -- people who have left everything they own to flee persecution, rape, torture and violence in their home country.
CAMH staff member John Donoghue reminded me that this population has specific mental health needs. Canadian research has demonstrated that refugees are more likely to experience emotional problems and high stress levels, as well as greater mental health risks and rates of mental illness, than non-refugee newcomers.
Eliminating important supports and services from refugees is nothing short of inhumane. Donoghue pointed out that CAMH has not only a duty to care, but also a duty to speak out -- to advocate for human rights. Here are some key facts about the refugee population:
• Each year, Canada provides asylum to more than 10,000 persecuted persons and welcomes another 12,000 refugees from abroad (CIC, 2011).

• Canada has resettled or granted asylum to refugees from more than 140 countries (CIC, 2011).

• Nearly 60,000 refugees arrived in Toronto from 2000-2009 (CIC, 2010).

• The top countries of origin for recent refugee arrivals were China, Colombia, Afghanistan, Iraq and Sri Lanka (CIC, 2010).

• Over 50 per cent of the world's refugees experience a mental health problem.

• Worldwide, 5 million refugees require specialized mental health care for chronic mental illness existing prior to their displacement or trauma resulting from organized violence (WHO, 2012).
Despite valiant efforts from a number of organizations, Bill C-31 passed. Protests resulted in a small victory -- the Minister of Citizenship and Immigration has reversed cuts to government assisted refugees. It's important for the health care community -- more specifically the mental health sector -- to speak up.
I'm grateful and proud to live in a free and safe country. Watching world events unfold in places like Syria compels me to work for a better world in small and big ways. Seeing the health community rally behind this issue, and hearing the passion of our experienced staff, reminds me that CAMH is indeed much more than a hospital, it's a cause.
By: Dr. Catherine Zahn, CAMH President and CEO