The tragic image of a Syrian boy lying dead on a Turkish beach spurred difficult questions this week about whether or not Canada is doing enough for refugees in crisis.
But on Thursday, other images online sparked discussion about the kind of language members of Stephen Harper's government have used in the past to discuss refugees.
One mailer, allegedly sent by Ontario Tory candidate Scott Reid in 2012, featured a survey asking if refugees should get "gold-plated dental, vision, and drug benefits?"
Recipients could check a box saying either it isn't fair to give "better benefits to refugees than Canadians," or one stating refugees should indeed get "better government benefits than Canadian citizens."
Another sent by Ontario Tory candidate Paul Calandra last spring, asked constituents what "level" of health care the government should provide to "failed and fraudulent refugee claimants."
A spokesperson from Reid's office said they are looking for the mailout and will respond to them at a later date.
Calandra emailed The Huffington Post Canada a statement saying the survey was conducted earlier this year and focused "specifically on those who abuse Canada's generous asylum system."
"The response from my constituents was overwhelmingly in support of providing no publicly-funded healthcare to those who would take advantage of Canada to the detriment of supporting legitimate refugees," Calandra said.
"Canada's refugee system exists to help the world's most vulnerable people like those we have recently seen fleeing from Syria and Iraq. Fraudulent claimants only further exploit our generous system. Canadians, especially those in my riding, have no patience for these abusive and fraudulent individuals."
These types of surveys are nothing new. In March, Manitoba Tory candidate Lawrence Toet sent a mailer to constituents with a loaded question about Bill C-51, the government's controversial anti-terror legislation that has since become law.
In that case, recipients could check a box that they agreed with Toet that either "additional action" was needed to combat terrorism, or that "terrorists are victims too."
In light of this week's events, many on social media were offended by the language used in the mailouts addressing refugees.
However, it is the same language that has been used by Tories since the government cut medical benefits for newcomers in 2012, leaving immigrants with basic health care but not supplementals like dental care and vision.
That year, Saskatchewan Tory candidate Kelly Block sent out a newsletter touting the end of "unfair benefits for refugee claimants."
"New arrivals to Canada have received dental and vision care paid by your tax dollars. They've had free prescriptions," it reads. "Not anymore."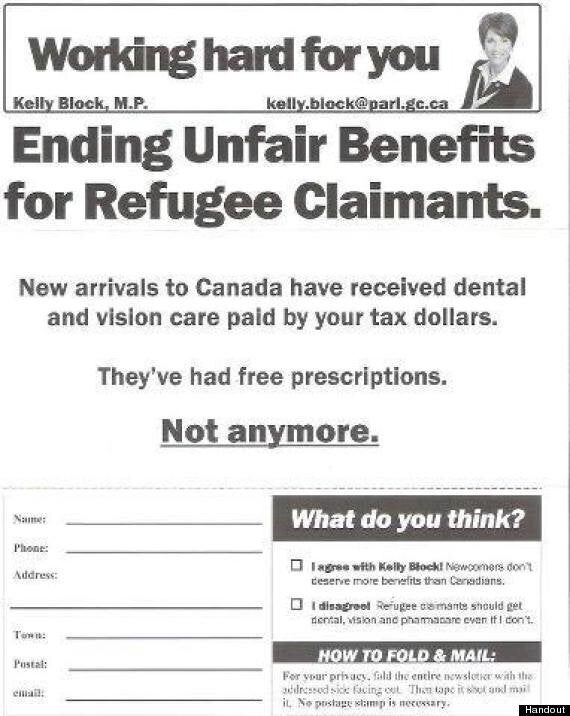 In the House of Commons, B.C. NDP candidate Jinny Sims called the flyer "offensive and misleading," and accused Block of "bragging about denying medication for kidney disease to an elderly woman or care to a young woman who is 18 weeks pregnant due to sexual assault."
Rick Dykstra, then-parliamentary secretary to former immigration minister Jason Kenney, said those applying to become refugees in Canada will get the same medical treatment as any other Canadian.
Later, Dykstra added those who "fall within the rules" of becoming a refugee or permanent resident will get the health care they deserve.
"Those who come here to take advantage of our country, to take advantage of our system, to take advantage of our process… that is not what this government is going to support," he said.
'A vindictive campaign against refugees'
Alexander was defiant, telling The Canadian Press it was "absolutely incumbent" on the government to defend taxpayer dollars.
"There was not just normal health care, but enhanced health care, that goes well beyond what most Canadians receive, going to people whose claims failed, whose claims were literally bogus," he said.
Last January, Ontario NDP candidate Andrew Cash asked Alexander in question period why the government was appealing that ruling in court and working to "ensure that people get left behind."
"How much has his department spent fighting a vindictive campaign against refugees?" he asked.
Alexander responded by asking why Cash insists on "fighting a vindictive campaign against honesty."
Alexander said the government has supported the health of refugees.
"What we object to is asylum claimants who have failed to be deemed refugees by the Immigration Refugee Board, some of whom have fraudulent and bogus claims, receiving gold-plated health care that goes beyond what Canadians receive," he said.
"That is why we are the only party in this place standing up for Canadian taxpayers and the only party that will speak honestly about protection of the health care of refugees."
With files from The Canadian Press