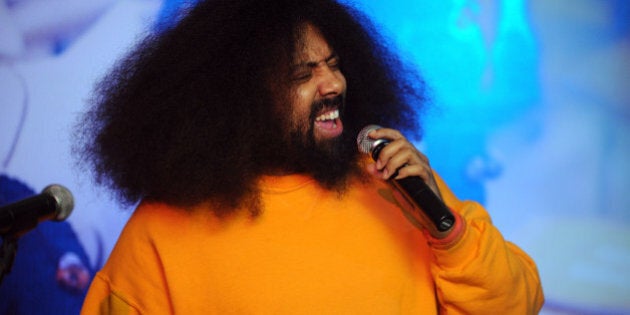 Reggie Watts might not be South By Southwest's biggest fan.
"Austin [during SXSW] is ridiculous," the improvisational comedian and musician tells Huffington Post Canada in a tone that straddles deadpan and serious when the festival comes up in the course of our interview. "It's the worst. It's a terrible experience. I don't even know why people go."
Despite his aversion to the non-stop mix of music, technology, film, comedy, and parties that takes Austin, Texas by storm every March, though, he insists that he hasn't been dreading his trip to Toronto as part of North By Northeast on Friday, June 20 at the Great Hall and on the MiO Squirtcar.
"Usually anything Canadian is a little better, anyway," Watts says.
With his fondness for the great white north established, we asked Watts about the amount of CanCon in his Canadian shows. We also picked his brain about comedy at music festivals, Star Wars, and whether he's afraid of following in Metallica's footsteps.
Oh, there will probably be some Canadian things. Usually, I kind of use the geography of where I'm at as inspiration for stuff. There's a high percentage chance.
I was really impressed by some of the references in that song. You might have more knowledge of Canada than some Canadians.
[laughs] Well, I just ask a lot of questions and get to know people because I'm interested. I think that's all it takes.
You just talk to Canadians and learn things about falling down stairs and getting drunk in Halifax?
Yeah, sure. I listen to people's stories. I take that into consideration.
So you're part journalist as well?
Yeah, a little bit. Journalist-slash-anthropologist.
There seems to be a lot more crossover between music and comedy, both in festivals and in pop culture in general over the past few years. Is that something you've noticed as a comedian and a musician?
Yeah, I mean they seem to go hand in hand. If there's a comedy tent or a lineup of comedians with a bunch of music happening, it really works. They work well together because they both create this emotional levity that people are seeking. So yeah, I think they mix really well, especially if it's intelligent comedy.
Does the venue or the type of show you're performing influence your material at all, either consciously or subconsciously?
Of course, yeah. Anything that I see or hear the day of my show, it's all going to have an influence on my show.
Does being around more of a music venue vs comedy venue affect that as well?
Yeah, definitely, because if the building is more known for music, then I can kind of adjust to that vibe or that energy, so I can do a little bit more music than I usually would. Which is kind of fun, because then that gives me something different to do.
Do you have a preference in terms of comedy to music ratio?
Not really. It's really whatever fits the occasion. I change the composition according to the location and the energy in the room.
You recently appeared in College Humor's "Star Wars" auditions parody. If the opportunity presented itself, would you ever consider participating in a franchise like Star Wars?
Yeah. It's possible, if it's the right role and the right situation. I'm always down for whatever scale. If I could just do what I do, then that's great.
What about providing music for something like that?
I would never do a soundtrack or anything like that. It's way too much work. If they wanted a song or something, like a theme song or a song to be featured at the end of the movie, I could definitely swing that.
Your hair has become pretty iconic. Are you ever afraid that cutting it will make you less cool, sort of like Metallica?
Yeah, those guys definitely became less cool when they cut off their hair. I don't know. It's hard to say. It depends. If I got in really good shape, then maybe I wouldn't be... If I cut my hair I'd be like "Wow. Who is this non-fatty?"
Are you saying that your hair balances out your body?
Proportion is important in beauty and in art.
Exactly. That's so true, yeah. Absolutely.
Popular in the Community