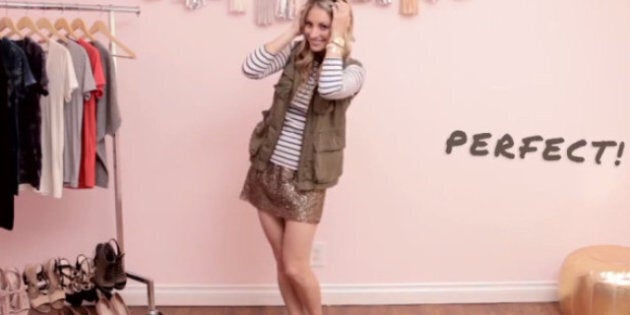 With the new year comes new beginnings, fresh starts and a new you! For those of you looking to step it up a notch with your style, here are some things that will help you shine for years to come:
Learn what colours compliment you, whether you have a professional colour analysis done with a style coach, or try and find out on your own. Knowing what colours compliment your skin tones is vital for chic style! Hold different shades and variation of colours up to your face. Colours that compliment you will brighten your eyes and teeth, smooth out your skin colouring, give you a healthy glow and actually lift the look of your face! You'll have an instant "wow" factor. These colours cannot only be used for clothing, but will also give you knowledge of your best makeup and hair colouring too -- a huge time and money saver!
Own your body type. Enough with comparing ourselves to models and celebrities in the magazines (who are airbrushed anyway) -- it's time to love ourselves! Own your body type and style it in a way that compliments it. Not only will you appreciate how you look, as most men and women look leaner when dressed properly, but a result you'll carry yourself better and project a happier you!
Try and step away from the little black dress. Many clients tell me that they are tired of what's hanging in their closet because they feel they have nothing to wear. Sound familiar? Most of the time, it's because women are guilty of having too much black in their closets. While black can be a slimming shade and also timeless, colour helps update a look instantly. If you're bashful with colour, start small by playing with different nail and lip colours, or even add a scarf to start. For those wondering how to wear a scarf, here's a great video!
Accessorize. In the words of celebrity stylist Rachel Zoe, "An outfit with no accessories is no outfit at all." With all the beautiful baubles out there, you can easily find something that suits your taste. Bold pieces make more of an impact in an outfit, but you can definitely add smaller accessories to finish off a look -- or layer multiple pieces to create extra punch. Challenge yourself to wear two pieces of jewellery a day. You may find you love the difference!
Let who you are shine. Everyone has their own signature style; a combination of their personality, body type, lifestyle and fashion. Do what works for you! Although trends are fabulous, remember that fashion is a business (and a big one at that). Not all the trends will work for you. Start simple with altering your style and take classic pieces that you can dress up with fun accessories (i.e. scarves, bold necklaces, cocktail rings, chic pumps, colourful flats). Take an afternoon and mix and match pieces in your wardrobe you wouldn't normally put together to create stylish new outfits. Take pictures so you don't forget, or better yet have fun doing it with a friend.
The bottom line: Work what you have with confidence, flair, fun and optimism -- the rest will follow!
I wish you all love, laughter, style and success for 2012!