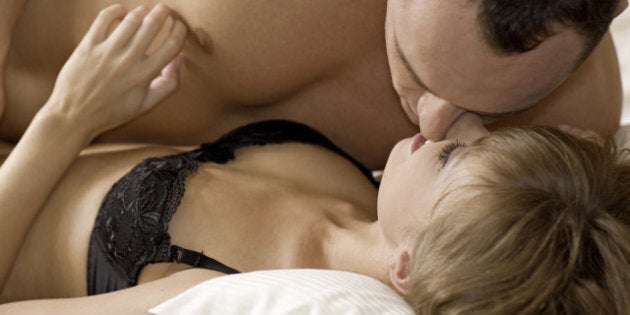 Couples with young children frequently walk into my office a few years into parenting admitting that they don't have sex often enough. They reluctantly agree that they would like to have sex back in their relationship "if only they had more time." So often, parents of young children cannot seem to figure out how to satisfy intimacy needs as a couple.
Parents live in a very busy world of juggling work, children and home. Also our culture has become very child-focused, "what else can we do for our children?" What parents do not realize is that to be healthy functioning parents, we need to have a strong and healthy relationship. One of the most important aspects of a healthy relationship is intimacy.
Click here to learn how to make time for sex when you have young children.
Intimacy can be broken down in three ways:
Emotional intimacy: feeling attended to, heard by and understood and supported by our partners.
Physical intimacy: hugs, cuddles, touches, a look across the room.
Sexual intimacy: playful, fun, sexual acts that is exclusive to the couple.
All three levels of intimacy are important to the relationship and to the happiness of the couple. When these needs are met the individual is happy, the couple feels satisfied and they become stronger and better as parents.
So, how do we increase the amount of intimacy in our relationships when we have so little time? The following are a few ideas on how to make it happen.
The relationship is one of your priorities -- Accept and understand that being strong and healthy as a couple, makes you better parents.
Click here to learn how you can have great post-baby sex.
Schedule time without your kids: do not feel guilty doing this. Think of it as a way to better parenting.
Sex is important -- too often couples ignore this playful, fun activity.
Be empathetic to your partner -- Consider some of his or her needs and commit to meeting one of them regularly. It can be as simple as doing a chore for your partner or surprising your partner with her favourite chocolate bar.
Practice -- when you stop having sex for a while, it is NORMAL that it feels awkward. The more you practice, the more pleasure you have, the more motivated you are to practice some more.
Embrace changes in your body -- Women don't let changes in your body keep you from having sex. The majority of male partners continue to find their female partners' body sexy and attractive. Men tell your partners this often! Women be open to believing your partner when he tells you this!
Acknowledge you want more intimacy to your partner, talk to your partner about it, and make it a priority. Then practice, practice, practice!
More from YummyMummyClub.ca
Why You Deserve Great Sex