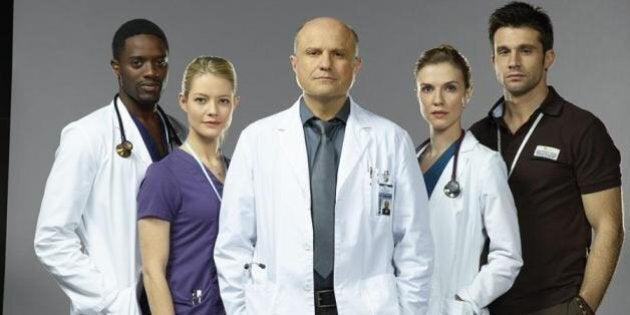 Family. If you can't live with them, just imagine trying to get your troubled life back on track while being forced to work with them. That's the dilemma med school dropout and ex-drug addict Griffin Conner (Dillon Casey) faces on the new drama, "Remedy."
When a bar fight and attempted murder charge land Griffin at Bethune General Hospital, the irresponsible screw-up must confront his father, Dr. Allen Conner (Enrico Colantoni), who just happens to be the Chief of Staff. It certainly doesn't help that Griffin's siblings Sandy (Sarah Allen) and Melissa (Sara Canning) are also employed there as an ICU nurse and general surgeon. In an attempt to bounce back, Griffin accepts a job as a lowly orderly and in the process, gets an unexpected glimpse into the "upstairs/downstairs" mentality of the health care profession and his family.
On the Toronto set of "Remedy" in December, 2013, Colantoni, Casey and executive producer Greg Spottiswood spoke to HuffPost Canada TV about the medical drama, their characters and bringing something fresh to the hospital genre.
Spottiswood might have a "Remedy bible" full of strange diseases, afflictions and hot topic medical issues in his office, but truth be told, he's as surprised as anyone to be on a hospital series. After his cop show "King" was cancelled, Shaw approached Spottiswood about filling that gap in their schedule by putting his own spin on some familiar territory.
"I hadn't really thought about it," explains Spottiswood. "But I like using genre as a delivering mechanism. It gives you parameters or rules of the game, which are always interesting to work under. Then you throw in what you are fascinated by anyhow. My cop show is different from Greg Nelson's cop show or Morwyn Brebner's cop show. My hospital show is going to be different than theirs. I'm interested in family and the dynamics of family. Contemporary families with contemporary stories. And also class and hierarchy. It's very clearly delineated. I thought, 'Wouldn't it be interesting to try to explore all of that thematic, emotional and psychological content of a family? Then we can introduce the class by putting them all in a hospital and having a father as the Chief of Staff, a daughter who is a surgeon, another daughter who is a nurse and a son who is an orderly.' It's certainly fun and challenging to figure out."
Dr. Allen Conner and Griffin couldn't be more polar opposite. Dr. Allen commands respect and stands at the top of the hospital power ladder. On the other hand, Griffin sits unnoticed, and unappreciated, at the bottom.
"Dr. Conner is an infectious disease specialist," reports Colantoni. "He's also the acting Chief of Staff. He's the father of these three children that work in the hospital. One being a nurse, another a surgeon and now the third is a porter. What I love about him is he can be three different people in one scene. He can be the administrator, the healer and the father."
Those blood ties could result in a conflict of interest.
"There's a lot of pressure," agrees Colantoni. "He'll compromise one to be the other. That happens a lot. 'Oh, you're my daughter. We'll figure this out.' Allen is a doctor first, a father second and an administrator way down at third."
As for Griffin, Casey says, "My character is not actually a doctor. He is kind of involved in medicine, but only because he was in med school. What appealed to me was the whole prodigal son aspect of it. There's the fact that he had a lot of problems in med school and has a hard time seeing where his life is supposed to go. And knowing he has an issue with it, but not really knowing how to solve that problem except by turning to drugs and partying as a rebellion, was interesting.
"He's on the bottom floor, but he's also the golden boy because his dad is the Chief of Surgery," says Casey. "He's a pauper, but he gets treated like a king. Like a doctor.
"It's always fun being ostracized by everybody," he continues. "Being the black sheep, you feel like the star because everyone is always looking at you. It's fun because you get to play both sides. It's not that he's a hero or a villain, but he gets to find his way."
Assembling a dream ensemble cast can be tricky, but Spottiswood lucked out. "Remedy" stars Nikita's Casey, "Little Mosque"s Allen, "The Vampire Diaries"' Canning, "Warehouse 13"'s Genelle Williams and "Charlie St. Cloud"'s Matt Ward. Perhaps the biggest coup though was nabbing "Flashpoint"'s Colantoni, who always seems busy with TV parts and feature films.
"Enrico read the pilot and that caught his attention," explains Spottiswood. "We went out to dinner and I just talked about what I was interested in exploring. Not just with Allen, but the show in general. Rico is a big picture guy. He's not a guy who only thinks about his role in the show. He thinks about stories and episodes in the big picture. I think the other thing he was attracted to was tone. This show isn't all one note. As an actor, he has a big range from 'Just Shoot Me' to 'Flashpoint.' Finding an opportunity where both his comedic chops and his dramatic chops can be exercised was part of what appealed to him."
"What I find unique about this show is in other hospital dramas, all the people involved feel like a family," elaborates Colantoni. "This is an actual family. 'Remedy' feels more like a family drama than a medical drama. And there's so much funny, just in the timing and how it's written.
"And the medical field has built-in drama," he adds "There are issues. People are going through pain. Life situations and trauma are good material to harness. As for the family element, I don't remember the last time a family worked in the same hospital."
"The way they wrote the pilot was very gritty and real," says Casey. "I could see the relationships and I could see the show. It has action. The medical stuff was really well-written. My Dad's a doctor and it makes me feel like I'm some kind of scientist, because I went to school for science. I feel like I am living the life that I was supposed to live, by acting it, instead of doing it."
Anyone who caught Casey as doomed navy seal Sean Pierce on "Nikita" knows that the Canadian actor is extremely easy on the eyes. He hit the gym hard and pumped up for that show and now he's slimmed down for "Remedy."
"I did lose some weight," acknowledges Casey. "I was up to almost 200 pounds when I was playing a navy seal in 'Nikita,' which is probably too heavy. For this character, he's an ex-drug addict. I thought he would be more of a runner. When I'm stressed out, I go for long runs. I figured he might do the same thing. I lost some weight and figured he didn't need to look like a MMA fighter."
The cast and crew are currently filming "Tomorrow the Green Grass," an episode where professional and personal worlds collide. A dressed-up Griffin is on his way to meet the dean about getting back into med school, when he finds out his alcoholic mother, Rebecca (Martha Burns), has been admitted to the hospital. Whether due to drinking or not, she fell off a ladder and is suffering paralysis in the legs.
Griffin, Melissa, Allen and Sandy have all gathered in Rebecca's hospital room to comfort her and attempt to diagnose her mysterious condition. The small scene manages to pack in a gambit of beats, ranging from hope and drama to even humour. In a light-hearted moment, Rebecca comments on Griffin once running a bowling alley, to which he responds in a sarcastic manner.
"She's saying, 'What are you doing with your life?' in a funny way and he's shrugging it off," says Casey. "It's either shrug it off or get in a fight. These are the defenses that you learn."
On a weekly basis, "Remedy" will continue to explore the Conner dynamic in the confines of the hospital, while examining the hierarchy of the profession. For Griffin, the job and opportunity represent a second chance. The question remains whether he will make the most of it or fail.
"The way it seems to be is Griffin isn't really evolving very much," concludes Casey. "He's just kind of running away. He's hiding. He's putting on layer after layer of disguise. He's trying to hide from his past and his past keeps catching up to him. The way it starts is he wasn't ready to come back and see his family. Griffin gets rushed to the hospital in emerg after getting in a fight with somebody. So, he's sort of thrust back into this life with his family before he was ready to face them."
"Remedy" premieres on Monday, February 24 at 9 p.m. EST/PST on Global.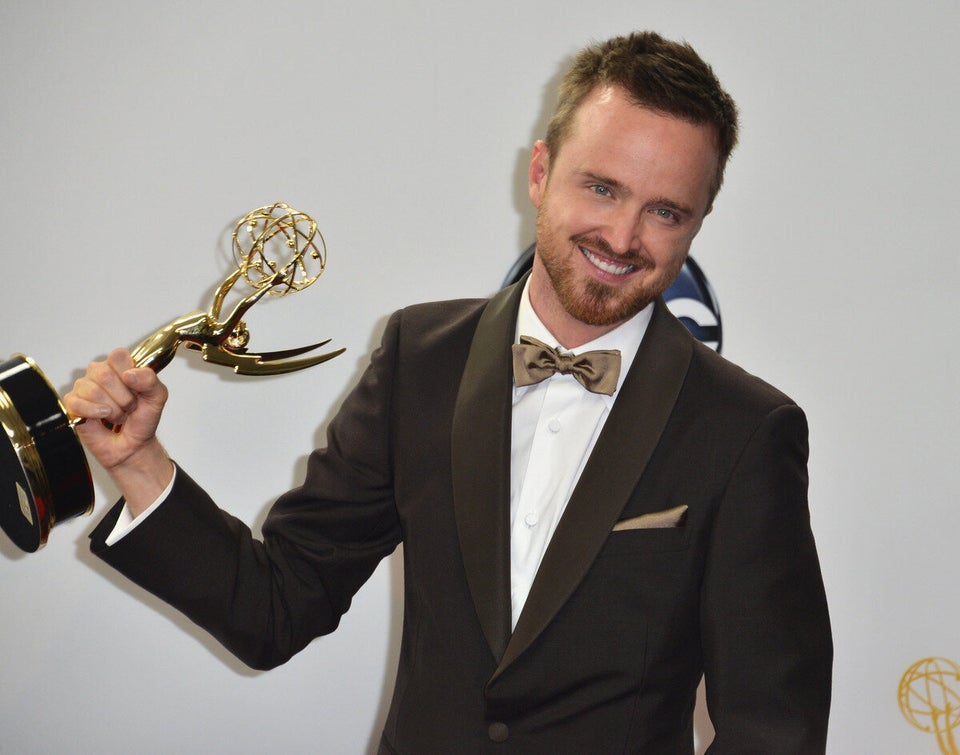 Famous 'Veronica Mars' Guest Stars