As Canadians and others around the world don the ubiquitous red poppy to honour fallen soldiers during the month of November, there are sure to be a number of inquisitive youngsters wondering what exactly all the pomp and circumstance means.
Which is why learning how to speak to children about the importance of Remembrance Day is so important. But how do you talk to kids about war without glorifying the fact that people are killed?
Do Talk About It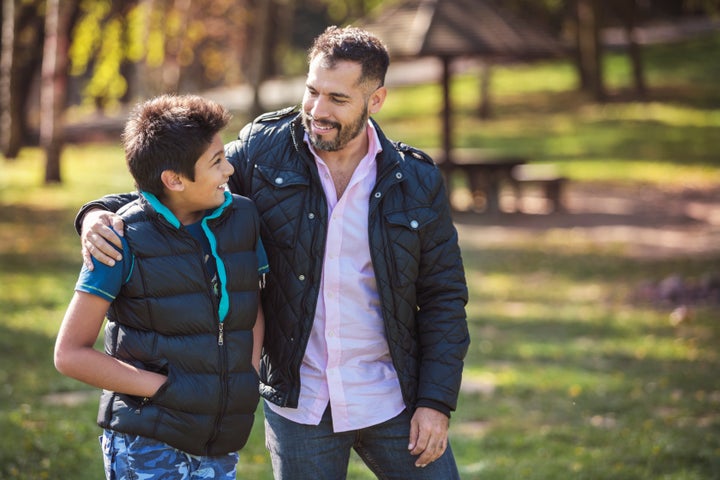 Just like many things that are part of Canada's history, it's something that should be talked about, said Alice Wiafe, a Mississauga, Ont.-based child therapist at Positive Kids Child Therapy Services.
"There's a saying that if you don't know where you've been, then you can't be too sure of where you're going," Wiafe said. "I'm not a big believer in not shielding children from the truth. I think we have to be very cognizant and very deliberate and very cautious, but shielding them from the truth is not a good thing."
Discussions should be encouraged with children as young as the age of four, or whenever they begin to ask questions, she says.
Make It Relatable
Parents can often relate the experience of fighting and war to experiences in their child's own life, Wiafe said.
"There is a time in life for everything, and for children, that's the part they have to understand. War is not something that's done without forethought, and there are some justifiable reasons why you would want to stand up for yourself, or you'd stand up for something, or defend something," she said.
Just as parents would teach their children to stand up to a bully on the school playground in an assertive manner, children can understand that as a simplified reason to engage in a war.
Avoid Language That Passes Judgment
Wiafe says the key to explaining Remembrance Day without glorifying war is explaining the intention behind the action. Asking questions about the reasoning is key. Why did we do this? When is it OK to fight? When is it OK to speak up? When is it OK to stand up?
"When talking to children, focus on not presenting it as a sort of one-sided experience, where all they're seeing are the guns and the people dying, but that sometimes there is a need to fight," she said. "I think that once they understand that part of it, it won't look so much like glorifying the actual outcome, but more of honouring the intention behind the war."
The key to explaining Remembrance Day without glorifying war is explaining the intention behind the action.
Wiafe advises parents to avoid language that passes judgement towards one side or the other. Phrases such as "fighting bad guys" oversimplifies and generalizes the nature of the first and second world wars, and misses the motivation behind the reasons people engage in war.
Oftentimes soldiers on both sides are simply 'good' people following 'bad' orders, so calling them "bad" can cause confusion. Focusing on actions, intentions, and motivations removes that level of judgement.
Utilize Available Resources
Further to speaking openly with your child and answering any questions they might have, there are other resources available. Books can help provide accurate history so parents can explain the holiday, and Veterans Affairs Canada's website offers various activities and tools for educators and parents alike to teach children about Remembrance Day.
There are even age-appropriate educational videos online that can help you explain the concept of Remembrance Day and why people wear poppies. Attending a Remembrance Day ceremony can also help to open the door for conversation.
And if your child asks you directly why people are wearing a poppy? A simple, straightforward explanation works best, Wiafe said.
"I would say that it represents a special time in Canadian history and world history, where we had to fight for a great cause. That many men and women died to help that cause," she said. "And that we wear a poppy to honor them for taking great risks, and for being great leaders. And for having enough courage to go out there and defend our country."
However you approach the topic, Wiafe advises parents not to sugarcoat or ignore the history of the events that happened during the first and second world wars.
"It's part of our history. I don't know how you can deprive them of that."