The City of Victoria is set to remove a statue of John A. Macdonald from the steps of city hall on August 11.
City Family's Witness Reconciliation Program — a group created last year to pursue issues of reconciliation with the Songhees and Esquimalt Nations — denounced the first prime minister of Canada as "a leader of violence against Indigenous peoples."
In a lengthy statement on her website, Victoria Mayor Lisa Helps notes that a plaque will immediately replace the statue until all parties involved can "find a way to recontextualize Macdonald in an appropriate way." Until then, it will be stored in a city facility.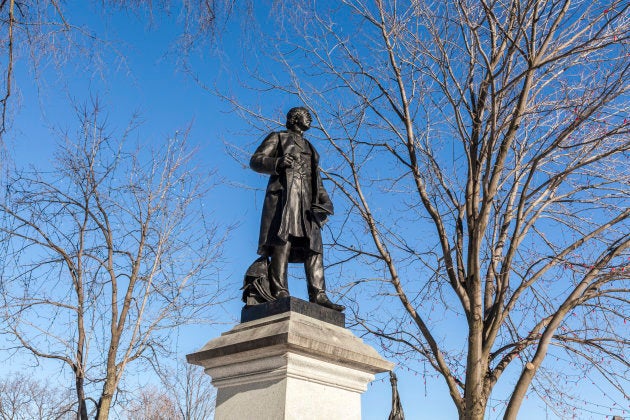 Elders from the Songhees and Esquimalt Nations will also perform "a cleansing, blessing and healing ceremony" at the statue's former site.
"One of the things we heard very clearly from the Indigenous family members is that coming to city hall to do this work, and walking past John A. Macdonald every time, feels contradictory,"Helps writes.
"I am ashamed to say that I have an undergraduate degree in Canadian history, a master's in Canadian history and a half-completed PhD in Canadian history. It is not until we began this Witness Reconciliation Program that I learned about the role that Canada's first prime minister played in developing residential schools."
The move reignited fierce national debate around the removal of "problematic" historical figures from public life. "John A. Macdonald" was trending on Twitter in Canada for most of Wednesday.
Experts have long criticized Macdonald's role in the Indian Residential School system. In her statement, Helps cited an 1879 decree in which the prime minister writes, "When the school is on the reserve, the child lives with its parents, who are savages, and though he may learn to read and write, his habits and training mode of thought are Indian. He is simply a savage who can read and write.
"It has been strongly impressed upon myself, as head of the Department, that Indian children should be withdrawn as much as possible from the parental influence, and the only way to do that would be to put them in central training industrial schools where they will acquire the habits and modes of thought of white men."
Last year Justin Trudeau stirred up further debate when he removed the name 'Hector-Louis Langevin' from the Office of the Prime Minister and the Privy Council. Langevin was a member of Macdonald's cabinet and a residential school proponent.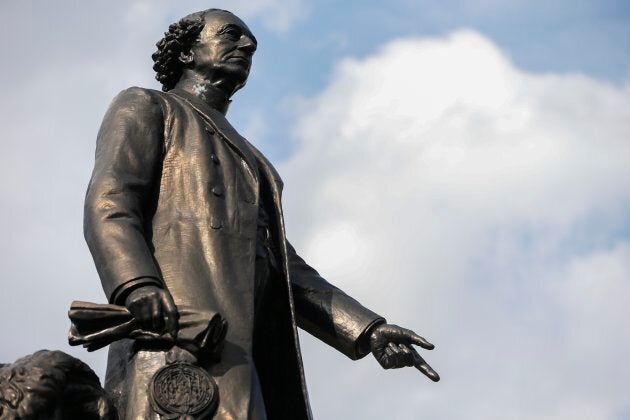 A few months later, the Elementary Teachers Federation of Ontario pushed the debateinto the national sphere when a majority of delegates called upon school districts to recognize Macdonald's "central role as the architect of genocide against Indigenous Peoples." The group encouraged districts to strip the name of Canada's first prime minister from schools and buildings.
In response to the motion, a Regina group filed a petition for the removal of a Macdonald statue in a local park. The group requested that the statue be "stored out of public view or to be placed in a museum where it can be used to educate the public about the history it embodies."
Not everyone is on board. A survey conducted last year by the Angus Reid Institute found that most people — albeit by a slim margin — oppose renaming school buildings that bear Macdonald's name. John Baird, the former Conservative minister, also dismissed the motion as an attempt "to erase Canadian history in the guise of an extreme and radical political correctness" at the time.
Perhaps in anticipation of similar backlash to her city's decision, Victoria's mayor told the CBC, "We're in an era of reconciliation, and no one's erasing anything, but we have to understand the complexity of history, and that's what this process is about."
Popular in the Community