René Angélil is fighting for his life, but he still wants wife Celine Dion to "go sing [her] best in Vegas."
The manager, who discovered the chanteuse behind hits such as "My Heart Will Go On" and "Because You Loved Me," is "working really hard" as he's being treated for cancer in a Boston hospital, Dion told The Las Vegas Sun on Saturday.
"Rene is fighting very hard, and he's a trooper," she told the newspaper.
Dion had flown to Las Vegas from Boston earlier that day in order to perform with Andrea Bocelli at the "Power of Love" gala at the MGM Grand Garden Arena. She joined the Italian tenor onstage for a powerful rendition of their song "The Prayer." The audience erupted in applause and rose petals rained down around them when they finished.
"Rene wanted me to be here," Dion told the Sun. "The reality is hard, but we have the ticket to live today. Today, we're alive, and we're going for it."
Angelil is living with cancer after first being diagnosed and treated for the condition in 1999.
Earlier this year, an emotional Dion told Good Morning America that he has to eat with the help of a feeding tube three times a day, and that he can't talk or swallow.
"We are taking life one day at a time," she said. "[But] we are choosing to live."
Dion had taken a leave of absence from her Vegas residency to care for him, but later announced her return to the stage at Caesars Palace, which will happen Aug. 27.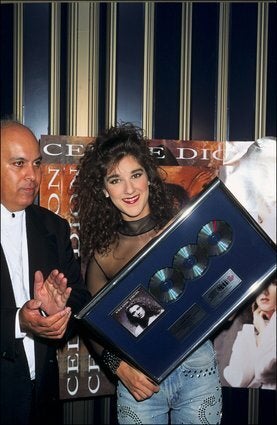 Celine Dion and Rene Angelil
Popular in the Community