For the first time, there are more people employed in renewable energy worldwide than there are in oil and gas.
That statistic — based on data in a recent report from the International Renewable Energy Agency (IRENA) — should be a wake-up call to Canada, where a large part of the economic debate continues to focus on pripeline construction and hopes for an oil-price rebound.
The renewables sector employed 8.1 million people in 2015, up five per cent in a year, the report said, while oil and gas lost some 250,000 jobs by the end of 2015. And for the sixth year running, more money was invested worldwide into expanding renewable energy production than into oil and gas production.
Jobs-wise China is leading the way, with more than 3.5 million employed in renewable energy (compared to 2.6 million employed in oil), followed by Brazil (918,000 jobs) and the U.S. with 769,000 renewable energy jobs.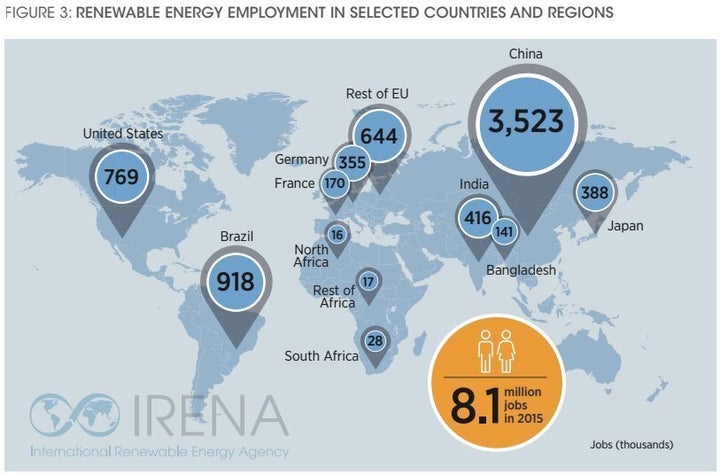 Canada clocked in with 36,000 jobs in renewables, with wind farms the largest employer. The country isn't entirely out of the renewables game; it's the seventh-largest producer of wind energy in the world, thanks in large part to Ontario's green energy program, which has succeeded in eliminating coal-fired power plants from the province.
But relative to population size, the U.S. has created twice as many jobs in renewables as Canada has.
The boom in renewables has helped the U.S. offset some of the pain from the oil-price crash, which led to major job losses in oil fields. While the U.S. shed 18 per cent of all oil and gas jobs in 2015, renewable energy jobs grew by six per cent.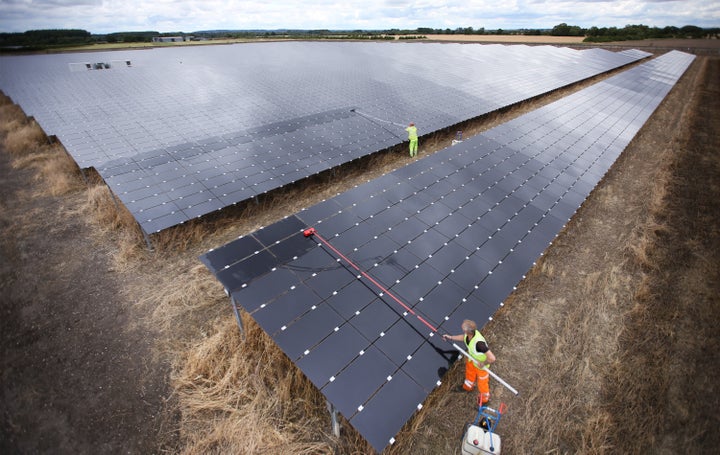 Will world ever need Canada's oil again?
The boom in renewables isn't just an opportunity that Canada is largely missing out on — it presents a threat to Canada's existing fossil fuel industry.
If the world shifts to renewables faster than expected, future demand for oil will be weaker than expected, and that will threaten the existence of the world's most expensive oil producers — including Canada's oilsands. Without oil prices at US$80 or better, new investment in the oilsands makes little sense.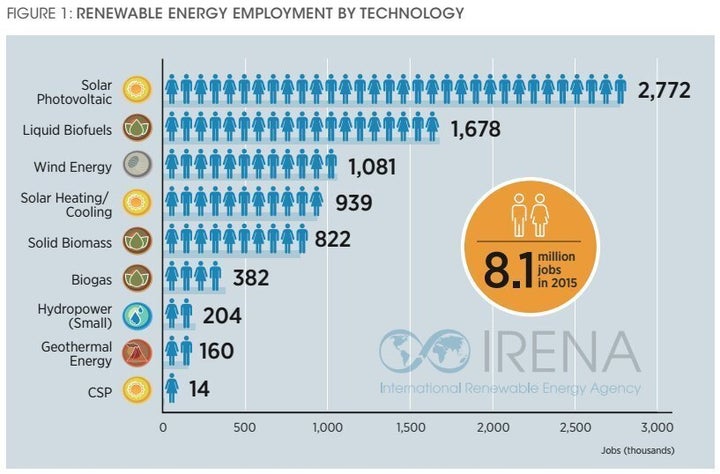 But just as many economists see no rebound on the horizon, thanks in part to the renewables boom. They point to the growing demand for electric cars as one of the major developments that will push down the need for oil in the coming years.
According to a new report from Bloomberg New Energy Finance (BNEF), the cost of renewable energy will keep falling between now and 2040, making it increasingly competitive as an alternative to oil. It sees wind power falling by 41 per cent and solar power costs falling by 60 per cent by then.
If the world shifts to renewables without Canada in the game, the Great White North could find itself an importer of renewable energy technologies in the decades to come, even an importer of renewable energy itself — quite a shift for a country that not long ago aspired to "energy superpower" status.
Canada's business and political leaders are not entirely deaf to the new realities. The recent news that Finance Minister Bill Morneau is looking at bringing in a federal carbon tax is a sign that governments are taking the shift to a low-carbon economy seriously.
That's a key first step to creating an economic environment that's favourable to renewables, but it's years late. Canada has been debating a carbon tax or a cap-and-trade scheme since before the previous Harper government came to power. But no federal policy has ever taken shape, leaving individual provinces to create a chaotic patchwork of climate and energy policies.
Politicians have been slow to admit the obvious reality — that implementing low-carbon policies will inevitably constrain the oil industry.
But as Canadian policymakers rack their brains to come up with the impossible — a carbon-reduction plan that doesn't affect oilsands production — the renewables boom is passing us by.
If nothing else, perhaps the pull of money will convince them. According to BNEF, fossil fuels will attract US$2.1 trillion in investment between now and 2040. That's an impressive amount, until you see the forecast that renewables will see US$7.8 trillion in investment in that time — nearly four times as much.
Whether or not oil rebounds and the oilsands start growing again, it's simply a mistake for Canada to miss out on this investment windfall.
And whether or not we miss out depends entirely on the decisions our leaders make today.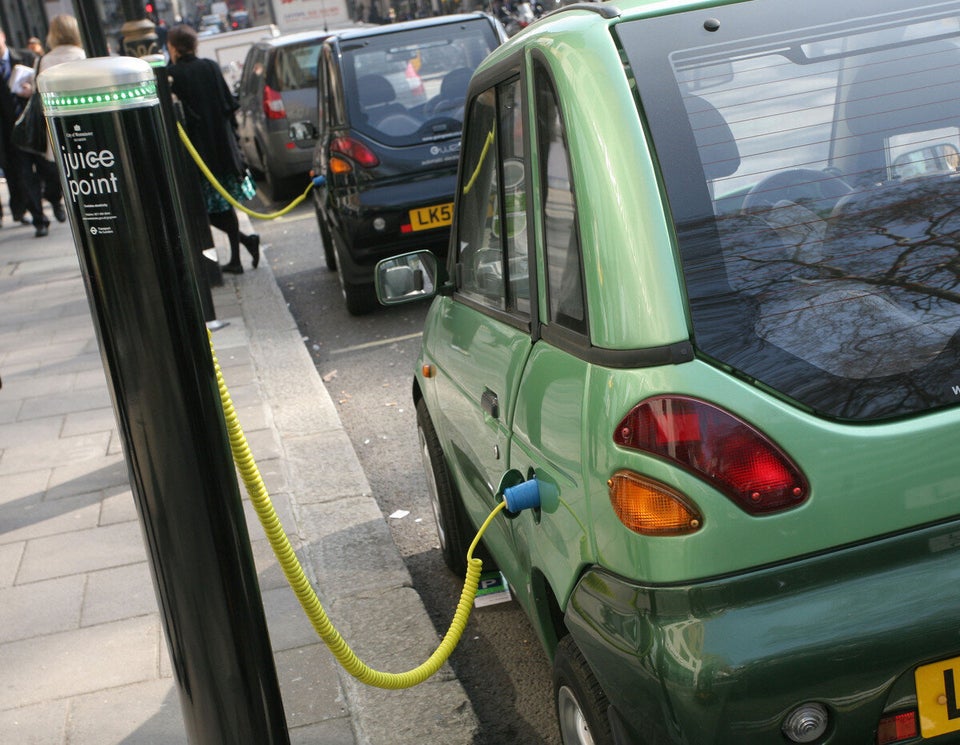 Renewable Energy Sources For Canadians
Popular in the Community