The saga of Lucy the Asian elephant at the Edmonton Valley Zoo is drawing international attention, with almost 50 world renowned celebrities, including Canada's own Hollywood actor William Shatner, and Canadian authors Margaret Atwood, and Michael Ondaatje calling for independent health assessment.
In this video from March 2015, a consulting veterinarian hired by the zoo confirms that Lucy has arthritic and foot problems. Dr. Jim Oosterhuls says, he also has serious concerns about her airway passage in the trunk that is narrowing and causing respiratory ailments.
"She has to end up breathing through her mouth to maintain her oxygen levels. This is absolutely abnormal for an elephant. An elephant should only breathe through its trunk. And in this case she has a lot of wheezing when she breathes through her trunk."
But he's quick to point out that Lucy cannot be moved from the zoo, dismissing calls to transfer her to a warm place. He says, it would be too stressful and worsen her breathing problems.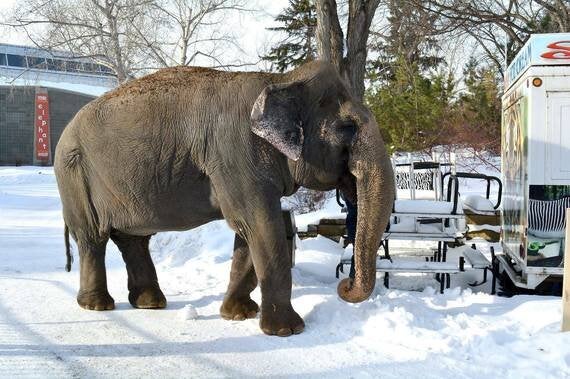 It's unnatural for Asian Elephants to walk on the snow Photo Credit: Mary-Ann Holm
Lucy was kidnapped from the tropical Sri Lankan jungles and brought to Edmonton. Even after 40 years, she doesn't seem to have adapted to Canada's cold weather. Is it even remotely possible that the bone chilling temparatures could be exacerbating Lucy's health problems? Dr. Philip Ensley, a renowned veterinarian, has been assessing Lucy's health as of 1994, and concludes:
"The frigid cold regional weather will continue to impact Lucy's husbandry program, regardless of what changes or modifications are made to her enclosures."
"Free living Asian and African elephants are on the move 20 out of every 24 hours actively engaged in foraging, exploring, socializing and searching for conspecifics."
But sadly, there isn't adequate space at Edmonton zoo for Lucy to roam freely. She's in solitary confinement most of the time, made to stand on hard concrete floor inside the enclosure. She displays her distress and boredom through odd behaviours such as psychotic swaying and reclusiveness. Frigid weather, solitary confinement, little exercise and no social life -- it's a far cry from the vast hot expanses of elephants' natural environments. Everything is unnatural for Lucy, and she's lonely and depressed in this strange land.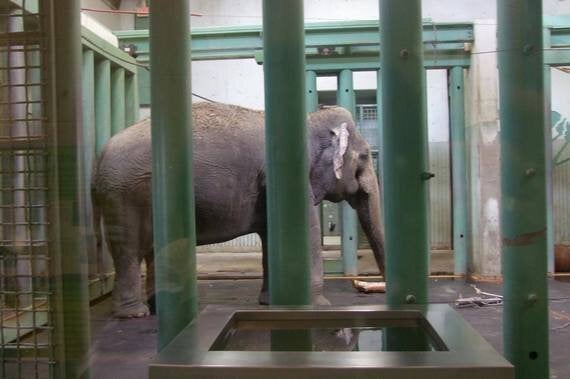 Lucy has spent 40 years in solitary confinement, Photo Credit: Sam Whincup
Over the years activists have documented numerous violations. As required by the Alberta provincial zoo standards, Lucy's social needs aren't being met. The zoo authorities are also endangering people's lives by allowing close interactions with the 8,000 pound gigantic animal.
Section III B. 1, states, "All animals must be maintained in numbers sufficient to meet their social and behavioral needs (unless a single specimen is biologically correct for that animal)." "And Section II. H. of the Alberta Zoo Standards sets safety measures including "Animals in areas where direct contact with visitors is possible must pose no danger to the public".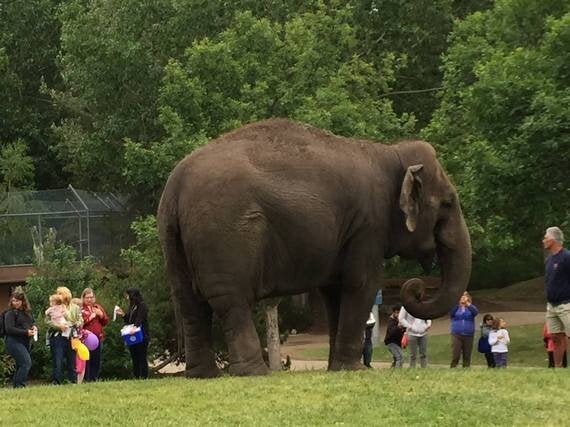 This kind of close interactions with the public in unprotected proximity is dangerous.
Photo Credit: Sam Whincup
Edmonton residents, animal-welfare groups and people across Canada have protested and demanded to move Lucy to a warmer place. The popular television host, Bob Barker, even offered to foot the bill for Lucy's transfer to the PAWS sanctuary in California. But the City of Edmonton has rejected such offers, denied the facts provided by zoo's own consulting veterinarians, and ignored blatant violations. Not surprisingly, one of the animal welfare organizations in California has inducted the Edmonton Valley Zoo in the "Hall of Shame".
Given Lucy's respiratory, arthritic, foot problems and emotional distress, it's unfair to expose Lucy to the long frigid winters, and deprive social interactions with her own kind. It's unconscionable to exploit an ailing elephant for profit under the guise of education at the Edmonton Valley Zoo.
Lucy needs to be released into a sanctuary where she can wander freely at least in her fading days. It's time for Alberta's Environment Minister, the Hon. Shannon Phillips to step up to the plate and do what's best, not only for Lucy, but also for the people of Edmonton before a tragedy occurs.
Follow HuffPost Canada Blogs on Facebook
Popular in the Community