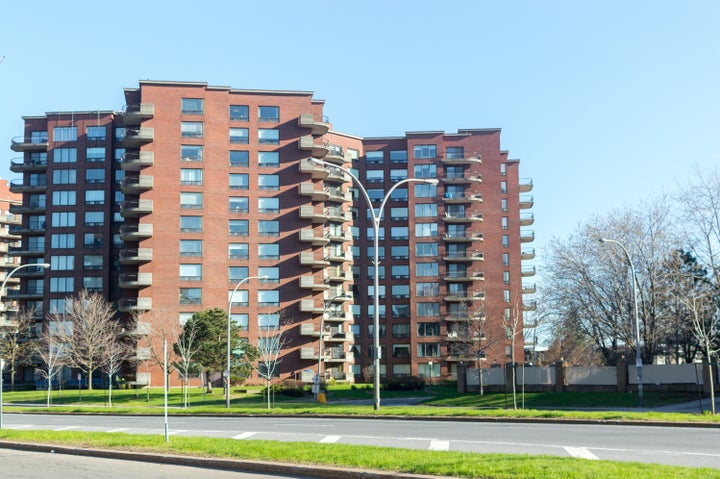 A lot of ink has been spilled chronicling the epic affordability problems facing Canada's homeowners, but a new survey suggests it's Canada's renters that are more likely to be in a precarious financial situation.
In a survey carried out by Leger for RateSupermarket, 44 per cent of renters said they spend more than a third of their income on housing.
Spending one-third of your income is the cutoff line for what constitutes an affordable home, according to Canada Mortgage and Housing Corp.
"Beyond that you're really encroaching on becoming house poor," said Jacob Black, managing editor at RateSupermarket.
Among homeowners, only one out of five said they are spending more than a third of their income.
Watch: How Canada's high house prices are impacting the job market. Story continues below.
Making matters worse is the fact that, for a growing number of renters, moving out of rental housing and into a home you own is becoming increasingly difficult.
In research earlier this year, Royal Bank of Canada found it's more difficult than ever to go from renting to owning a condo. In Toronto, a renter household would ― on average ― have to spend an additional $1,138 per month to move into a condo. In Vancouver, you'd need to spend $1,553 more, while Montrealers would have to spend $903 extra.
"There is some fear from the people not on the property ladder about how they're going to get on that property ladder," Black said in an interview with HuffPost Canada.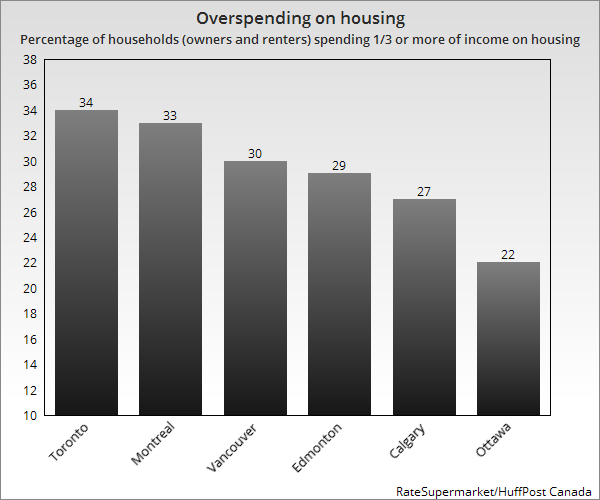 Many would-be homebuyers are staying put in their apartments longer than they would have when house prices were lower. That increases the demand for rental housing, further pushing up rents.
According to rental site Padmapper, the average asking price for a one-bedroom apartment in Toronto was $2,250 in May, up 8.2 per cent in a year. Vancouver rents reached $2,130, up 1.4 per cent, while Montreal one-bedrooms jumped 14 per cent in a year, to $1,470.
A lot of the positives about our economy ― strong job growth and strong population growth ― are "factors that seem to work against us as individuals" in the housing market, Black said.
Nothing much is getting cheaper these days but Black notes that interest rates have been coming down lately, and that's an opportunity for indebted households.
"Shop around for better rates that can save you hundreds of dollars a year," he suggested. "If you're spending on your credit cards, look for a rewards card that gives back some of the money you spend."
Black calls setting a budget "the number one thing all Canadians need to do," and for homeowners, he recommends shopping around for a new mortgage.
"If you got your mortgage three or four years ago there's a very good chance you're paying more for your mortgage than you need to."