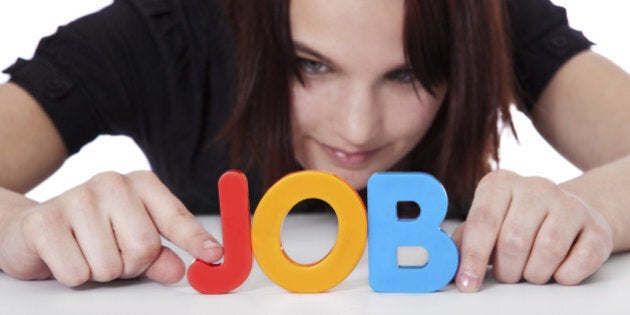 As we learned in November, the effects of youth unemployment and unpaid internships are hitting a nerve among Canadian families. I expect we'll be hearing more about this topic over the course of the coming year.
The narrative around unpaid internships resonates closely with young people (15 to 29) who are threatened by unemployment, precarious employment or underemployment and, of greater political consequence, their parental piggy-banks.
The political and media response on this issue has changed over the last six years, trending away from coincidence, toward acknowledgement and only much more recently, toward political action. But we know, with economic tracking, this issue will be measured by results and not by just another decorative badge placed on some candidate's policy sash.
The enduring trend facing youth is an unemployment rate roughly twice the national average. Until we see a change, we'll know nothing is being done differently enough to solve the problem.
We need more than just a change in the type of solutions being proposed. The insufficient "more jobs" design won't be enough this year; we know that a poorly crafted new grad jobs program offers only temporary solace to a patient few. I think it's time we rephrase the questions we're asking when it comes to youth unemployment strategies.
When we asked 1,425 Canadian students and youth about barriers to employment their responses were much more comprehensive than a "lack of jobs." Actually only 37% of those in our sample identified this as the key barrier.
Instead perceived competition (43%), lack of experience (59%) and a lack of connections or familiarity (lack of a network, 22% and not knowing where to look for job opportunities, 22%) are top concerns for youth.
As we watch the election narrative around youth employment evolve in 2015 there are a few things I will be on the lookout for.
1) Understanding - Who understands the problem? Are we addressing the real barriers youth face when it comes to finding meaningful work experience?
2) Consultation - Who is listening? Are young people being consulted when it comes to crafting solutions?
What is the problem this seeks to address?
Taking into account employment numbers which already lag behind, the effects of unemployment and high competition affect a much larger segment of this group than employment numbers indicate. Most (two-thirds) said they would be interested in taking a job today that could help them get experience in their field of interest.
We asked youth to rate a few career learning opportunities and then asked them to tell us what they thought was missing from this picture; what else can be offered? Three key themes that stood out include international work study experiences, shorter-term engagements and access to connections.
Mentorship was of high interest to this group among whom 66% said they were extremely or very interested. Nearly half (49%) of those surveyed told us they were extremely interested in more networking opportunities.
Students and young adults said they were interested in gaining familiarity with different roles before launching a career, 1-2 day immersion experiences with an organization to see what goes on 'behind the scenes,' was a popular recommendation. Other suggestions included one or two week placements, job shadowing and entry level programs that would give interns access to different sectors within the organization.
International Work-Study Experiences
The study found a widespread appetite when it comes to international experiences. Forty-seven per cent were interested in national or global networking opportunities. Without having done any more digging into this issue specifically, we might assume that there are likely other welcome experiences that would give students a competitive edge in finding work.
In their December 2014 publication Global Solution Networks, led by Don Tapscott, released a publication about global youth unemployment. The report by Canadian researchers Anthony Williams and Dan Herman highlights the need to put youth at the centre when it comes to problem-solving.
Our 2014 study found that the solutions youth came up with ranged much wider than "more jobs." Getting into the mindset of what youth see as the true barriers to finding a job requires solutions that will consider what it is youth are asking for when it comes to employment help.
For young people these problems are less black and white than they may appear. Looking ahead to 2015 leaders and candidates from all parties will be challenged to identify the problem youth are facing and a way to address the issue by listening to what students and youth have to say if they want to be effective.
The survey was conducted online with 1,425 English-speaking Canadians aged 15 to 29 randomly selected from Uthink, yconic's proprietary online research panel of over 549,000 Canadian youth. The survey was completed from October 24 - October 31, 2014.
Popular in the Community