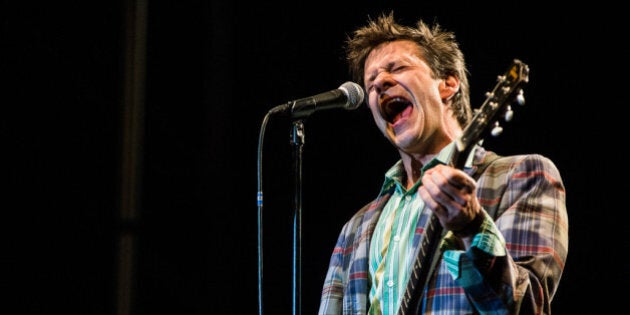 It's easy to forget that the Replacements used to be a punk band.
Those who witnessed their first live set in 22 years at Riot Fest in Toronto last night, however, will never forget that the Replacements used to be a punk band. As if taking their cue from Iggy and the Stooges, who played just prior, Paul Westerberg and co. brought a lot of loud and fast material to the fore on their way through an exuberant performance few would have thought likely a few short months ago.
But it did happen, and it played out brilliantly. The 'Mats played an eclectic mix of old songs, made jokes, took requests, played covers, and forgot lyrics in just over 75-minutes onstage.
"Takin' A Ride," the first song the Replacements played in front of an audience in over two decades, was fittingly the first track off of their debut "Sorry Ma, Forgot to Take Out the Trash," which was released exactly 32 years prior on August 25, 1981.
"Sorry it took us so long. For twenty five years we had a wardrobe debate…unresolved," Westerberg joked after its conclusion, poking fun at his own attire of black and red runners, green socks, short-cut tuxedo pants, striped button-up, and a purple plaid blazer. Everyone laughed but no one really cared what he was wearing — most of us were still gobsmacked that Paul Westerberg and Tommy Stinson had just played a 'Mats song in front of us.
Then the real message came: "We're gonna play some old shit if that's alright." (Old mean older than their slightly less old songs). The crowd cheered and the band delivered with a string of pre-1985 tunes: "I'm in Trouble," "Hanging Downtown" and "Favorite Thing."
Then Westerberg began cracking jokes like a stand-up. "If you liked that we've got one that sounds exactly fuckin' like it!" "Everybody put your hands... in your pockets!" "Are we all feeling…uptight and worthless?!"
More laughter. Then more old stuff. "Color Me Impressed" and "Tommy Gets His Tonsils Out""came and went, with Jimi Hendrix's "Third Stone From The Sun" mixed in there. After "Kiss Me On The Bus" ended, the band took its first request and played "Androgynous," which the crowd loudly sang along to. This was good, as Westerberg forgot some of the lyrics. He tended to do that throughout the night. No one minded.
Review continues after slideshow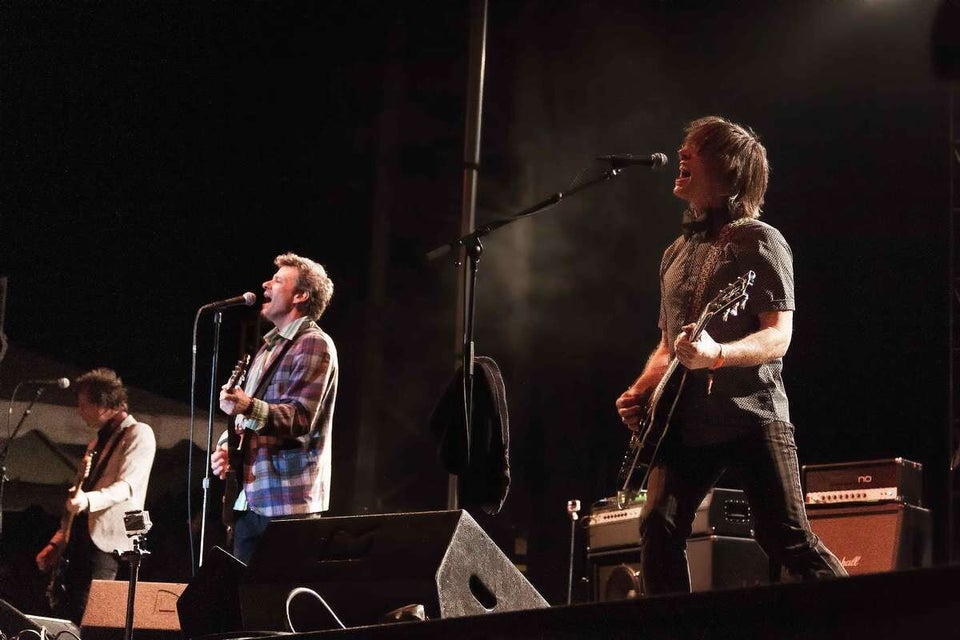 The Replacements and Iggy Pop at Riot Fest
A particularly memorable — and, for this evening, typical — moment was when the band viciously launched into "Love You 'Til Friday," which they played at breakneck speed before running it headlong into a frenetic cover of "Maybellene" that would have blown the doors off the place had it been in a club. Click here for a live recording.
The second half of the set was similarly unpredictable and joyous. The band clearly weren't sleepwalking their way through a Greatest Hits performance but rather mixing and matching and meshing with new members Josh Freese and David Minehan all the way through. Sure, "Alex Chilton" and "Bastards of Young" (which whipped the crowd into a frenzy) were played, but so, too, were odd offerings like a cover of Sham 69's "Borstal Breakout" and "Swingin' Party," which they played beautifully for ailing former 'Mats guitarist Slim Dunlap, at his request. Even the encore, which started with "Everything is Coming Up Roses," was strange, though when the 'Mats sealed their reunion show with "IOU," everything aligned and made perfect sense. (Oh, and Westerberg emerged for the encore in a Montreal Canadiens jersey, which upset the crowd for about four seconds before we saw the humour in his taunt.)
Much had been made of the reunion shows given that the Replacements are sporting new members and headlining Riot Fest dates in Toronto, Denver, and Chicago. Fittingly, in the hours and minutes leading up to the band's scheduled start time, people were still throwing questions around: What would they sound like? What would they play? What wouldn't they play?
Weakerthans vocalist John K. Samson had those types of questions, but he was among the many simply lost in the notion that he was going to see the 'Mats.
"I don't want to believe it until I actually see it, because that's a band I've always wanted to see, that was hugely inspiring for me," he said before the show. "I still listen to them all the time. To me [this is] a culmination of seeing bands. This is the band I've always wanted to see."
That the Weakerthans were playing the same festival turned out to be a fortuitous stroke of luck. Samson and the Weakerthans had signed on to Riot Fest before they knew who would be headlining. "We agreed to do the show before they announced the lineup," he said. "When they did announce the lineup I was thrilled — because I would have had to come anyway."
The next morning, Samson emailed us his take on how the reunion went: "It was simply the best show I have ever seen."
"Tommy Gets His Tonsils Out" / "Third Stone From The Sun" cover
"Love You 'Til Friday" / "Maybellene" cover
"Everything is Coming Up Roses" cover