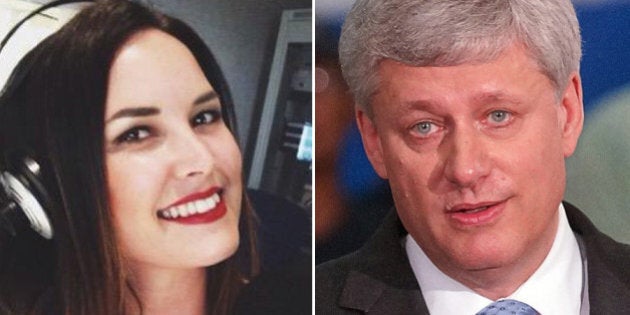 CKNW reporter Shelby Thom was told to leave a Conservative rally in Richmond, B.C. on Tuesday after asking party supporters if they support marijuana legalization.
The incident happened at a rally headlined by Stephen Harper at the Pacific Gateway Hotel. Conservative candidates including Wai Young and Alice Wong were also in attendance.
Earlier in the day, the Conservative leader claimed a majority of Canadians are on side with his stance against marijuana legalization.
"We just think that's the wrong direction for society and I don't think that's the way most Canadians want to deal with this particular problem," he told party supporters in Markham, Ont.
Harper travelled to the Lower Mainland later that day, and Thom attended the event alongside party supporters and other media.
When the Conservative leader finished his speech and the crowd and reporters began trickling out of the hotel ballroom, Thom told CKNW radio host Drex she grabbed her microphone and started asking attendees if they support legalizing marijuana.
Shortly after, she was told to leave.
She shared clips of her interviews with party faithful on the show:
"So after the first interview I was approached by a campaign staffer informing me that it was time for me to leave. I ignored him," she said. "I continued interviewing people in that room."
Thom said as a journalist, she did that because she didn't want to just repeat a story about "Harper touting his economic record."
But minutes after her first warning by the campaign staffer, she was approached again. "He signalled me towards a side door exiting the building," she explained. But she headed toward the lobby, where she intended to conduct more interviews.
"He pointed at me, he said 'No, come this way.' He once again directed me to that side door."
Outside the building, Thom tweeted a picture of the hotel door that closed behind her.
"So I did feel essentially that I was kicked out. I was interviewing supporters after the rally, and I was continuously interrupted by Conservative campaign staffers," she said.
When asked, party spokesman Stephen Lecce did not provide any details or reasons why Thom was shown the door.
"The reporter in question attended the entire event and was the last reporter to leave after the event concluded," Lecce told The Huffington Post Canada in an email.
This latest incident follows backlash levied against the Conservative party over the weekend after it was revealed attendees who attend Harper campaign events were asked to sign gag orders.
The Ottawa Citizen reports the party has since removed the policy.