Reports of sickly salmon with skin that's peeling off have prompted a First Nations fishing shutdown in British Columbia's Cariboo region, which was hit by a mining waste spill this week.
A dam holding back the tailings pond at the Mount Polley gold and copper mine in central B.C. failed on Monday, releasing 10 million cubic metres of water and 4.5 million cubic metres of silt into nearby creeks, rivers and lakes.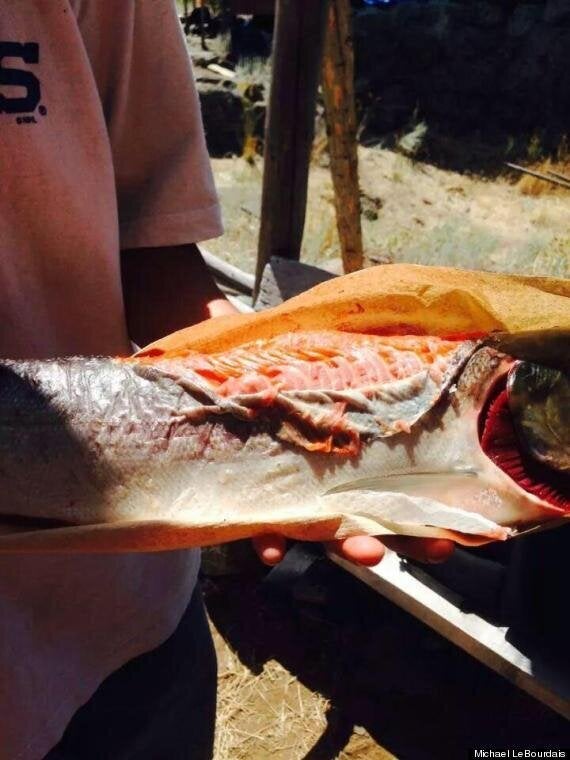 Michael LeBourdais, chief of the Whispering Pines/Clinton Indian Band, posted a photo of a salmon with its skin peeled back on his Twitter account. The fish was caught by his nephew in Six Mile Lake.
"What happened is when you catch a salmon, you take a newspaper and you wipe the slime off so it keeps it from sliding off the board when you're splitting it open," LeBourdais told The Huffington Post B.C. in an interview. "When they went to wipe it with the newspaper, the skin came off."
The longtime fisherman and rancher said, "I've been doing this my whole life, that's never happened before, that you can literally wipe the skin off with your hand."
He said his sister is trying to get samples of the salmon to the Department of Fisheries and Oceans (DFO) for testing. The notices from the chiefs referred to a similar sickly fish being found in Lytton.
"The First Nations know what a healthy fish look like and they just don't look healthy," said LeBourdais, who suspects the Mount Polley spill is affecting the salmon. "That's the only thing different in this whole scenario."
Since the spill, residents in the region have been warned not to bathe in or drink the water amid concerns that toxic heavy metals from the mine, owned by Imperial Metals, could pose a danger to human health.
Water test results on Friday from five locations in the Quesnel River fell within drinking water and aquatic life guidelines, said the province. A water use ban has also been partially lifted, easing drinking, bathing, and swimming restrictions that affected as many as 300 people.
The DFO halted salmon fishing in the Cariboo and Quesnel Rivers starting on Tuesday night.
LeBourdais said First Nations people are trying to get reassurance that fish caught in area lakes are safe to eat. He said they've been anticipating a huge salmon run this year.
"People were crying. To First Nations, to many, this is half their winter food supply along the Fraser River."
Some conservationists and wildlife experts are concerned the mine spill poses a threat to sockeye salmon and the animals that depend on them.
However, one salmon expert told Maclean's magazine that there should be no impact on the salmon run because any tailings pond contamination would move quickly out of the system and be diluted by a heavy volume of water in the Quesnel River.
With files from The Canadian Press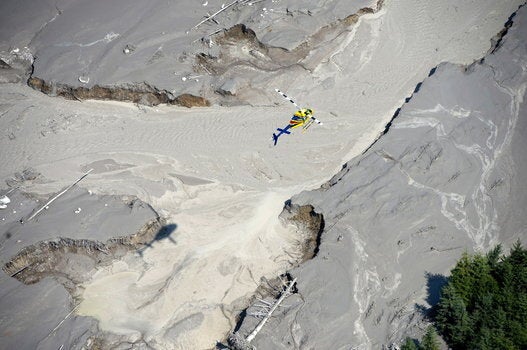 Mount Polley Mine Tailings Pond Breach