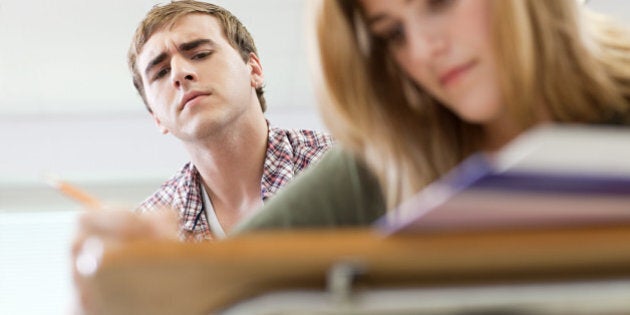 "Wow that's such an interesting niche!"
If I had twenty bucks for every time someone made this observation in relation to my business, I would be writing to you from a yacht right about now.
But here's the thing. When you have a unique brand, product or service, there are people who see it and think, "Ah ha! That's brilliant! Why didn't I think of that. Wait, I don't have to think of it. She did. I'll just copy what she's doing."
There's a reason why I help compassionate, world-changing women get published in online media. Put simply, my business combines two specific elements: what I know, and what people need.
That's it. Simple, really. But not everyone knows what I know. Not everyone worked in PR for five years. Most people haven't worked for the largest PR firm in the country. How many people in my field have been writing for more than half their life? Not many.
But it doesn't stop people from copying my work. And I seriously don't mean to sound like an asshole, but it's happened an enormous amount recently and it grinds my gears. You may be asking, but isn't imitation the highest form of flattery? No, it's not. It's irritating as all hell. (Discussed at length in this HuffPost piece.
Allow me to offer your customer's perspective. Recently, I was stunned to discover I was carrying around a genuine Hermes Birkin (it was given to me by an incredible friend, which is the real gift in this situation, but that's another story for another time). Now. Would I feel the same about this gorgeous item if it was a knock off? I mean, nobody else would know. But I would. And it would feel fake.
That's what it's like when you copy others' work -- you're a knock off. And you're better than that.
If, however, you're like me and you're on the receiving end of copying, I have five tips for you.
I've categorized copying into two main types. The first is emulation (or, as I recently dubbed it, Second Generation Copying -- which means someone is inspired by you and mimics your voice and your tone. They may not even know they're doing it. It's because they are unsure of who they are, and they like who you are, so they wear your brand and try it on for size while they become comfortable in their own skin. It's fairly harmless, and a bit of a compliment.
The second type of copying is imitation -- straight up copying. They use your words, your ideas and your intel and attempt to pass it off as their own.
How do you tell the difference? Emulation is done by people who love and admire you. Imitation is performed by those who have a complete disregard for what you bring to the table. The value they place on their own advancement far outweighs their respect for you and their willingness to do the right thing.
Stop looking in the rearview
This one's from Oprah, who openly spoke of the sheer volume of talk shows created during her 25-year tenure on air. While the competition were attempting to benefit from her success and ride her coattails, the media tycoon held a much higher perspective. Her wisdom? "You can't control the other guy. You only have control over yourself." So she told her team to stop looking behind them and focus on being the best they could be. Which is a great segway into my next nugget.
Work on your next project
A family friend of mine owns a high-end furniture brand with unique hand-crafted pieces, some of which feature the union jack. As his pieces are stunningly beautiful, many people dream of having these items in their homes but the price point is out of their reach. High street chains soon caught on to this trend and started to copy his work and sell it for a fraction of the price (and quality). His advice is simple. "When people start copying, that's when you need to be already working on the next thing. Always be ten steps ahead." And it's true. As people are copying your niche and gaining ground, you're too busy expanding into new products and services, upgrading the existing ones and, ooh I don't know, publishing your book like a bad ass.
Practical steps now. If someone has copied your work -- and it's a direct copy -- it's easy to be out for blood. Perhaps that's just me. However, instead of using heavy-handed tactics right away, give them the benefit of the doubt with a direct message or email. Here's wording I used recently: "Hi so-and-so. I appreciate your retweet of my HuffPost article. I couldn't help but notice your tweet two minutes later, where you copied and pasted content from my article and tweeted it as your own. I understand this may be an oversight, however, in future kindly credit me." It's assertive without being too aggressive. It also saves you from looking like a moron in the (unlikely) event that you are mistaken. Now, if they completely deny the copy and/or refuse to cooperate, you can move to the next step.
Granted, I'm not advocating for suing someone over a tweet. I'm talking about someone copying your website content, stealing the outline of your digital course, or using your techniques as their own and profiting from it. This is the time to seek legal counsel and, where necessary, serve papers.
In closing -- copying other people is easy. It's also bad form, it's sleazy, and in many cases it's illegal. I know there's an idea for a product or service that is unique to YOU. A concept which was given to you by the inspiration gods, and everything you have experienced has formed you into the most suitable person to bring it into the world.
Copying someone else's shtick is a colossal waste of that gift.