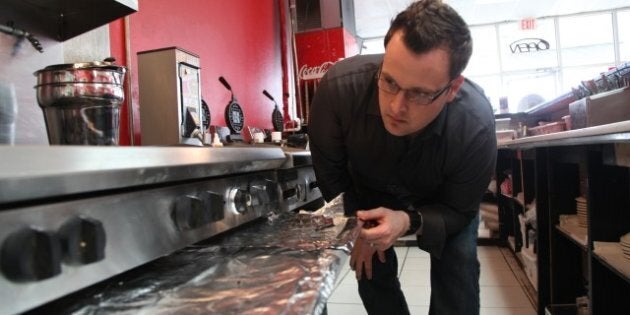 Restaurants are meant to be relaxing spots, there to accommodate the overworked, the unable to cook, and those out to celebrate. So what happens when they're also dens of grossness?
In "Health Inspectors," a new show on Food Network Canada, Atlanta restaurateur Ben Vaughn takes a look inside the kitchens of those who have either failed a health inspection or have one looming. And yes, thanks to the drama of television, it can be just as gross as you're imagining it.
"We ran across a situation where there were snakes hiding in the wall because it was so hot outside," Vaughn tells The Huffington Post Canada. "It's the kind of thing that can get you because you don't expect that."
Though he's not a health inspector, Vaughn has opened eight restaurants in the last five years and is all too familiar with the ins and outs of what makes for a clean kitchen.
"Things like staff not washing their hands between projects — these are obvious things to health inspectors," says Vaughn. "But when you're failing as a business, it goes out the door. It costs money to stay clean, it costs money to buy gloves, it costs money to train your staff."
And cleaning a restaurant kitchen shouldn't actually be all that different than what people do in their kitchens at home. It should never be a big project, Vaughn notes, but instead a constant maintenance.
"I always recommend a daily checklist, where you monitor things from a distance — you're not putting out fires," he explains. "It costs far less to do something more often than pull all your resources for the big project once a year."
Given that a recent investigation by ABC News that found the dirtiest places in restaurants to be unsuspecting venues like salad bar tons, ketchup bottles and rims of glasses, there are plenty of spots to be wary of when dining out.
Vaughn has some tips of his own for diners who want to ensure their chosen dining establishment is up to their standards — check them out below. Have your own tips? Let us know in the comments below!
Health Inspectors airs Monday nights on Food Network Canada at 9 ET.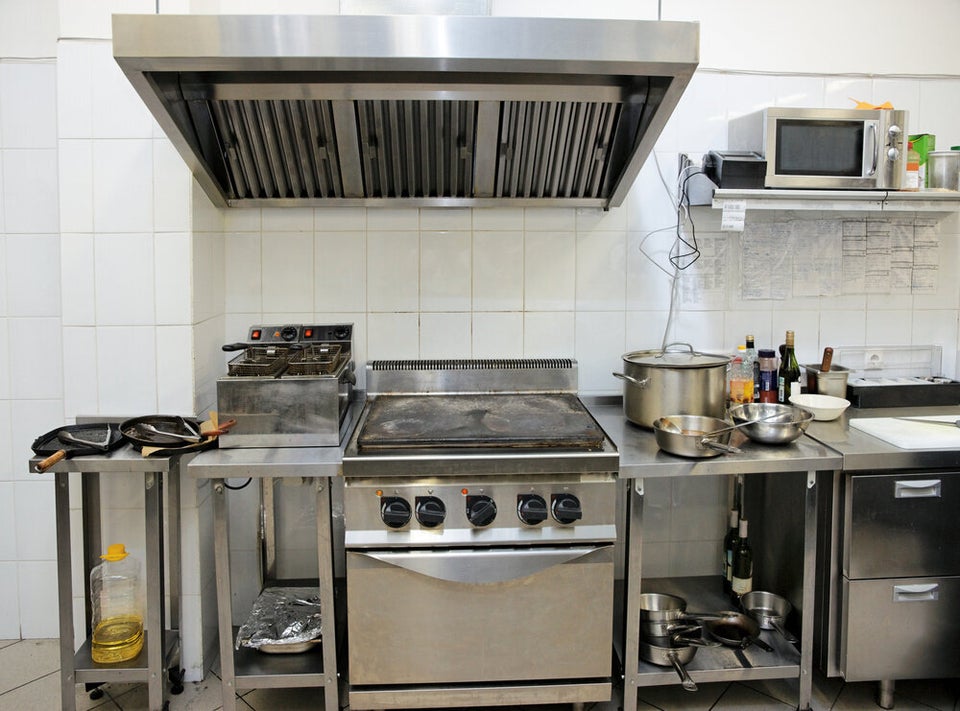 What To Watch For In Restaurants
"Grease and grime are big concerns in a kitchen," says Ben Vaughn, host of Food Network Canada's "Health Inspectors." "Things can get cross-contaminated, it breeds bugs and rodents and grows bacteria."
"Having cleaning products on hand, at each cooking station, away from the food, is mandatory," says Vaughn. "Each spot must be equipped with a clean towel."
To clean, Vaughn uses room temperature water, a little bit of bleach, then a little bit of liquid soap, because "the soap helps the bleach cling to the area."
"If the menus are sticky or cruddy, just leave," says Ben Vaughn, host of Food Network Canada's "Health Inspectors." "If they don't have the time to wipe down the menu between when kids vomit on it or people put their germs on it, they don't have time for a lot of other things."
"Dirty uniforms — or corners of tables — is a clear sign there's a lack of standards," says Vaughn.
"If there isn't hot water, soap or paper towels in the restrooms, there's a good chance the staff don't have that either," says Vaughn.
"One contaminant that no one ever thinks of is the ice," says Vaughn. "It's moist, it's wet, it's never going to be cooked, and it's considered as food by the Health Department because it's made for consumption." Vaughn says he takes care of this using a bleach bath regularly on his lines.
"It costs a lot of money to dimly light a restaurant properly," Vaughn instructs. "So if it's just dark, be afraid of what they're trying to hide."
Old Restaurants Are ... Old
It's just the truth: "Older buildings and structures are more susceptible to rodent and pest problems," says Vaughn. Not that you shouldn't go in there, but just hope the staff is properly trained in safety measures.
"A lot of cleanliness is about instinct," says Vaughn. "My gut says you should probably wash your hands between going to the bathroom and trimming the fish." Wearing gloves — and changing gloves — between tasks is also important.
Popular in the Community