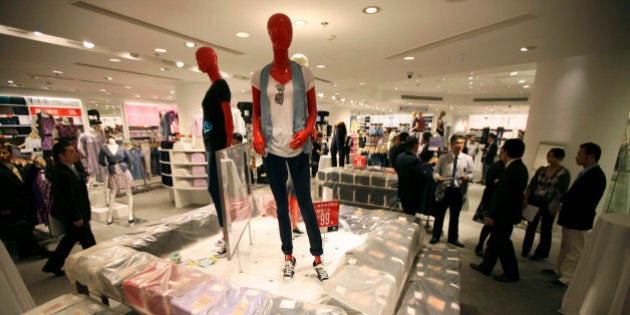 The article reported that a Hong Kong student group uncovered dangerous working conditions in Chinese factories that make skinny jeans for Uniqlo.
While my friend seemed surprised, I wasn't -- if you follow the fast-fashion industry, you'll know that every fast-fashion retailer has been called out for garment factory violations. It's the unfortunate reality of lengthy supply chains and manufacturing overseas.
I wanted to know more about where some of the biggest fashion retailers are operating and what they're doing to improve conditions so I can decide where I want to shop.
This is important since the Rana Plaza tragedy in Bangladesh involved many fast-fashion retailers that operate in North America. The Accord is a legally binding agreement so companies are obligated to take action on safety violations. The Alliance is non-binding, meaning companies are not obliged to take action.
Factories: Europe, the Middle East, Africa, and Asia
Alliance or Accord member: First company to sign the Accord
The popular Swedish retailer entered Canada in 2004. While a lot of companies are still writing cheques to showcase sustainability, H&M is working towards fair living wages for its workers by 2018. It's not clear what a fair living wage is, but this work is certainly an effort in a complicated system.
Transparency: H&M publishes a list of its factories, but it doesn't tell me much beyond the enormity of their operations.
Violations: H&M has faced labour rights issues in Uzbekistan for exploiting child and adult forced labour as cotton harvesters. Its also been reported that a factory that H&M uses in Cambodia collapsed in 2013 and injured several people.
Notable efforts: As a content marketer, I'm impressed by H&M's comprehensive resource hub. H&M provides supplier compliance by wages, working conditions, and human rights.
Factories: Bangladesh and Cambodia (Loblaw does not disclose a full list of locations)
Alliance or Accord member: Accord
Joe Fresh has been filling its racks with affordable fashion since 2006. Loblaw has an extensive sustainability portfolio for many lines of its business, but in my opinion, the grocery giant has left its apparel channel in the dark.
Transparency: When prompted by media, Loblaw has refused to provide inspection reports for its factories in Bangladesh. The retailer has said that it is working with factories to make minor improvements in areas such as worker training and record keeping. Minor doesn't sound like a big effort in a country where a lot of progress is needed.
Violations: Joe Fresh was a notable retailer that had clothes manufactured in Rana Plaza when it collapsed.
Notable efforts: Loblaw has been reported to drop three of the 40 plants it works with in Bangladesh because they failed its safety audits in 2013.
Factories: United States and Asia
Alliance or Accord member: Neither
Forever 21 is one of the most popular Canadian stores for teenagers, but its reputation for fair, safe, and human working conditions is one of the worst of this group.
Transparency: Forever 21 is privately held and reveals hardly any information about its operations. In a New Yorker article, a Forever 21 spokeswoman said that a "very small" amount of the company's merchandise is produced in Bangladesh. "Very small" could actually mean "a lot" in relation to the volume of new designs hitting store shelves weekly.
Violations: Forever 21 has a consistent track record of violating labour and human rights laws. Violations within the United States are especially notable, since most retailers often experience violations overseas where there is less accessibility for oversight of production. Allegations included paying less than minimum wage and sweatshop-like conditions.
Notable efforts: Forever 21 hasn't done much in the way of sustainability or at least they haven't made it known. While the New Yorker brilliantly argues why students aren't fighting Forever 21, if there comes a day when young consumers care, Forever 21 will be one of the first retailers left behind.
Factories: 50 per cent in Spain and 50 per cent overseas
Alliance or Accord member: Accord
The popular Spanish brand is known for providing high-fashion designs at affordable costs.
Transparency: While Zara has been highly publicized for its labour rights violations mostly in South America, it has a robust set of practices in place to ensure fair and safe working conditions. This includes a code of conduct for manufacturers and suppliers, health and safety and social and environmental considerations.
Violations: Zara's violations are several, especially related to human rights. The retailer has been accused of slave labour in Brazil, and a fire extinguisher in a Bolivian workshop had an expiration date of 1998.
Notable efforts: The retailer appears to have a 1:1 effort for every violation. Inditex has programs in place, such as The Brazil Project, a plan to reinforce its supply chain controls, after discovering undocumented sewing workshops in São Paulo, Brazil.
Alliance or Accord member: Accord
Uniqlo is a public Japanese retailer and is set to open two stores in Toronto in 2016.
Transparency: Fast Retailing's reporting is among the best of this group. The company lists its failures in an annual report by factory, location, and situation. In 2013, a factory in China provided false reporting on employee hours and time off, which was later found in a Uniqlo inspection.
Violations: Factories that Uniqlo uses in China violated safe working conditions with sewage on its floors and workers with blue fingers from sewing the retailer's popular skinny jeans.
Notable efforts: Uniqlo is involved in the communities where it operates. Uniqlo's social business, Grameen Uniqlo, uses clothing to provide local job opportunities and raise living standards for the people of Bangladesh. Uniqlo is taking its CSR initiatives from something they have to do to something they want to do, and it's especially important in a city where wages and working conditions are known to be the most troubling.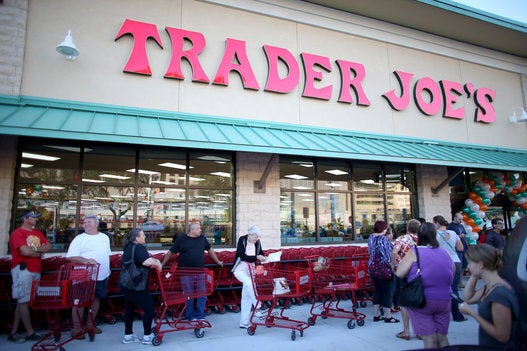 U.S. Brands We Want To See In Canada