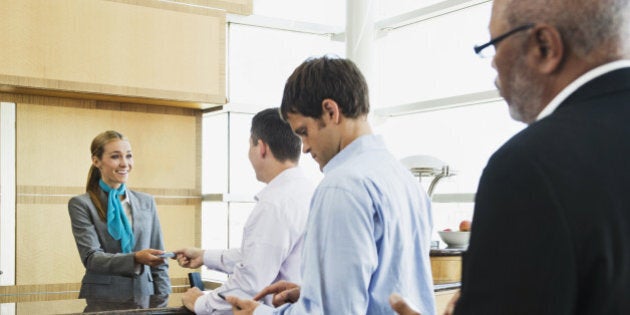 Half of Canadians aged 55 to 64 who don't have an employer pension have less than $3,000 saved up for retirement.
"This new data on retirement savings and gaps in support makes one thing perfectly clear — we have a retirement income crisis on our hands that requires urgent government action now," said Rick Smith, the institute's executive director, in a statement.
The study found nearly half (47 per cent) of Canadians aged 55 to 64 don't have an employer pension plan. Among them, those who earn $50,000 to $100,000 a year have saved up an average of $21,000.
Among those who earn $25,000 to $50,000 and don't have an employer pension, the average savings is a paltry $250. Those savings are "wholly inadequate," the report concludes.
Fewer than one in five people over age 55 who don't have an employer pension have enough to live in retirement for five years or more, the study found.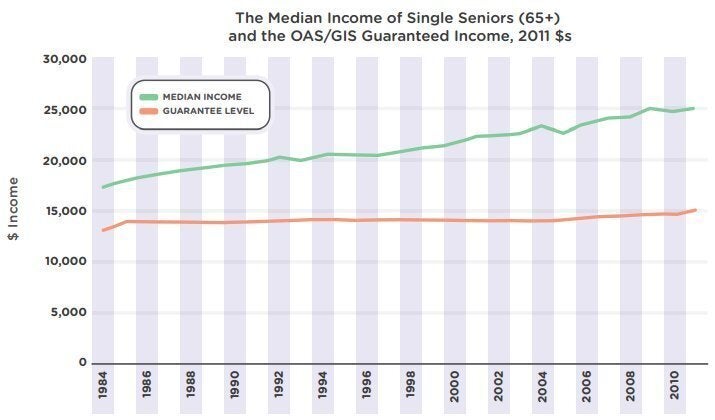 Median incomes for single seniors, compared to the income level provided by Old Age Security and the Guaranteed Income Supplement. The two social programs for retirees have fallen behind, the Broadbent Institute says. (Chart: Broadbent Institute)
At the same time, the study says social support for retirees has become less generous. Old Age Security (OAS) and the Guaranteed Income Supplement (GIS) have fallen behind over the decades, and now give seniors just 60 per cent of median income, down from 76 per cent in 1984.
"These findings raise serious questions about the policy needs for future pensionless cohorts, such as the adequacy of benefits from Old Age Security, the Guaranteed Income Supplement, and the Quebec and Canada pension plans," the report stated.
The report comes as the federal government launches pre-budget consultation hearings. Though the study doesn't delve into specific policy options, it says the Liberals' plans to increase the GIS for singles retirees will make little dent in senior poverty.
The plan "should remove 85,000 senior singles from the poverty rolls — leaving 634,000 seniors living in poverty," the left-leaning Broadbent Institute said in a statement.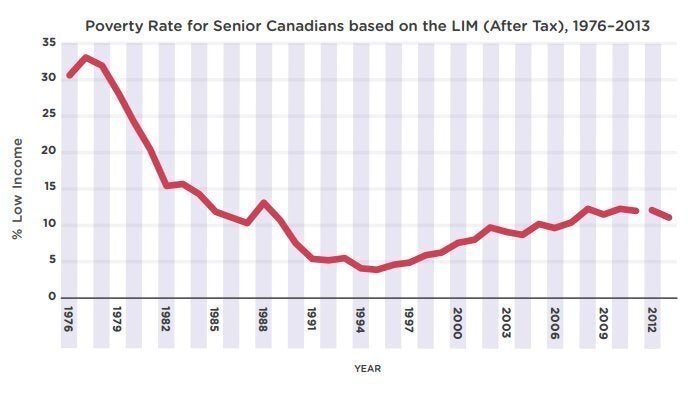 Poverty rates for seniors plunged in the 1970s after the introduction of the GIS, but have been climbing since the 1990s. (Chart: Broadbent Institute)
The study urges public pensions like the CPP to boost their revenue. But in the short term, it says boosting the GIS "could make a serious dent in seniors' poverty more quickly."
Some jurisdictions have already taken steps to address what they say is a shortfall in retirement savings.
Ottawa has delayed until next year a decision on any possible increases to CPP premiums, in order to consult with the provinces.