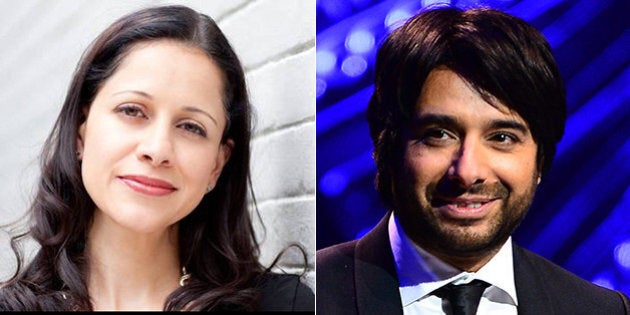 Seth recounts meeting the former CBC host in 2002 when she was 26 and starting a new job at Toronto City Hall. Seth says the two saw each other casually and had only kissed a few times before one night when she says Ghomeshi "became a different person, super angry, almost frenzied and disassociated."
Trigger warning: This article contains information about violence which may be triggering to survivors.
Seth says the situation quickly escalated.
"Jian had his hand around my throat, had pulled down my pants and was aggressively and violently digitally penetrating me," she writes.
Seth says she never intended to see him again after that night and tried to put the incident behind her. She says she "didn't want to engage the police in my life," and as a lawyer knew that it would be a "he said, she said" situation. She felt her sexual past would be "eviscerated."
The Huffington Post Canada has verified the dates and incidents detailed by Seth, who has not spoken to any other media outlets. Along with actor Lucy DeCoutere, Seth is now the second woman to reveal her identity while describing an assault by Ghomeshi. Up to seven anonymous women have also alleged assaults or harassment by Ghomeshi in reports from the Toronto Star and the CBC.
Seth recalls that evening with Ghomeshi during the summer of 2002 in Toronto "started out fine." She says they had a few drinks, some pot and made small talk that led to kissing before the sudden violence. Afterwards, she adds, Ghomeshi "gave me some weird lines about how he couldn't tell if I was attracted to him or not and somehow this was meant to explain his behaviour."
She called a cab and left his Riverdale home right away.
The following year, Seth married Rana Sarkar and moved to the U.K. The mother of three later returned to Canada and wrote the best-selling book "MomShift," celebrating women who have found their greatest career successes after starting families.
On Sunday, the CBC announced it had ended its relationship with Ghomeshi, the host of "Q." Ghomeshi responded with a Facebook post saying he was "fired from the CBC because of the risk of my private sex life being made public as a result of a campaign of false allegations pursued by a jilted ex-girlfriend and a freelance writer."
Seth told The Huffington Post Canada that DeCoutere's story inspired her to go public with her own experience.
"I listened to Lucy DeCoutere on 'The Current' sharing her remarkably similar experience and calling for women to not be afraid to tell their own stories and if they can and share their names." Seth wrote.
"After much thought, I decided to answer her call."
To contact HuffPost Canada, reach managing editor of news Jennifer MacMillan at 416-319-3799 or jennifer.macmillan@huffingtonpost.com.
With files from Michael Bolen and Kenny Yum