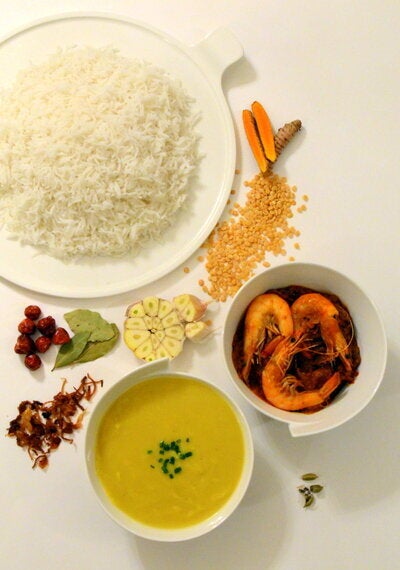 Dhundar Patio; Golden Lentils and a Prawn Chutney served with Rice.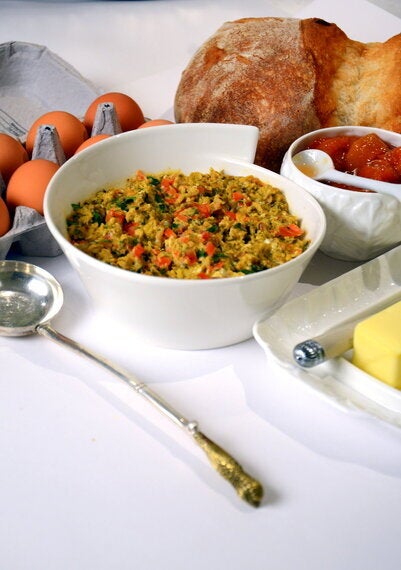 Originating from what was once the Persian Empire, Parsis are the followers of Prophet Zarathushtra, who was born in Airyana Vaeja in the foothills of the mountains in Central Asia. Zoroastrianism was revealed 3,500 years ago by this prophet and was the first monotheistic religion known to mankind. In spite of its being so old, it is a living religion for about 200,000 Zarathustis who practice their faith around the world. Many fled Persia and migrated to India 1,200 years ago in the 9th century. They landed on the shores of Gujarat where they were accepted on the strict condition that they were not allowed to seek converts, and there they began a new chapter for themselves. This small community of Zarthustis were then called Parsis by the locals. Today, as the Parsi community the world over faces extinction, it is also facing questions from within its community on how to ensure the continuation of their religion and culture.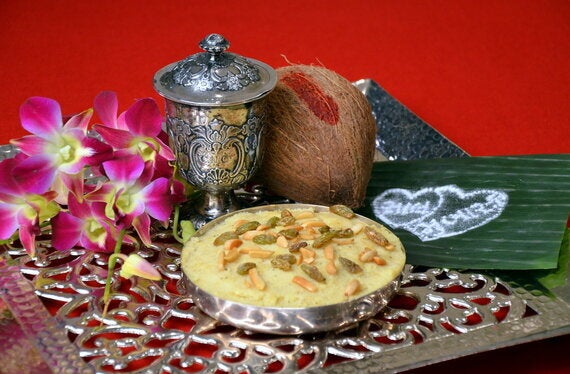 Ravo on a sagun ni thali; Semolina pudding flavoured with cardamom
Parsi cooking has been shaped by two ancient cultures-- Persia, where Parsis originated, and India, where they later settled. This unusual historical background gives Parsi foods a distinct and unique flavor. Recipes with nuts, dry fruits and shirini (sweet) within them originated in Persia, while ginger, garlic, chilies and spice add Indian flair. Centuries-old foods like saffron, jaggery and vinegar as well as ginger, cinnamon and turmeric-- all staples in Parsi cooking--are celebrated in modern times for their health benefits.
Although its population is small, the Parsi community has a high number of achievers in all walks of life. Doctors, lawyers, philanthropists, accountants and activists, government officials and teachers, have left an indelible mark, especially in India. Parsis, well known for their love of art and music, include the late Freddy Mercury of the band "Queen" and Zubin Mehta of the Israel Philharmonic Orchestra. Bollywood has also been entered into by the Parsi community, with entrepreneur Ronnie Screwvala leading it into a firm bond with Hollywood.
With the world migration of Parsis at its highest in the past 50 years, members of our community have spread themselves in small numbers all over the world. Most have relocated to North America with large numbers in Canada (particularly Ontario and British Columbia) and the USA (particularly, New York, California and Texas, as well as Massachusetts and Illinois). Australia and New Zealand also have a fairly large Parsi population. Most of these community pockets have built themselves large Zoroastrian Centers in recent years, a defining sign of a permanent settlement anticipating generations to come.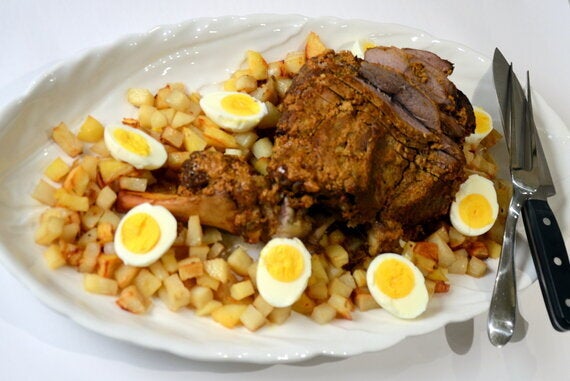 Home is also where the food is. Meat and eggs are two favorites Parsi foods, and garlic, ginger, onion and tomato can be found in most recipes. Spices include cinnamon, turmeric, cumin, and chilies, and jaggery (unrefined brown sugar) and vinegar give a finishing touch. Tikhu-Khatu-Mithu (Spicy-Sour- Sweet) is considered the Holy Trinity of Parsi cooking, and perfecting its balance is the key to any Parsi dish.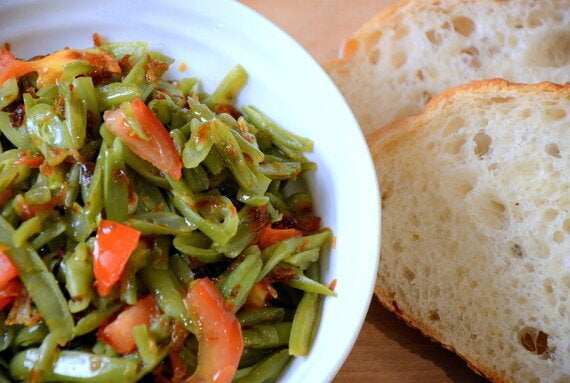 Follow HuffPost Canada Blogs on Facebook