Muslim scholar Reza Aslan went on CNN last year to counter ignorance around Islam by commentators such as Bill Maher.
Aslan, a professor of creative writing at the University of California, Riverside, was on CNN with anchors Don Lemon and Alisyn Camerota to respond to comments Maher made about Islam.
Maher said that Muslims believe "humans deserve to die for merely holding a different idea or drawing a cartoon or writing a book or eloping with the wrong person."
Aslan responded by saying, "When it comes to the topic of religion, [Maher's] not very sophisticated in the way he thinks."
He went on to assert, for example, that it's "factually incorrect" for Maher to call female genital mutilation an "Islamic problem" when it also happens in Christian countries like Eritrea and Ethiopia.
The clip, which originally aired in September 2014, trended again on Facebook and Twitter Monday. Social media users called it "enlightening" and said that Aslan "demolished" Maher.
It also came amid a series of targeted attacks on Muslims that have followed Friday's violence.
And in Green Bay, Wisc., Packers quarterback Aaron Rodgers called out an anti-Muslim comment made during a moment of silence for the victims in the Paris attacks.
"It's that kind of prejudicial ideology that puts us in the position we are today as a world," he said at a postgame press conference.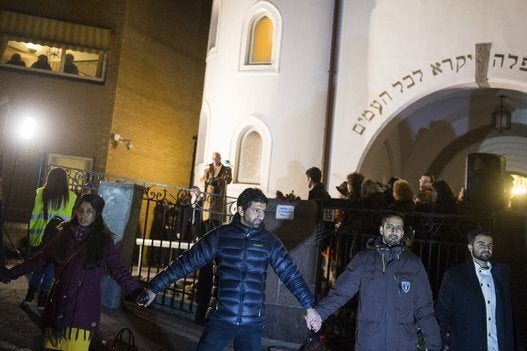 Oslo Muslims Form 'Peace Ring'
Popular in the Community