 One of the beautiful — and frustrating things — about technology is that it's always changing.
Case in point: identity theft. Once relegated to the realm of online scams phishing for internet users' personal and banking information, thieves have moved onto more complex means of gleaning a victim's information: exploiting the technology used radio frequency identification or RFID for short.
It's the same technology used by many travellers when they tap or swipe to pay for a cup of coffee or their plane tickets with their debit or credit card and is something now be found in smartphones and even passports.
The original idea was to make payments easier and more secure but as of late, would-be thieves have capitalized on debit and credit cards' abilities to communicate with wireless devices by using electronic readers that access traveller's personal info.
The process isn't perfect as thieves need to be close to their targets for their readers to access RFID-enabled documents, but in busy streets and crowded cities where travellers are bound to bump into people, the chance to come into contact with a reader becomes more of a concern.
While the prospect of having strangers stealing personal information without picking your pockets can be scary, solutions are available. Some luggage companies have gone as far to build accessories to thwart RFID readers by lining the cards with a metal mesh or cover that reflects or bounces back radio waves.
Since chips and readers function like a walkie-talkie, readers can send radio waves to access the data on a chip, but unless the chip receives the radio waves, it won't be able to reply back to the reader. To see what items are available to travellers looking to shield themselves against identity theft, check out the gallery below.
6 Accessories For Travellers Afraid Of Identity Theft. Slideshow text follows for mobile readers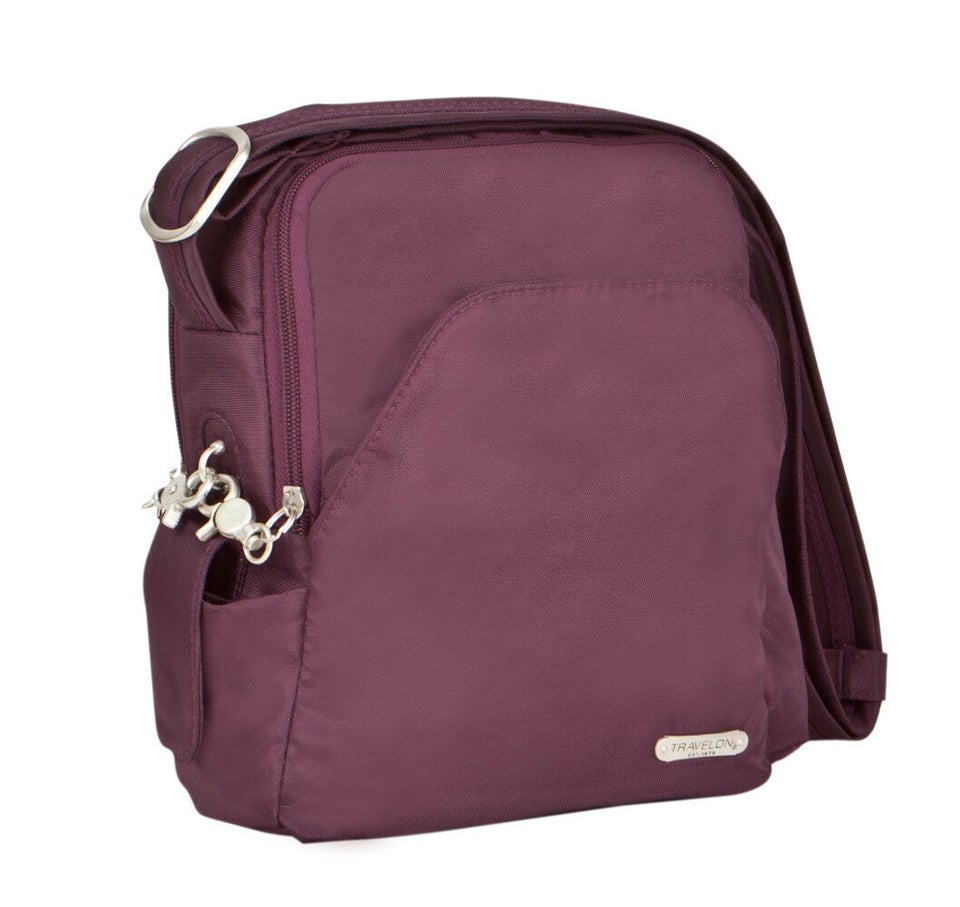 6 Accessories For Travellers Afraid Of Identity Theft
Travellers looking to carry more than their wallet or purse while abroad may want to look into this tote. Travelon's bag is made of a slash-proof material and featured padded pockets for a tablets and slots that protect traveller's cards and passports from radio frequency identification. The shoulder straps are also made of the same slash proof material as the bag and can lock to chairs or tables thanks to a built-in carabiner.
Like Travelon's tote, Secrid's card protector uses a metal casing that reflects radio frequencies attempting to glean your personal information.
Cactus Creek Subrosa Scarves
Most thieves will aim for the back pockets of traveller's pants or the straps of a purse when pickpocketing, but a scarf? Not as likely. For travellers looking to give thieves the slip, this garment features hidden pockets to stow away credit cards, phones or cash in compartments lined with a material that will also protect against those looking to steal personal information via RFID.
PacSafe's Anti-Theft Backpack
On the outside, it's an unassuming backpack but where this accessory shines is in its RFID blocking pockets, turn and lock security hook and "smart Zipper" security designed to prevent zipper tampering.
Mancini RFID Secure Mens' Wallet
It's leather on the outside and RFID blocking technology on the inside for this classic bi-fold wallet.
Samsonite RFID Neck Pouch
It doesn't look like much but Samsonite designed this pouch to hang from a traveller's neck to foil any attempts from a pickpocket that targets a traveller's pockets or purse. Like the other accessories, it uses a RFID-blocking material to ward off signals that seek a traveller's personal information.