When Ricardo Miranda talks about his engagement and upcoming wedding, you can hear the excitement in his voice. He's thrilled to have finally met the person he wants to spend his life with.
"When you do find someone who's willing to go on that journey with you, it's pretty special," he gushes.
For all that's going well, however, Alberta's culture and tourism minister knows he might face some hurtful words this week after finally announcing his engagement to partner Christopher Brown on social media.
"As an LGBTQ person it's not always the case that you get love, acceptance and all that other stuff that other people usually get, normally, when announcing something like this."
Brown, a campaign manager for MLA Danielle Larivee in 2015, asked Larivee to introduce him to Miranda back in July of this year while Miranda was in Brown's small northern Alberta town of Faust on business.
The couple got engaged in November at the provincial NDP convention after five months of long-distance dating, and travelling between Calgary, Edmonton and Faust to see each other.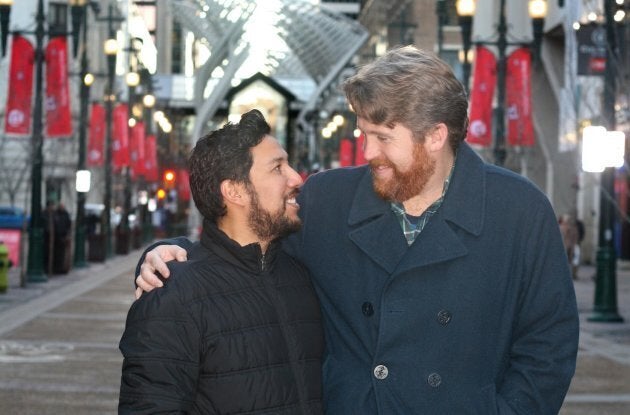 "When you know, you know," Miranda told HuffPost Canada of the short courtship, adding he wanted to propose in September during Calgary's Pride festivities, but backed down after learning Brown had the same plan and was waiting on Miranda's ring to arrive.
Miranda — a Jewish, Nicaraguan refugee — will be the first openly gay member of legislature in Alberta's history to get married. Premier Rachel Notley will officiate the Dec.28 Glenbow Museum ceremony in Calgary, making her the first sitting premier to conduct a gay wedding in Canada.
The couple originally wanted a small, low-key wedding out of the public eye. Miranda wasn't necessarily going to share the details to social media.
"We thought maybe we should do something a bit more public, to raise attention to the fact that we're just two people wanting to celebrate our love, which is no different than any other engaged or married couple in this province."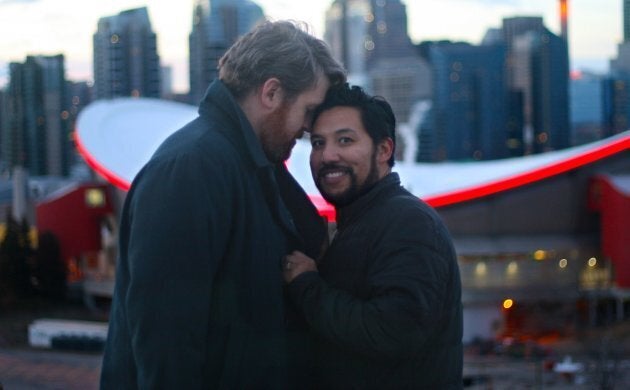 Being a gay politician in Alberta — and the first openly out minister in the province's history — comes with a responsibility Miranda said he wasn't quite ready for when he first took office.
"First of all, I didn't run thinking I was going to win," he laughed, referencing the NDP's underdog victory over the Alberta PCs in 2015.
"More seriously, though, I never wanted to be 'The Gay Minister.' But when it comes to issues in the [LGBTQ] community I'm going to speak out."
For Miranda, it's important to live his life as authentically as possible, even if that's uncomfortable for some of Alberta's more socially conservative residents. His staff does its best to remove the hate mail from his inbox before he sees it, but sometimes it slips through. On Twitter, were Miranda keeps an active profile, bigots are known to come out of the woodwork.
"Social media has made it permissible for people to hide behind their computers and say whatever they want, but I think social media has also emboldened some people to be openly aggressive and hostile."
Miranda's family fled war-torn Nicaragua for Calgary in 1988. He says a lot has changed since he was a kid, but he also feels like there's also been a regression in Alberta when it comes to civility and what's considered acceptable behaviour.
"I remember the times when people would not go to Pride, because they were scared of being beaten up or having a photo taken of them in public. But at the same time, I don't ever remember a time growing up when a car was etched with a swastika and then set on fire," he said, referencing an incident in northeast Calgary last fall.
What feels like an increase in hatred and vitriol, paired with some of the talk that he says he's heard coming from Alberta's United Conservative Party (UCP), has Miranda frightened for vulnerable Albertans.
"All this talk about taking a step back to the 'good ol' days' makes me nervous, because let me tell you, those were not great days for me or for a lot of other people in our communities — women, immigrants, LGBTQ. It's kind of a scary proposition, to be fair."
Miranda said he deals with the trolls and the hatred in the same way, always. You'll rarely, if ever, hear him hurl harsh words or see him step into an online comment war. Even if he's hurting, he opts for compassion and an invitation to civil discussion.
"If you can approach someone with love, you can then put yourself in their shoes, you can try to see their perspective."
It's what he's hoping for in return, by sharing his love story with Albertans. He said he wants people to know that the love he shares and the life he will build with his soon-to-be husband is no different than thousands of other Alberta families.
"We're just regular people doing regular stuff. We're looking for a house, talking about our jobs, kids, arguing about wedding cakes. Our marriage and our life is not any different and we just want to celebrate and be surrounded by love."